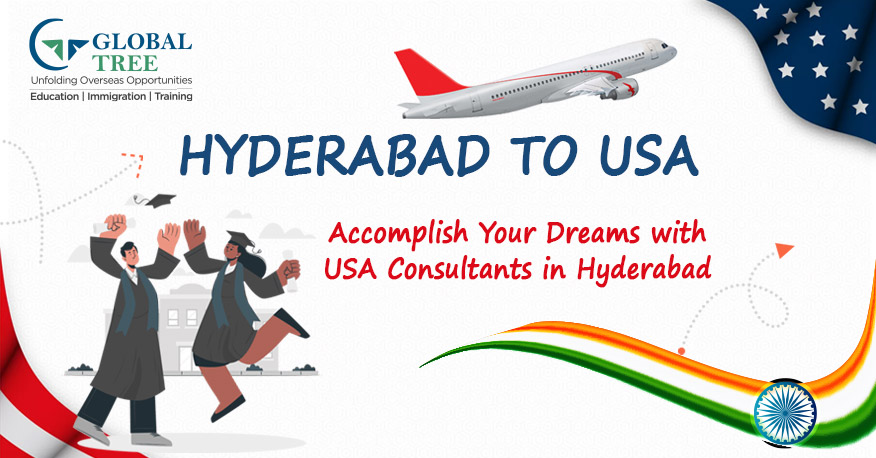 Best Study in USA Consultants
Hyderabad, the city of pearls, is known both for its past grandeur as well as the intellectual capital of its current inhabitants. The capital city of Telangana and home to a young and vibrant student population is fast churning it out global leaders of the future.
If you are one among the rising multitude of students in Hyderabad, who are interested in applying for a Masters program in USA, you should seek the help of Top Masters in USA consultants in Hyderabad
How to Apply for MS in USA at Hyderabad?
If you are planning to apply for an MS in the USA at Hyderabad, then you will need to make sure that you follow all the steps to apply for a postgraduate degree in the United States. It is important to not make any mistakes during the process or it can cause unnecessary delays and may even lead to a rejection of your application.
This is the reason why most people recommend taking the advice of Top MS in US Consultants at Hyderabad such as Global Tree. Given below is the step by step process to apply for Masters in USA
Step 1: Research and shortlist the universities
As a very first and one of the most important steps, you will need to make a list of all the universities which offer the courses you are interested in pursuing.
If you have more than one course you are interested in, then you should also consider making a short list of the courses.
This can be one of the most tedious as well as crucial steps in your application process and should ideally be completed around the months of May or June in the year before you plan to commence your studies in Fall semester
As this is a crucial step it is advisable to take the assistance of a best consultancy for MS in US at Hyderabad
Step 2: Check the deadlines for Application
Most of the Top universities in USA will have similar deadlines for application for their Masters program with probably a few exceptions
You will need to check the deadlines of each university for each course for which you are planning to apply.
As a busy student you may not have the time or resources to research each and every university for deadlines and other details. This is when the advice of a qualified Masters in USA consultant in Hyderabad or other cities can be helpful to you
Step 3: Give the required Examinations
You will need to give one or more standardized tests as part of your application process.
The type of test as well as the minimum score will depend on the course and university that you select. However most universities expect you to submit scores of GRE as a prerequisite for MS and GMAT for MBA
Most of the universities publish information about the average scores of students accepted into their programs
Taking the help of a good consultancy for MS in USA at Hyderabad can not only help you with deciding the right test to take but also in getting coached for the tests. Some of the common tests that you will be expected to take are as follows
GRE - This is a mandatory test for almost all of the Masters level programs in the USA
TOEFL - This is a test of proficiency in the English language for students who come from non- English speaking countries such as India.
IELTS - Is also an English proficiency test similar to the TOEFL and is intended for students from countries that are non- English speaking
MCAT - This test is an entrance exam which you will need to give if you plan to pursue your higher studies in medicine in the United States
LSAT- You will be giving the LSAT if you plan to study law in the United States
[Read More: Get Trained by Expert GRE trainers in Hyderabad]
Step 4: Put together your application package
In this step you should tie up all the loose ends, gather your documents and make sure that everything is in order
You should start by consulting with a good overseas education consultant like Global Tree for MS in USA to know what are all the documents required and how to obtain them
You will need to provide some or all of the following as part of the application package
SOP: The Statement of Purpose should give an idea behind your rationale to apply to that university and that particular course
i. It is sort of like a sales pitch to the university and you can see it as a chance to convince them on why you are a good fit for the university.
ii. A good consultant will have years of experience in guiding students like you to make sure they include all the relevant points to include in the SOP while sticking to the stipulated word limit
LOR: The letter of recommendation is required from a professor or mentor who has guided you in the field of study that you are interested for MS
i. You will need to provide at least two or three LORs for each application
ii. Our highly trained consultants will provide a proforma for your professors to make completing letters of recommendation easy for them in their busy schedules
Essays: Some universities need you to prepare and write an essay apart from the SOP
i. The topic of the essay could be of a general discussion, a current topic or your could be allowed to choose your own topic
ii. Depending on the university and course that you are applying for you may need to write one or more essays. Know how to write Admission Essay to Study abroad from our best admission consultants for ms in us.
Resume: You may need to provide your resume when applying to certain universities
i. Our expert Education Consultants For MS In USA in Hyderabad Global Tree will provide you expert tips on how to draft your resume for maximum impact
ii. The resume should contain information about you and your academic progress as well as other achievements
Academic transcripts: These should include certificates and transcripts of all the academic qualifications you have achieved starting from your undergraduate degree and including your high school transcripts
Test scores: You will need to provide the test scores of all the entrance exams you have taken along with your application package
Some universities allow you to take a re-test and therefore you should leave sufficient window to give a retest before the application deadlines
Step 5: Submit the application
In this final and crucial step you will be submitting your application
You should make sure that all the required documents are present and in order before submitting the application
[Read More: Top Mistakes to Avoid When You Study In USA]
Step 6: Wait for acceptance from universities
Once you have submitted the application then you will need to wait for getting the acceptance from the university
If you have applied to multiple universities then you may get an offer from more than one in that case you will need to select the one that suits you best and accept the offer
Once you accept the offer, you will need to apply for a student visa
Our expert Overseas Education Consultants For USA in Hyderabad can help you through the student visa application process
Why is Global Tree the top consultant for MS in the USA at Hyderabad?
The major advantage of choosing Global Tree as your consultant for MS in USA is given below
Highly experienced and expert MS in USA counselors with many years of experience
Personal guidance provided to each student with a personalized profile analysis
Guidance and support for researching the vast number of courses and universities to find your best fit
Advanced coaching for entrance exams in smart classrooms to help you ace any test requirement such as TOEFL, IELTS, GRE etc
Continuous hand holding throughout the admission and student visa process
You will get access to an alumni network of students who got admission through Global Tree
Opportunity to get exclusive scholarships through partner universities as well as guidance on how to finance the cost of your MS in USA
If you are from Hyderabad and plan on pursuing your Masters in USA, then it stands to reason that you will benefit from the advice of Global Tree education consultants in Hyderabad
How can I contact Global Tree Hyderabad for MS in the USA?
You can reach out to us by filling the form given in the website and let one of our consultants get back to you. Alternatively you can call our number and ask to speak to a consultant
How long does it take to complete an application for MS in the USA?
It generally takes a year on average to complete the application from start to finish. We therefore recommend that you start your process much in advance

Which is the Best Consultancy in Hyderabad for MS in USA?
Studying MS in USA is the biggest choice in any student career for which a counselor's help is much needed. Global Tree with more than 15 years of experience in USA education, our counselors can guide with most needed tips during the process of Studying in USA. Find the best consultancy in Hyderabad for MS in USA