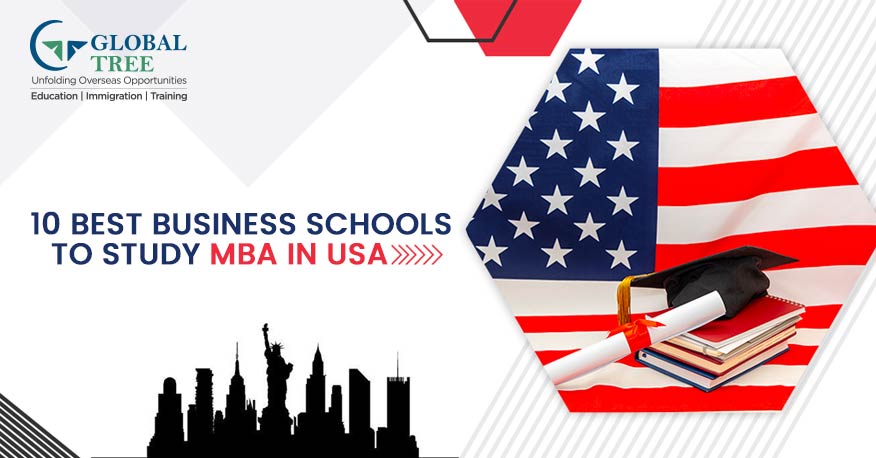 Study MBA in USA
Obtaining an MBA degree from the United States can play a pivotal role in jumpstarting your career in management. Many students who have set their sights on an entry or mid-level managerial role, will seek to enroll in an effective MBA program that will teach them the ropes of management along with exposure to people from different cultures and diverse mindsets. The USA has a strong and well-established reputation as the academic hub of the world. It has been providing the highest quality education combined with highly experienced faculty for students from all over the world.
10 Top Colleges for MBA in the USA
If you are interested in pursuing an MBA in one of the best universities in the USA, then you will need to know more about the best MBA universities in the country. The following is a list of the top MBA colleges in the USA for 2023.
Stanford Graduate School of Business
Harvard Business School
Wharton Business School
MIT Sloan School of Management
Columbia Business School
Haas School of Business, UC Berkeley
Chicago Booth School of Business
UCLA (Anderson)
Kellogg School of Management
Yale School of Management
Stanford Graduate School of Business
The Graduate School of Business at Stanford University is considered to be one of the best MBA colleges in the United States
The school is highly selective with regards to student acceptance and accepts just 6 percent of applicants each year on average from among the many thousands of students who apply
The university is renowned for producing many corporate leaders and business magnates of the future from among its alums including notable personalities such as Indian Industrialist Mukesh Ambani and former President of the United States, John F. Kennedy.
Harvard Business School
Harvard Business School at Harvard University is one of the most reputed business schools in the United States.
The school boasts of a vast alumni network spanning many generations with many notable figures including world leaders, business magnates, and Nobel Laureates among its list
The Harvard Business school is highly selective with less than 1 percent rate of acceptance among the many students that apply to the program
Studying at the Harvard Business School will provide you with a global environment of management excellence, combined with unmatchable facilities for improving your management skills

Wharton Business School
The Wharton Business School at the University of Pennsylvania is one of the most difficult to enter business schools in the world with strict entrance criteria
The university is renowned across the world for the high quality of its education and the intensity of its MBA programs
At the Wharton Business School, you will live with other students and learn how to enhance your business and leadership skills and handle stressful situations
The Wharton business school boasts of one of the most impressive alumni networks with many notable personalities such as Sundar Pichai, Elon Musk, and Warren Buffet among its illustrious list. As an MBA graduate from Wharton, you can be part of a strong alumni network
The business school has consistently been ranked among the top MBAs for graduate placements with record entry-level salaries.
MIT Sloan School of Management
The MBA program at the Sloan School of Management at the Massachusetts Institute of Technology is considered to be one of the best Management programs in the world
The school offers both a full-time and executive MBA and courses with a focus on innovation and technology.
The business school provides students with courses such as Master of Business Analytics and Finance to better prepare students with specialized skills for the future
At MIT Sloan Business school you will be exposed to personal skills and qualities that can enhance your business acumen and help you lead industries of the future

Columbia Business School
The MBA program at the Columbia Business School is one of the top-ranked courses among the top MBA colleges in the USA
The school is situated in one of the biggest and best cities in the United States, New York, and has a large and diverse campus
The Columbia business school has a strong student body, with students from diverse countries and high intellect
Columbia Business School boasts strong alumni consisting of high achievers and intellectual thinkers which include, Vikram Pandit, James P. Gorman, and Henry Kravis among others
Haas School of Business, UC Berkeley
The Haas School of Business at UC Berkeley frequently features amongst the best colleges for MBA in the USA.
The school is one of the oldest schools of business in the country and is reputed for its high academic standards and research infrastructure
It is fairly easy to get into this school with an acceptance rate of 24 percent and offers full-time, weekend and executive MBA programs to potential students from all over the world
Chicago Booth School of Business
The Chicago Booth School of Business is situated at the University of Chicago was established in 1898 and has many years of illustrious presence in the domain of management studies
The school is associated with many notable alumni in its roster, which also include nine Nobel prize winners, which is the highest for any business school globally.
The school enjoys generous grants from the government and private organizations and is consistently ranked the best school for MBA in the United States by the U.S. News & World Report
Notable personages among the alumni at the Chicago Booth School of Business are
James O. McKinsey, the founder of McKinsey & Company
Susan Wagner, the co-founder of Blackrock
Eric Kriss, the co-founder of Bain Capital
Satya Nadella, the CEO of Microsoft
Many other current and erstwhile CEOs of Fortune 500 companies
[Read More: Top Mistakes to Avoid When You Study In USA]
UCLA (Anderson)
The Anderson Business School is one of the eleven professional graduate schools of management at the University of California, in Los Angeles
The school offers prospective students with options to pursue their MBA program in various fields such as Financial Engineering, Business Analytics, and others
Students at UCLA program can learn through a teaching model that typically combines case studies with in class lectures, team projects and internships
Students at UCLA Anderson can choose from a curriculum consisting of ten mandatory and twelve elective courses to make their own customized learning experience
Kellogg School of Management
The Kellogg School of Management at Northwestern University was founded in 1908, making it one of the oldest and top business schools for MBA in the world.
The faculty, as well as alumni of the school, have exceedingly benefited the fields of marketing and management sciences with their exemplary contributions to the study of management
The Kellogg School of Management offers a two-year full-time MBA program for its students, who can choose from any of the following majors
Accounting
Economics
Finance
Marketing
Operations
Strategy
Organizational Management
Yale School of Management
The Yale School of Management is situated within the Yale University at New Haven in Connecticut.
The School offers the following degrees in Business Management to its prospective students
Master of Business Administration
MBA for Executives
Master of Advanced Management
MS in Systemic Risk
MS in Global Business & Society
MS in Asset Management
Ph.D. degrees and combined degrees with other graduate programs at the university
The Yale Business School has a high quality of academic standards and conducts research on various aspects of management studies including leadership, operations management, behavioral economics, entrepreneurship, marketing, and other fields.
The School also offers its students opportunities to take part in student exchange programs with other management schools such as
HEC Paris,
IESE,
London School of Economics,
National University of Singapore Business School,
Tsinghua University.
[Read More: How to Study in USA without IELTS or TOEFL?]
Tips on writing a winning SOP for MBA in the USA
Given below are some of the important tips to help you draft an effective Statement of Purpose for your MBA program in USA
The SOP is a good opportunity for you to showcase your motivation to join the school and you should make use of it judiciously
Write your SOP yourself after taking advice and inputs from others, to make sure it is original in its content
You should provide all details about your academic and extracurricular achievements that are relevant to your application
You should ensure that the Statement of Purpose complies with all the requirements stipulated by the university
You should ensure that your SOP has an easy flow of writing and is not boastful in its content
You should avoid making grammatical or spelling mistakes in writing your SOP
Application Process for MBA in the USA
We have provided the general steps for applying to an MBA program in the USA below. However, you may need to check the websites of individual universities to know more about the specific requirements of each university you may be interested in joining. Alternatively, you can reach out to our USA education consultants at Global Tree to get step-by-step guidance on the MBA admission process
Research the various Management programs open to you and select the Business Schools you want to apply
Check the eligibility criteria for each of the schools and programs and ensure that you are meeting the criteria to join
Take the required tests for language proficiency and other gateway tests to obtain their scores well in time
Keep a checklist of required documents and put them together
Put together your application package after making sure everything is in order
Submit your application and wait for the results from the university
Once your application has been approved by the university you can go ahead and apply for a student visa to the USA
Documents required for applying to MBA colleges in the USA
You will need the following documents to apply for MBA in USA
All academic records and transcripts from your high school years and onwards
All the Scorecards of required gateway and proficiency exams
Your Bank statement
Proof of Work experience
Letter of recommendations
Statement of Purpose
MBA Essays (if required)
Updated CV or Resume
Photographs (as required)
If you need more information about applying to MBA colleges in the USA you can reach out to our expert overseas education advisors for MBA in the USA at Global Tree

Where can I find the latest list of top MBA colleges in USA?
Each year many publications companies publish a list of top-ranked MBA colleges in various categories. For the latest list of top Business Schools in the USA, we advise you to contact our Study in USA consultant at Global Tree
What is a good GMAT or GRE score for admission to top MBA schools in the USA?
Every university will have its own criteria with respect to GMAT or GRE scores. Some universities do not have a minimum score for entry. We advise that you reach out to your nearest Global Tree branch to learn more about GMAT and GRE scores and get training from our highly experienced faculty to help you to ace the tests.