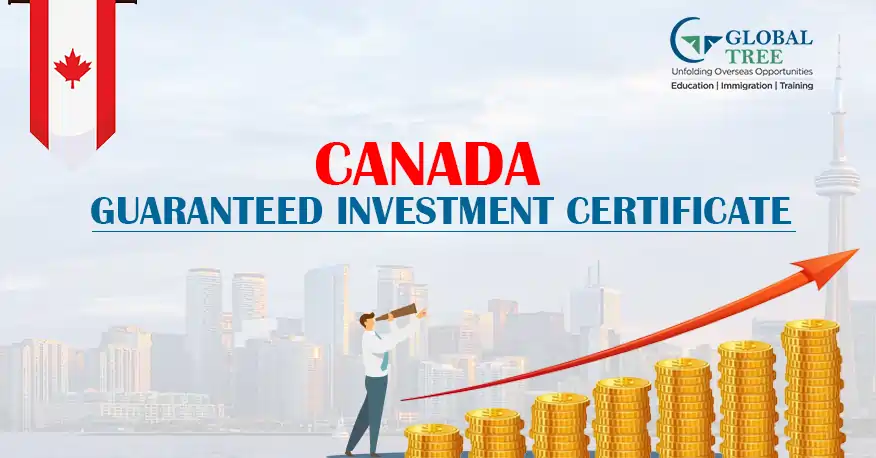 What is GIC?
A guaranteed investment certificate is a type of savings instrument that functions as a loan to a financial institution.
Although you earn a certain rate of interest, your money is often tied into the account for a set period of time. This can range from 30 days to ten years. The higher the interest rate, the longer the period of the GIC.
What is GIC in Canada?
Let's understand
"What is a GIC investment in Canada?"
GIC Canada, also known as the Guaranteed Investment Certificate or GIC Certificates is a savings plan developed exclusively for overseas students studying in Canada.
The Canadian government requires this investment program as proof of financial support for international students during their stay in Canada.
It ensures that international students have enough money to cover their tuition and living expenses while studying in Canada.
Why do I need GIC?
The Canadian government has made GIC mandatory for the following reasons:
To ensure that students who come to study in Canada can cover their basic living expenditures for at least a year.
It serves as proof of funds, which is required for obtaining a visa/permit, and so expedites the procedure.
Can I get a Canada Student Visa without GIC?
All international students who have applied through the SDS or the Student Direct Stream must obtain a GIC because it is a requirement for studying in Canada.
(Know about: SDs and Non SDs in Canada. What are the Key Differences?)
Is it possible to lose money in a GIC?
There is no risk of losing your money because it is guaranteed. A GIC is like a savings account in that you deposit money into it and earn interest on it. The distinction is that you must leave your money in a GIC account for a set amount of time.
Guaranteed Investment Certificate Highlights
Title
Guaranteed Investment Certificate

Participating in Canadian Financial Institutions

Scotia Bank, ICICI Bank

Types of GICs

Cashable GICs
Fixed rate GICs
Escalator GICs
Market-linked GICs
Variable rate GICs

Who needs GIC

Students applying under Student Direct Stream

Term duration for a GIC

6 months-1 year

Program Fee

CAD

Amount Required for opening GIC account

CAD 10,000 + Banking charges (if any)
What is the minimum amount required for an international student to open a GIC account?
To get your GIC account open under the Student Direct Stream system, international students must deposit $10,000 CAD to $15,000 CAD in their first year with one of the banks accredited by the Canadian embassy.
Depending on the terms of the bank with whom you have opened your GIC account, you may be required to pay a small transaction fee.
Let's look at how it works with CIBC bank:
Open a $ 10,000 CAD GIC account.
When you visit CIBC, $2000 CAD will be deposited into your savings account, while the remaining $8000 CAD will be invested in your GIC program account.
You will get the whole amount of your investment plus interest in 11 equal payments throughout the course of the year, depending on the terms and conditions of the bank.
(Read More: How to Migrate to Canada without IELTS Score?)
It is always recommended to contact the university or college you intend to attend about the first deposit, as the amount can change depending on specific financial requirements or recommendations. Global Tree can help you in such a case.
What are the Benefits of opening a GIC account for International Students?
1. Is GIC a Safe Investment? Low-Risk Rate of Return
The Best feature is its low-risk feature. The rate of return is assured, and investors do not risk losing their initial investment. This makes GICs an excellent choice for students who are new to investing or searching for a safe way to save money while studying in Canada.
2. Enough to Replace the Financial Requirements of a Visa
For a country to allow you into its vicinity, it would require some financial proof from you to confirm if you are stable enough to cover your tuition fees and other living expenses.
A GIC can be used to illustrate this if the investment is held for at least one year and is in the student's or parent's name.
3. High Liquidity Investment
GICs are also a liquid kind of investing, which is beneficial to overseas students.
This implies that, unlike other types of investments such as equities or real estate, the funds are immediately accessible if the student requires them.
Some GICs can be cashed out early with a penalty, while others must be held until maturity. As a result, overseas students studying in Canada now have easier access to funds.
What is the GIC Application Process?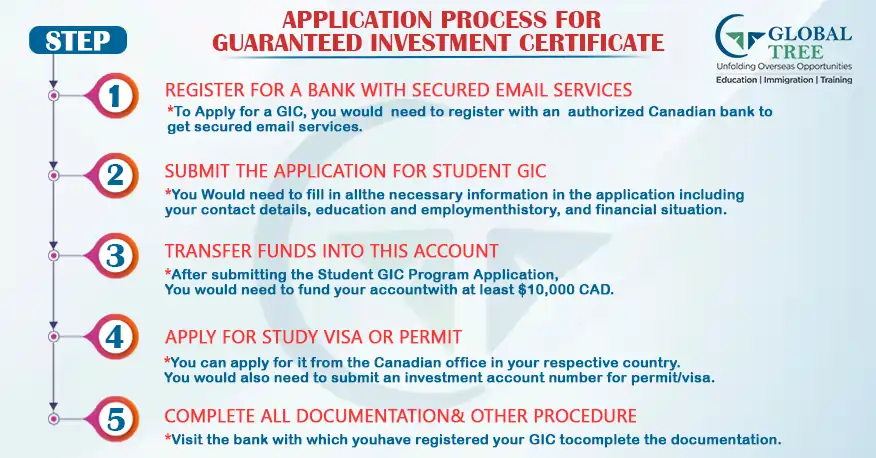 Register for a Bank with Secur ed Email Services: To apply for a GIC, you must first register with a recognized Canadian bank to receive secure email services. The individual can use this service to securely transfer papers and personal information to the bank.
(Read More: Eligibility Criteria for Canada Express Entry)
Submit the Application for Student GIC:
You will receive an email for Student GIC Program Application once you have registered for the bank's secure email service. You must fill out the form completely, including your contact information, education and career background, and financial position. This form can be completed online or offline. To fill out the form offline, you must first download it from your registered email account and print it. It is possible that the application procedure will take up to 5 business days.
Transfer funds into this Account:
You will receive an "investment account number" with financing details in your secured email after submitting the Student GIC Program Application. You would need to deposit at least $10,000 CAD into your account, plus any transaction costs (if any). This can be accomplished by moving funds from your personal or joint savings account.
Apply for Study Visa or Permit:
After funding your account, you can apply for a Study Permit/Visa. You can apply for it at the Canadian embassy in your country. For a student permit/visa, you would additionally need to provide an investment account number, which we mentioned earlier.
Complete all documentation & other Procedure:
When you arrive in Canada, go to any of the branches of the bank where you opened your GIC account and complete all of the necessary paperwork.
For this, you would need to bring:
a valid Passport
Study Permit
Investment Balance Confirmation
Letter of admission from the Canadian university.
Once you have completed these procedures, you will be enrolled in the GIC program and can begin investing in the GIC.
Note: If your study permit/visa is denied, you will receive a $10,000 CAD repayment in your source account.
To receive a return, you must provide confirmation of your study permit cancellation and withdrawal from the Canadian educational institution, or a rejected admission application from a Canadian University.
How much is GIC fee for Canada?
According to Canada Immigration, the minimum GIC amount for a Canada Student Visa is (CAD 10,000 + CAD 200 processing fees = CAD 10,200).
What are the Financial institutions offering GIC?
The three most common banks where you can open a GIC account as an overseas student are listed below:
| Banks | CIBC, Canada | Scotiabank, Canada | ICICI Canada |
| --- | --- | --- | --- |
| Mode of Registration | Online | Online | Online |
| GIC Amount + Processing fee | $10000 CAD | $10200 CAD | $10150 CAD |
| Name of the Confirmation Document | Poof of investment | Investment Directions confirmation | Investment Balance Confirmation |
| Mode of transfer | Wire Transfer | Wire Transfer | Wire Transfer |
| GIC Refund Processing Fee | Disclosed at the time of refund | Disclosed at the time of refund | $10 CAD |
| GIC Redemption Period | 11 months | 12 months (can be extended) | 12 months |
| Interest on GIC Amount | 0.5% (p.a) | Depends on selected program | 1% (p.a) |
Bank Registration Requirements for Obtaining a GIC
Banks that offer GICs must meet certain requirements. If the bank does not comply, you will be unable to apply for a student visa/permit via the Student Direct Stream. As a result, ensure that your bank meets the standards listed below.
The bank must certify that you purchased a GIC by providing you with one of the following:
An attestation letter
GIC certification
Confirmation of Investment Directions or Confirmation of Investment Balance
The bank must store the GIC in an investment account or a student account that you cannot access until you arrive in Canada, or the assets will be released only if you provide:
A one-time payment upon arriving in Canada.
The remaining payments should be distributed in monthly or bimonthly.
Installments throughout a 10- to 12-month period
This is all received by you during your stay in Canada.
Conclusion
Global Investment Conference (GIC) in Canada offers a unique platform for exploring investment opportunities in one of the world's most stable and prosperous economies.
Just as Global Tree guides students towards their dreams of international education, GIC opens doors to potential investors seeking to expand their horizons. Both endeavors share the common goal of empowering individuals to reach new heights, be it through knowledge or financial growth.
With Global Tree's expert guidance, students find their path to success, while GIC presents a promising avenue for financial growth and stability. Together, they exemplify the limitless possibilities that await those who dare to dream and invest in a brighter future.
FAQs - Frequently Asked Questions for GIC in Canada
What documents are required to pay GIC?
A copy of your passport is necessary to verify your identity and history when opening a GIC account. Students who want to open a GIC account will need to provide proof of enrollment. A copy of an acceptance letter from an accredited Canadian institution or college can be used as proof of enrollment.
Is there a 90-day GIC?
A 90-day GIC operates in the same way as any other GIC: your money is deposited with a bank or credit union for a defined length of time known as the term (i.e. 90 days), and when the term expires, you're guaranteed to receive your money back plus interest.
How can I avoid GIC in Canada?
A guaranteed investment certificate (GIC) is not required for non-SDS visa processing. A Canadian Investment holds a $10,000 CAD fund in preparation for the cost of living in Canada under GIC. Non-SDS applicants can demonstrate liquid money by skipping GIC.