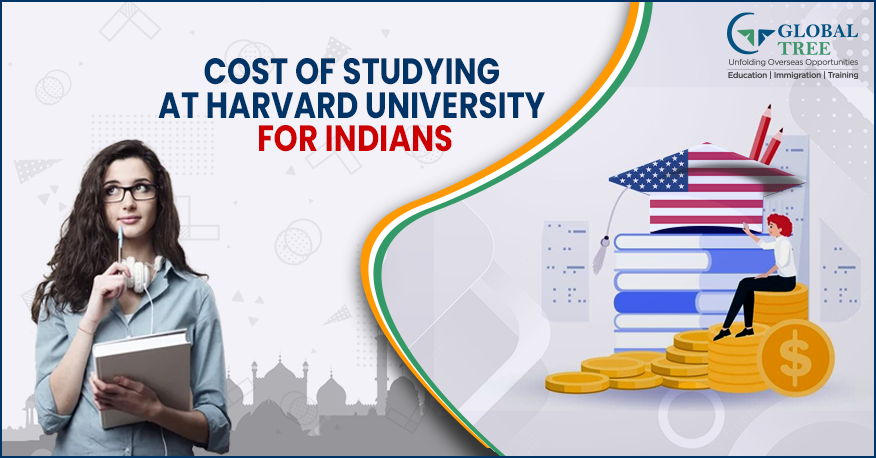 Study in Harvard University
Who is unfamiliar with the name of Harvard University? It is amongst the top dream universities for aspiring students from all over the world and is one of oldest and most prestigious Colleges among the Ivy League. The university has produced many eminent figures and includes world leaders, statesmen, nobel laureates and business tycoons among its alumni. If you are planning to study at Harvard then you may be curious to know what the actual cost will be for studying at Harvard. Read on to find out
What is the Cost of Studying at Harvard University?
If you are keen on studying at Harvard University, but are concerned about the high costs, then lay your fear aside. There are a number of ways in which you can find financial aid, and with some meticulous planning you can mitigate most of the costs and reduce the price tag drastically. The following sections will apprise you of the costs you can expect to incur while studying at the university as well as how to cover them.

[Read More: #YouAreWelcomeHere National Scholarship Program]
Tuition Fees at Harvard University for International Students
The standard tuition fee for studying at Harvard is around 57,000 USD per annum
Room, accommodation and other expenses can total your expected out of pocket costs to be around 75000 USD
Although the amount may seem quite high, its very easy to get financial aid to cover the costs and more than 70 percent of students who are accepted receive financial aid
If your parents earn less than 65000 USD per annum, you can study for free through grants provided by the university
More than 50 percent of the students who get in will receive a need-based scholarship of around 53000 USD
The Harvard University has its own Scholarship Scheme which offers students like you a unique opportunity to study at the prestigious university at a fraction of the actual costs
The university has instituted a committee for general scholarships which looks into the disbursement of financial aid to international students who wish to study in USA.
You can study at Harvard through a full ride scholarship with all costs covered if your family income is less than 65000 USD
Tuition Fees
The following are the tuition fees charged for students in the current academic year
Tuition fees for full-time students is around 48000 USD per annum
Tuition fees for Part-time students is around 24000 USD per annum
Tuition fees for doctoral students is around 24000 USD per annum for advanced Doctoral fees payable above other tuition requirements
The Health Insurance fees for international students are around 4900 USD per annum
The subject wise breakup of tuition fees for popular fields for undergraduate courses are as follows
Bachelors in Computer Science, Economics, Psychology, History and Literature, Anthropology, South Asian studies, and Environmental Science & Public Policy will cost around 45,823 USD for each course which is of four years duration
Studying for BA in Biomedical Engineering will cost 47951 USD for a four years course
MD MPH Program will cost upwards of 50000 for a five year course
The cost for post graduate course at Harvard is around 49214 USD for each year
Some of the costs for popular post graduation courses are as follows
An MBA program of two years will cost you around 67858 USD
A MS in Computational Science and Engineering for 2 years will cost you 52166 USD
MS in Data Science for 1.5 years will cost 50665 USD
MS in Biotechnology a one year duration course, will cost you 38906 USD
Masters in Architecture will cost you 49289 USD
PG in Liberal Arts in Finance for a 1.5 – 2 years course will cost around 18389 USD
Masters degree in Public Administration for a 2 years course will cost 48789 USD
Masters degree in Liberal Arts in Data Science will cost 18389 USD
A Masters degree in Laws will cost 60798 USD
Masters degree in Biomedical Informatics can cost around 49664.70
Cost of getting a Student Visa to Study at Harvard
1. Once you finalize your admission to Harvard, you will need to take the all important step of applying for a USA Student visa
2. The cost of applying for a visa is around 144 USD
Cost of Living while studying at Harvard University for Indian Students
Cost of Accommodation
The cost of renting an apartment or dormitory fees will depend on a number of factors. You can expect to pay
820-1100 will be the expected cost per month for a room in the dormitories at Harvard
1700 to 2,600 USD per month for renting a studio or one bedroom apartment at Harvard
1150- 2000 USD per month for a studio apartment within the campus but not owned by the university
500-850 USD per person to live in a 3 or 4 BHK situated outside the campus on a sharing basis.
You should also factor in cost of setting up furniture and other utilities & services if you choose to live in out of campus accommodation
[Read More: Life as a Student in USA – Most Unknown Facts]
Cost of Transportation
You can expect to pay around 75 USD to rent a bike to travel around campus
Travel by bus can cost you around 7.36 USD per trip within the city on the Greyhound Bus system
The cost of traveling by train or subway can cost around 2.75 USD per trip
You can also choose the option of renting a car which can cost you around 30 USD per day
Cost of Utilities and other expenses
You should budget for around 14,000 USD for covering the cost of utilities which will include the following
Utility Bills which can include electricity, gas and water
Mobile phones
Clothes
Toiletries
Food and housekeeping
Books and stationery
Transportation, etc.
Scholarships to cover Cost of Studying at Harvard University
You can apply for the following scholarships to study at Harvard in order to bring down the costs of your study in USA
HGSE Financial Aid
Need-based Scholarship
Boustany MBA Harvard Scholarship
Horace W. Goldsmith Award
The Robert S. Kaplan Life Science Scholarship
US Scholarships for Indian Students with a family income between 65,000 – 150,000 USD allows you to pay only 10 percent of your total income if you get admission to Harvard
If your parents total income is more than 150000 USD, then you will need to pay more than 10 percent of your family's income. The exact amount will depend on your individual circumstances
To know more about studying at Harvard, and how to cover the costs of studying at Harvard, reach out to our US education advisors at Global Tree
How can I calculate the Cost of Studying at Harvard?
The cost of studying at Harvard can have many input factors and will depend on your personal profile and financial background. We suggest that you step in to one of our Global Tree branch offices, where our expert counselors can guide you
What is the best scholarship for studying at Harvard?
There are a number of excellent and highly prestigious scholarships available for students who manage to get an admission to Harvard. You can visit our branch to meet with our expert overseas education advisors to know more about the various scholarships open to you and to work on a plan to apply for them