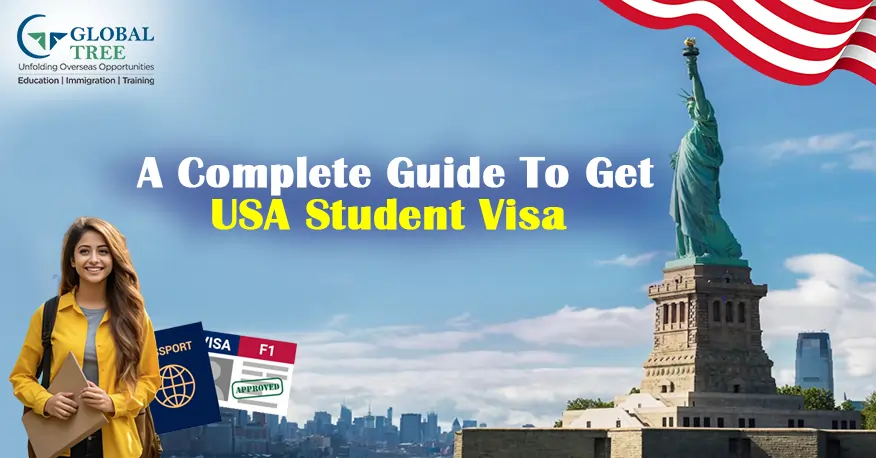 Introduction
If you're wondering how to apply for a US visa from India, read our advice for Indian students and get started on your F-1 visa application.
The United States is a popular choice for overseas students seeking a high-quality education and a diversified cultural experience.
Studying in the United States provides students with access to some of the world's most prestigious universities, cutting-edge research facilities, and a diverse selection of academic programs. With its vibrant environment, the United States offers a one-of-a-kind and thrilling study experience. Which may lead to job prospects and personal growth.
The US government offers all Indian students the option to study in the country, but you must first secure a student visa.
The sort of visa you require will be determined by your age and the type of education you desire to undertake in the United States. Here's a quick rundown.
What is US Student Visa?
Ever wondered,
'what is f1 visa in usa?''
USA issues 3 types of student Visa:
F Visa is a student visa for USA for a full-time program with a validity up to 5 years. They can work part time with less than 20 hours a week.
M Visas are for non-academic students who wish to pursue vocational courses. Maximum duration is 1 year.
J Visas are for exchange students who are enrolled in the student visitors program in USA.
And it is not difficult to obtain a student visa for the United States from India; however, you need to stick to all student visa requirements for the United States from India and be ahead of time to complete and submit your paperwork.
You have to get accepted into a degree program at a recognized US institution of higher education before applying for an F-1 student visa from India.
What is an F1 Student Visa in USA?
In the United States, an F visa is a non-immigrant student visa that allows foreigners to pursue their education in U.S.A.
F-1 students must cater your stay for the complete duration of your course. F-1 visas are issued only at U.S. embassies and consulates.
Although it is a student visa, extensions of stay and changes of status can be made in the United States.
Eligible F-1 students must apply to schools and receive an I-20 form to apply for an F-1 visa.
There are 3 types of F visas
F-1 Visa - for the students themselves
F-2 Visa - are for spouse or an children of the F-1 holder. The term used for them are technically 'Dependents'. They can also pursue an education in the United States. Part time post secondary education and full time elementary education are allowed.
F-3 Visa - This visa is for the 'border commuters'. It is only issued to the Mexican and Canadian residents. They are not authorised to work on campus, but may study part time or full time.
What is I20 Form USA for Student Visa for International Students?
Form I-20 is an important document to keep as it will be needed throughout the international student lifecycle.
All F and M students studying in the United States must possess a Form I-20, Which is a "Certificate of Eligibility for Nonimmigrant Student Status".
Once admitted to a SEVP accredited school (Student and Exchange Visitor Program), international students receive a Form I-20 from their Designated School Official (DSO).
You will also need to obtain a Form I-20 for any eligible dependents you wish to bring to the United States.
However, be aware that the name listed on a SEVP-accredited school's Form I-20 (i.e., if you are an academic and language student or Vocational student) determines the type of student visa you can receive from your U.S. Department of State status.
This status will be maintained by you in the United States. Both you and your DSO must sign Form I-20.
If you are under 18, your parents must sign Form I-20 on your behalf.
If you wish to know more about the I20 form and all other details check here.
I-20 While Entering the Country Keep in Mind
I-20 Don't pack it away in your suitcase.You must have a signed Form I-20 on hand when you enter the country. A U.S. Customs and Border Protection officer will ask you to present Form I-20 at the port of entry.
You can arrive up to 30 days before the start date listed on Form I-20.
What are the USA student visa benefits for an International Student?
Students in F-1 visa status receive the following benefits:
You can come to the United States and study full-time in a program that leads to a degree or certificate.
You can transfer to another school or change your academic program by notifying USCIS of the change.
You can legally work part-time on campus. If you have financial need or need practical training, you can also look for off-campus employment.
You can travel within the United States or abroad, or you can stay in the United States until you complete your studies.
You can allow your spouse and children to enter the United States on F-2 visa.
F-1 visas have no limit on the number of visas, so an unlimited number of students can enter the United States at any time. You have the opportunity to enter the United States as a full-time student and receive a world-class education.
You have the flexibility to travel to and from the United States during your studies. You can stay in the United States permanently if you wish.
If your family, spouse, or dependents apply for F-2 status and are approved, they can accompany you.
Limitations of a F-1 Visa for an International Student
Students in F-1 visa status must do the following:
You may work off campus only with prior approval from USCIS.
You must attend a school that has your visa approved.
Your spouse and children (F-2 status) are not authorized to work in the United States.
You may not apply for a green card for United States.
If you want to work off campus, you need permission from the USCIS.
You may have to leave the United States immediately after completing my studies.
Your F-2 dependents are not eligible for employment.
Most people believe that the benefits outweigh the disadvantages and that the F-1 visa is a good option for many students. Make your decisions based on good research and trusted sources.
(Read More: USA Student Visa: Should you go for F1 or F2?)
Am I Eligible for US Visa for Students?
If you want to apply for a US F1 visa for Indians, you need to check your eligibility to Study in USA before you start.
Admission of students to schools recognized by SEVP
English language requirements
Admission of students to schools recognized by SEVP:
The first step is to apply to a SEVP-accredited school in the United States.
Once your application is accepted by a SEVP-accredited school, you will be registered with the Student and Exchange Student Information System (SEVIS) and must pay the SEVIS I-901 fee. SEVP-accredited schools issue Form I-20.
After you receive your Form I-20 and register with SEVIS, you can apply for a student visa (F or M) at a U.S. embassy or consulate.
When you attend your visa interview, you must present Form I-20 to the consular official.
Suppose your family and dependents plan to live with you in the United States while you study. In this case, you must register with SEVIS, obtain a separate Form I-20 from a SEVP-accredited school, and apply for a visa (but no SEVIS fees will be paid).
IELTS Requirement for USA Student Visa
The minimum IELTS score for undergraduate degrees in the United States is 6.0 Bands.
Whereas postgraduate degrees require at least a 6.5.
The minimal IELTS score is also determined by the universities themselves. Several Ivy League colleges, for example, require an overall score of at least 7.0, whereas other universities normally require a 6.0 or 6.5.
You also have an opportunity to study in US Universities without IELTS or TOEFL score. Check out if these list of universities contain you next academic destination.
US Student Visa Document Checklist
Authentic passport guaranteeing that it does not expire while in the United States
A Confirmation Page from their student visa application form, as well as two recent images that match US visa requirements.
Transcripts from any previous educational institute will also be required.
Bank statements and proof of finances for the duration of their stay in the United States.
Completed Visa Application Form
Prove of ties to your Home Nation
Diploma (if applicable)
1. US Student Visa Financial Documents
You must submit papers such as
Bank Statements
Tax Returns to demonstrate that you have
Sufficient Funds to cover living expenses and tuition for the duration of your study. Make every effort to be prepared and organized in order to ensure a smooth application procedure and successful entry into the United States.
2. US Student Visa Medical Documents
Applicants must present documents confirming that they meet medical conditions in order to apply for a student visa in the United States.
Vaccination records
Valid passport
Proof of financial competence
Documents describing any medical or mental issues are examples of acceptable documentation.
Applicants should be aware that some documents may take longer to receive than others and, as a result, should begin the documentation process as soon as practical.
Furthermore, all documents must be translated into French or English before being submitted for evaluation; this extra step will guarantee that the application process runs smoothly. Students can look forward to their academic path and gaining important experience abroad if they have the necessary documents.
(Read More: Here is a detailed document Checklist for USA Student Visa)
What is the USA Student Visa Process for an International Student?
Here are 10 steps to study in USA
F-1 Visa and Term Breaks
"What is the validity period of student visa after study leave?"
If you lose your student status for your US F1 Visa, you will be unable to travel to the US until USCIS reinstates your student status. You can also examine the USCIS and the instructions for Form I-539, Application for Nonimmigrant Status Extension/Change.
Students visiting the United States after leaving the country
Students may lose their US F1 Visa For Indians or M-1 status if they leave the country for a five-month or longer break in their studies, unless their activities are related to their course of study. Assume they are unsure whether their behavior is related to their course of study. In that circumstances, pupils should consult with their designated school authority before departing.
If a returning Indian citizen student has been out of the country and out of student status for more than five months, a Customs and Border Protection (CBP) immigration officer at the port of entry may find the student ineligible if the student presents a previously used, unexpired US F1 Visa For Indians or M-1 visa. CBP may terminate the US F1 Visa For Indians after allowing the student to withdraw their admissions application. Students should apply for new visas at a US embassy or consulate in India to prevent delays while returning to the United States to resume their studies after a more than five-month break unrelated to their course of study.
Where to apply for a USA Student Visa?
If you're wondering how to apply for a student visa to the United States from India, there are a number of US consulates and embassies in India where you can set up an interview. See the links below to identify your nearest US embassy location:
What is the US Embassy Fee for Student Visa?
To obtain a US student visa, you need to pay the following fees:
I-901 SEVIS fee: This fee is 350 USD Approx for F-1/M-1 students and 220 USD Approx for J-1 students (or 35 USD for those entering short-term J-1 programs). All applicants must pay this fee.
Visa application fee: This fee is 160 USD Approx. All applicants must pay this fee.
Visa issuance fee: If your visa is approved, you may also pay a visa issuance fee, if applicable to your nationality. The fee is 185 USD Approx.
(Read More: How to Get a US Student Visa Appointment at the Embassy?)
What is the Student Visa Fees for USA from India?
Along with USA Student Visa Fees in Indian Rupees:
The following table shows the various levels of US visa application fees:
| Fee Type | Cost in USD Approx | Equivalent Cost in INR Approx |
| --- | --- | --- |
| Non-petition based nonimmigrant visa | $160 | 11,900 |
| Petition based visa | $190 | 14,132 |
| Border Crossing Card Fees | $160 | 11,900 |
| SEVIS Fee for F visa applicants | $350 | 26,000 |
| SEVIS Fee for M visa applicants | $350 | 26,000 |
| SEVIS Fee for J visa applicants | $220 | 16,360 |
| SEVIS Fee for special J visa categories | $35 | 2,600 |
| SEVIS Fee for Government visitor | Free of cost | Free of cost |
What is the US Student Visa Duration of Stay?
F-1 students are expected to complete their degree of study.
They may stay in the United States for up to 60 days after completing their academic program unless they have applied for and been permitted to stay and work for a period of time under the OPT program.
What is the US Visa Expiration Date?
The expiration date of a student visa depends on the type and level of the course of study, the country of origin and destination, and the immigration status of the student. Some possible ways to determine the expiration date of a student visa are:
Checking the date marked on the visa or the permit issued by the immigration authorities.
Checking the date shown on the I-94 document for F-1 or M-1 visas in the United States.
Subtracting 90 days from the day the student completes their studies.
Considering the circumstances that may cause the visa to expire or be terminated, such as the end of the course, the lack of financial means, or the violation of visa conditions.
What is the USA Student Visa Wait Time from India?
The time it takes to obtain a US student visa in India varies based on the city.
The wait period for a US student visa appointment at the New Delhi consulate is 26 days as of October 2021.
The average wait period in Mumbai for a US student visa appointment is 444 days.
The waiting period for B1/B2 candidates seeking an interview is 999 days in Mumbai, 494 days in Hyderabad, 786 days in Delhi, 800 days in Chennai, and 440 days in Kolkata, according to the US State Department.
(Read More: Best Tips to Crack F1 Student visa Interview)
Is Gap Acceptable for USA Study Visa?
Yes, individuals do ask if the gap is acceptable for a study visa in the United States. And the United States does allow a break in academic performance for a study visa.
Modern students often take breaks from their academics. They take breaks from their academics to prepare for entrance examinations and to improve their chances of doing well.
A gap of one year is permitted for a study visa in the United States, but there must be a good cause for it. If there is a significant gap, you must present a genuine gap certificate and an adequate justification. Because the US educational system is currently significantly strict on study gaps.
What is the passport validity for USA Student Visa?
It's not necessary for your passport to remain valid throughout your academic career. Instead, at all times during your education, your passport should be valid for at least another six months.
basic paperwork needed for a US student visa The applicant must have a passport that is good for travel to the United States and is valid for at least an additional six months after the intended stay in the country.
What is the USA Student Visa Success Rate 2023?
The approval rate for US Student Visa is around 85% for 2023.
What is the USA Student Visa Rejection Rate 2023?
According to a recent report, the US Department of State turned down 35% of F-1 student visa applications last year. This is a considerable increase in the total rejection rate for F-1 applicants as well as a significant increase above the average USA Student Visa refusal rate for other non-immigrant visa classes. The reasons for a USA student Visa rejection may actually turn out to be more common than you think, take care of your application at every step of the process.
Which countries can I Travel with a USA Student Visa?
Short journeys to the United States' neighboring countries of Mexico, Canada, or the islands of the Bahamas Even if your visa has expired, you may still be allowed to go to Mexico, Canada, and nearby islands. This is typically permitted for journeys lasting 30 days or fewer.
Can I enter Canada with a US F1 visa?
The majority of F-1 and J-1 students can leave the country and return on an expired visa to countries like Canada, Mexico, and the neighboring Caribbean Islands, but only if their stay is under 30 days.
Can you leave the US on a student visa?
You can travel abroad for brief durations to visit family, attend conferences, etc. with a student visa, but your absences cannot last longer than five months. Your visa may expire before the end of your studies, even though you are permitted to remain in the country at that time.
Can I Travel Internationally on a F-1 Visa?
You are permitted to travel abroad and domestically while enrolled in school in the United States as an international student with an F-1 visa. You must be aware of and abide by U.S. immigration laws if you want to keep your student status, particularly if you plan to travel outside of the country.
What Else Do Students from India Need to Know Before They Apply for a Visa?
Health insurance is not required by law for international F-1 visa holders; however, it is always a good idea to have it for peace of mind. Also, a few universities in the US mandate students to have an active health insurance plan. So, when you receive your acceptance letter, make sure to check all the requirements of a university that you have enrolled in.
Some universities even automatically enroll international students in their health insurance plans. It's okay if you want choose another plan instead of the school plan according to your university requirements. Ultimately, it is up to the individual to decide which plan works best for them.
If this is the case, students are usually required to enroll in health insurance before the start of classes.
FAQS- Frequently Asked Questions for USA Student Visa
Can I Transfer to Another College in the United States?
Transferring to a different school within the United States is possible for foreign students with F-1 visas.
Before applying, discuss this with your designated school officer (DSO). You must continuously retain your F-1 student status in order to transfer successfully. Up until your transfer release date, which is the day your DSO formally transfers you to the new college, you are still regarded as a student at your previous institution.
If a student needs a new form of visa to continue their education or participate in a recognized job program, they can also file for a change of status.
Can I Work While I Study in the United States?
Full-time students are eligible for an F-1 visa. As a student, you are not eligible to work in the US for the majority of jobs because your visa is not a work visa. There are certain exceptions to the norm, most of which pertain to work that is associated with your education and internships.
A complete list of career options for international students is provided below:
How much bank balance is required for USA student visa?
Your bank balance should cover at least one year tuition fees and living costs in the US.
Who can sponsor for student visa in the USA?
Your parents, family, and friends can sponsor your student visa in the US. you can also get hold of an education loan, or get your visa sponsored by a combination of both the ways stated above.
What is the age limit for student visa in USA?
An applicant must be at least 18 years of age to apply for a US student visa.
Can I travel while on an F-1 visa?
Yes, you may travel back to your home country or other countries during your vacation and holiday times. When you re-enter the United States, you must have the following documents:
A valid Form I-20A-B with a recent signature of your school advisor;
A valid passport;
A valid F-1 visa (unless you are a Canadian citizen, or you are eligible for automatic visa revalidation); and,
Proof of your financial support.
How long can I stay in the U.S. on an F-1 visa?
Your Form I-20 states the length of time you may stay to finish your studies. You are permitted to stay until you finish your studies.