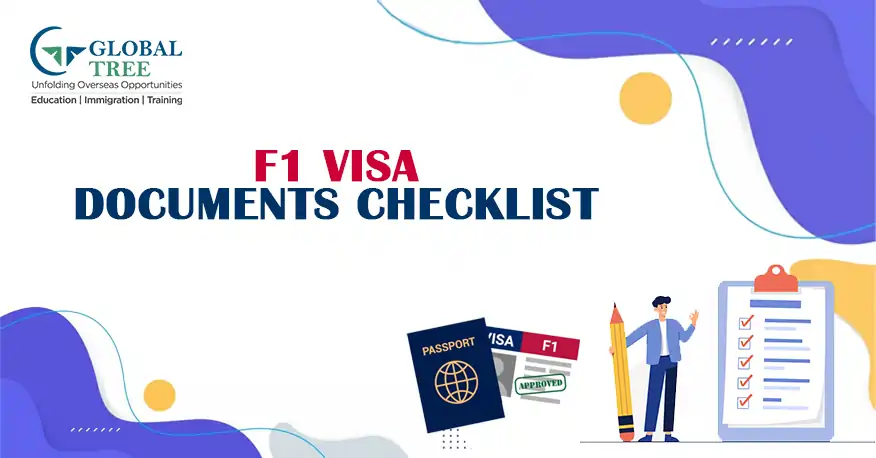 Introduction
Are you too tired to find a checklist for a USA Student Visa? Fret not, We have done the work for you!
Before looking at the checklist, let's understand a bit about the F1 Visa.
It is a non-immigrant visa issued only by either the US Embassies or Consulates outside the country.
Once issued, it enables the applicant to pursue their desired coursework in the world-class institutions of the US; provided they finish their coursework for its entire duration.
However, extensions or changes in your status can be processed within the US through authorized agencies.
Following is a tabular representation of the visa you must apply for based on the type of programs you intend to opt for in the USA:
Students arriving in the United States
Student Visa Category

University or college

F Visa

High School

Private elementary school

Seminary

Conservatory

Any other academic institution, even including a language training program

Vocational or recognized non-academic institution (other than a language training program)

M Visa
The visa application process can be complex, so it's advisable to start early.
Once you receive your admission or acceptance letter from your university and the I-20 form, you should initiate your F-1 Visa application.
(The I-20 form is one of the crucial documents in obtaining your F1 visa. It provides evidence of your financial capability to support yourself throughout your course in the United States. You can also use this form to arrange an interview appointment with the US Embassy or Consulate.)
It's crucial to complete the F1 visa slot booking at least 6-8 weeks before your intended travel to the USA. Delaying this booking can lead to travel and visa approval delays
To apply for an F-1 visa, you'll need specific documents, which shall be discussed below.
Documents Required
Here is a list of the required documents for the F1 visa application process. These documents must be readily available for presentation upon request:
Documents
Details

Academic and Proof of English Proficiency

● Academic Transcripts like Class 10th and 12th Certificates and mark sheets

● GRE or GMAT for graduate courses and SAT scorecard for undergrad admissions

● IELTS or TOEFL scorecards or even PTE scorecards

Bachelor's Degree/ Provisional Degree Certificate or course completion certificate or mark sheet for all the years as well as the consolidated mark sheet (if applicable)

Personal Information

● Passport (current and all the previous ones)

● MRV Fee Receipt

● Visa Interview Appointment Letter

● DS 160 Confirmation Slip (with the bar code visible)

● SEVIS Fee Receipt

Passport Size Photograph (as per regulations mentioned)mark sheet for all the years as well as the consolidated mark sheet (if applicable)

Financial Documents

● Proof of funds for US Student Visa:

● Loan Approval Letter (if applicable)

● Saving Bank Account Statement (recommended: last three years)

● Fixed Deposit Certificates (recommended: last three years)

● Tax Returns for the past three years

Property Documents (residential, commercial, ancestral, and/or farmland)

Work-related Documents (if applicable)

● Joining Letter

● Salary Slips (last six months)
Having these documents readily available and well-organized will help streamline the F1 visa application process.
Remember, if your documents are not in English, they should be translated beforehand.
Once you've completed the checklist, it's time to get ready for common interview questions.
The first basic is your Self-introduction in an interview. Make sure to arrive a little early for the interview and have all the original documents listed in the F1 visa interview checklist with you.
Also, greet the official. It gives a great first impression. Answer everything with confidence, honesty, and a smile.
**Once the visa is approved, students must be prepared to cover the visa insurance fee.
FAQs - Frequently Asked Questions for F1 Visa Documentation and Application Guide
What is the 5-month rule for an F1 visa?
According to this rule, an F-1 student's F-1 status may become compromised if they miss more than five months of classes. Whether this constitutes a violation depends on the length of the absence and whether it was unintentional or intentional.
How long is a bank statement valid for an F1 visa?
When requesting an F1 visa, you must produce three months to a year's worth of bank statements.
Is a birth certificate mandatory for an F1 visa interview?
Documents verifying your financial and personal links to your nation, as well as your mandatory return after completing your course in the United States. If you are financially dependent, you must provide documentation of your link to the sponsor, such as a birth certificate, along with verification of their income and employment information.