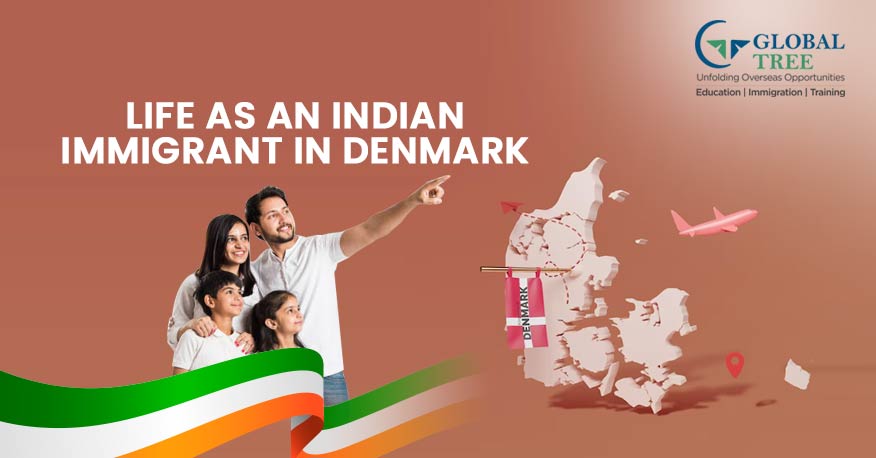 Life As An Indian Immigrant In Denmark
Are you planning to migrate to Denmark and wondering how would be life as an
Indian Immigrant in Denmark?
Here is a small preview for you before the immigration. Denmark is a Scandinavian country situated in the Northern part of Europe. The Kingdom of Denmark, which is the smallest among all Scandinavian countries acts as a link between Scandinavia and the rest of Europe. There has been increased interest in living in Denmark as an Indian. To know how it will be to settle in Denmark, here we have unruffled some aspects of life in Denmark for Indians.
1. Employment In Denmark For Indians
Denmark is a welfare state and enjoys a mix of market and capitalist economies. The quality of life in Denmark for Indians is one of the best in the world. Denmark immigration enables you to enjoy life in a country, which frequently got counted among the happiest and most transparent countries in the world.
Top Jobs in Denmark for Indians:
The Denmark jobs for Indian potential job seekers are also extremely positive in corporate industries, tech companies, and small-scale businesses in Denmark. And, due to its geographical location, the export business is also one of the leading industries in Denmark.
[Read More: Application Process For Denmark]
Top list of Popular Graduate Jobs in Denmark:
IT Consultant
Mechanical Engineer
Radiographer
Psychologist
Primary and Secondary School Teacher
Education
Engineering
IT
Medicine & Health care services
If you are still looking for jobs in Denmark, check out the
Sectors with Skill Shortage in Denmark
:
High Demand Jobs In Denmark:
Doctors
Medical Consultants
Dentists
Pharmacists
Electrical Engineers
Construction Engineers
2. Study In Denmark For Indian Students
Denmark has ranked as the
3rd best country to study in Europe
as per the International Student Satisfaction Awards. More than 9 students out of 10 have stated that the high standards in education are the reason for student satisfaction in Denmark. Moreover, there are many benefits for Indians Students studying in Denmark.
Best Universities in Denmark in 2021-22:
University of Copenhagen
Arhus University
Technical University of Denmark
Aalborg University
3. Minimum Cost Of Living In Denmark For An Indian Family
The cost of living for Indians in Denmark is higher than compared in India. But when compared to living in New York, it is a lot lesser. From groceries to rent, expenses are a little high when compared to other major nations like the UK, Australia, etc. Among all provinces,
Copenhagen, the Capital City of Denmark has a low cost of living
. Do you know Danish salaries are the second highest in the world? Yes, the highest paying jobs in the world are in Denmark. Lawyers, Bank Managers, and Chief Executive Officers are the highest paying professions in Denmark.
4. Language & Weather In Denmark
Denmark is a country with multiple islands and provinces. Danish is spoken in most parts of the country, while small pockets of French, English, Faroese, and Inuit are also in use. People who are living in Denmark as Indians can easily get along in the larger cities without any knowledge of Danish, as most people speak fairly good English in these cities. However, it is advisable to start learning the language to get the full experience of life in Denmark. Winters - Very Cold Summers Cold & Pleasant
[Read More: Why Denmark Is The Happiest Nation In The World?]
5. Food Choices In Denmark For Indians
Indians living in Denmark will not be able to find vegetarian food easily, though this is gradually changing. Several Indian restaurants are sprouting up in larger cities like Copenhagen. Many cities also have Indian grocery stores which stock Indian spices and other everyday cooking essentials such as basmati rice. The quality of food in the country is excellent as it has the strictest food regulations in the world. There are many lovely treats for sweet lovers as Denmark is famous for its baked delicacies such as Danish pastry and open sandwiches.
6. Is Denmark Safe For Indians?
Denmark is safe for Indians because the people of Denmark are generally more reserved. They are not very gregarious but are always polite and helpful. Many of them step up to help you if you are lost and are looking for directions. Denmark is one of the happiest & safest places in the world, where women are treated on par with men in the country. So, Indian Immigrants in Denmark enjoy a safe and secure environment as well as a high standard of living. To know more about migrating to Denmark, contact Global Tree at Begumpet, Hyderabad, one of the
best Denmark immigration consultants and immigration advisors in India
.