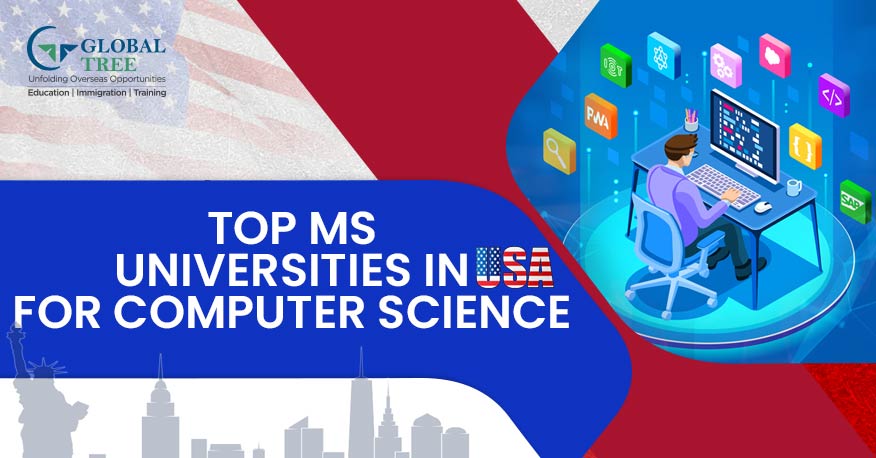 Study Masters in Computer Science
The United States is a popular choice among students for studying computer, science due to its highly ranked universities, access to the latest technology, and practical teaching approach. The demand for computer science professionals is growing, and the US offers a range of specializations in the field with a flexible education system.
One of the key advantages of studying in the US is the opportunity to participate in contests and projects that challenge students to use their creativity and problem-solving skills to develop new systems and technologies. This hands-on approach is unique to the US and helps prepare students for successful careers in technology.
MS Computer Science Colleges in USA Highlights
Number of MS Computer Science Colleges in the US
Approximately 280+ MS Computer Science Colleges

MS Computer Science Cost in the USA

Tuition Fees: INR 18-25 lakhs (average first year)

Living Expenses: INR 8 lakh (for one year)

Top Specializations

Data Science, Machine Learning, Software Engineering, STEM, Artificial Intelligence, Computing Theory, Cyber Security, Cloud Computing

Admission Process

(Subject to university)

Bachelor's degree + GRE score, GPA (3.0/4) + TOEFL/IELTS score + Internship/Work Experience + Resume + Letters of Recommendation + Statement of Purpose + Final Transcripts
Best Colleges in USA for MS in Computer Science
The top US schools for an MS in computer science are shown here, along with their overall rankings.
University
QS World University (Subject) Rankings 2022
US News & World Report: Best Global Universities 2022

Massachusetts Institute of Technology

Cambridge, United States

#1

#2

Stanford University

Stanford, United States

#2

#3

Carnegie Mellon University

Pittsburgh, United States

#3

#102

The University of California, Berkeley (UCB)

Berkeley, United States

#4

#4

Harvard University

Cambridge, United States

#7

#1

Princeton University

Princeton, United States

#13

#16

Cornell University

Ithaca, United States

#14

#22

University of Washington

Seattle, United States

#16

#7

University of California

Los Angeles, United States

#18

#14

New York University

New York City, United States

#19

#30
MS Computer Science Cost/Fees in the US
The cost of tuition for a master's degree in computer science in the United States can vary among different universities and institutions. It is recommended for students research the tuition and living costs in the USA when applying for admission to help narrow down their options based on their budget.
On average, the first year of studying computer science in the US may cost between INR 18-25 lakh, and the average living cost is around INR 8 lakh per year. The amount a student spends on living expenses may be influenced by their choice of accommodation, personal expenses, and any leisure travel.
US Student Visa Cost
Two types of visas are required for international students who want to study computer science in the US at the master's level. These are the F1 visa and the J-1 visa.
The F1 visa is for international students who want to study in the US. To obtain an F1 visa, students must have Form I20, a Certificate of Eligibility for Non-Immigrant Student Status. The fee for an F1 visa is $160, and additional fees may be required depending on the student's home country and the US embassy they apply through.
[Read More: Best Interview Tips for F1 Student Visa]
The J-1 visa, also known as the J student visa or exchange visitor visa, is for international students who want to participate in exchange programs in the US.
MS Computer Science requirements for the US - Eligibility Criteria
To study for a master's degree in computer science in the US, students should generally meet the following requirements:
Have a bachelor's degree with an overall GPA of 3.0 out of 4.0
Have a score of 290-330 on the GRE, although the required score may vary depending on the university
Demonstrate English language proficiency through a score in IELTS (6.5 to 7) or TOEFL (7 to 7.5)
Have internship or work experience, either through a certificate or proof
Provide photocopies of their passport
Have a good resume with a detailed summary of their education and work (if applicable)
Obtain a letter of recommendation from a mentor or employer in their home country explaining why they are suitable for admission
Write a statement of purpose outlining their future goals and purpose for studying in the US
Provide academic transcripts
Prove that they have sufficient funds to cover their tuition and living expenses for one year, through bank statements or other financial documentation
Work Permit after MS Computer Science in the US
After completing a computer science degree in the US, students may wish to extend their stay for employment or other related activities.
To do so, they may need to apply for an Optional Practical Training (OPT) extension, which allows graduates to stay in the US for up to 12 months after completing their studies.
Students who are studying science, technology, engineering, or mathematics may also be eligible for a STEM OPT extension, which allows them to stay in the US and work for an additional 24 months after graduation.
MS Computer Science Scholarships for the US
There are over 100 scholarships for students who want to study computer science at the master's level in the US. These scholarships and grants can help students reduce their loan burden and make it easier for them to afford to attend top colleges, even if they have a tight budget.
MS Computer Science Jobs and Salaries in the US (ROI)
Specializations
First-Year Tuition Fee
Average Salaries – by Degree

Master of Science in Technology and Policy

Massachusetts Institute of Technology

INR 41,29,389

$63,900

Master of Science in Computer Science

Stanford University

INR 27,98,552

$90,000

M.S in Computer Science

Carnegie Mellon University

INR 37,43,305

$84,400

Master of Science in Computer Science

University of California

INR 19,74,608

$67,546

MS in Computational Science & Engineering

Harvard University

INR 43,31,283

n/a
Before applying for a scholarship, verify the eligibility requirements to Study in USA and the application dates.
Top Recruiters in the US for MS Computer Science
When choosing a university to study computer science at the master's level in the US, many students consider the employment prospects after graduation. Top companies often recruit computer science graduates from the best universities. Some examples of top companies that hire these graduates are listed below.
| University | Top recruiters |
| --- | --- |
| Massachusetts Institute of Technology | Google, Airbnb, Oracle, Quizlet, Amazon, DropBox, Microsoft, IBM, Cisco, Facebook, Akamai, Intel, Adobe, Benchling, Apple |
| Stanford University | CITADEL, Hitachi, Nissan Bloomberg, CIA Research Labs, Cerebras, eBay, ENPHASE, Google, Fujitsu, Honda, IBM, Infosys, Meta, Accenture, Carta |
| Carnegie Mellon University | Adobe, Agility Robotics, AI Foundation, Alibaba Group, Amazon, Aurora, Barclays, Bayer, Bloomberg, Deloitte, EY, Facebook, Goldman Sachs, JP Morgan Chase |
| University of California | Intel, Microsoft, Twitter, Google, Synopsys, Samsung, Apple, SAP, Dolby Labs, Meta Inc., Orange, Broadcom |
| Harvard University | Procter & Gamble, Sun Microsystems, Agile Communications, Accenture, Microsoft, McKinsey & Company, Morgan Stanley, TIBCO Software Inc, Oracle, BEA Systems, Plumtree Software, The Walt Disney Company, |
Frequently Asked Questions
The common notion is that foreign universities are expensive, although with scholarships this is an exaggerated issue. What many fail to consider are time and effort. Studying in an Indian college leads to a lower average salary than earned by our western counterparts. This salary sets the tone for all future promotions since companies often look at your previous salaries during compensation appraisals. Additionally, most senior positions tend to be scooped up by individuals who have an international outlook through global exposure. Finally, studying in a foreign country is an incredible learning experience helping students get a better academic as well as soft skill development.
Canada has been one of the market leaders in education for decades. However, what currently sets Maple Country apart is immigration. Canada is wholeheartedly inviting students to study in their universities to fill job vacancies that are always growing in the country. Students who study in Canada (especially a Master's Degree) are practically assured of a Permanent Residency Visa.
A good score doesn't automatically qualify a candidate for a scholarship, however, it is one of the primary factors that the admissions department looks for in a scholarship application. There are other attributes such as a candidate's academics, extra-curricular, financial background, and application essays (SOPs).
We get this question a lot. Many candidates know which career path they want to take, but are at a loss for how to take that journey. Understanding the job role and the industry that you want to get into is the first step to picking the right university.
Carefully consider the immigration options of the country that the university that you are considering is in. This is more important when you intend to stay back in the country after the completion of your course.
Also, review the placement history of the university as well.
The first step is to list your preferences. By listing your preferences and strengths, describe your course of preference. Extensive research on the modules, software and its length for your preferred subject is necessary.
---
Recent Posts
---
---
Reach Our Study Abroad & Immigration Experts!
Get a FREE consultation & profile assessment at nearest branch now!
© 2023 Global Tree Careers Pvt Ltd, All Rights Reserved.
To Top