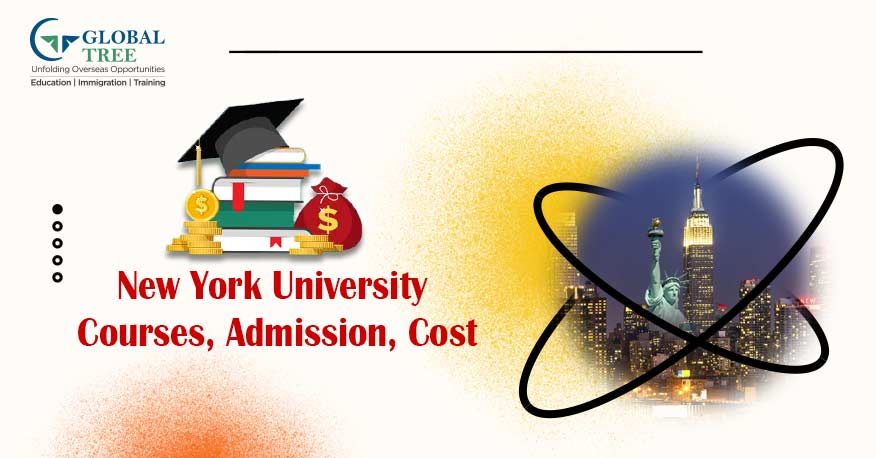 Introduction
NYU was founded in 1831. Students at New York University come from over 150 different countries, making the university a centre for both cultural variety and intellectual achievement due to its broad and international student body.
Courses offered at NYU
NYU has a lot of different undergraduates, graduate, and doctoral programmes in a lot of different fields. The law, business, engineering, medicine, and arts programmes at the university are well-known. New York University is considered one of the friendliest universities in the USA. Some of the most popular classes at NYU are the following:
Business: The NYU Stern School of Business is one of the best business schools in the world. It offers bachelor's, master's, executive master's, and doctoral degrees.
Law: The NYU School of Law is consistently ranked as one of the best law schools in the United States. It offers programmes for a Juris Doctor (JD), a Master of Laws (LLM), and a Doctor of Juridical Science (SJD).
Medicine: The NYU School of Medicine is a top medical school that offers MD and PhD programmes in a variety of medical fields.
Arts: NYU Tisch School of the Arts is a well-known arts school that offers undergraduate and graduate programmes in film, theatre, and television.
Engineering: The NYU Tandon School of Engineering has programmes for both undergraduate and graduate students in computer science, electrical engineering, and mechanical engineering, among other things to study in the USA.
Admission requirements
The admissions process at New York University (NYU) is extremely difficult, and candidates are judged on a number of factors, including their academic record, their participation in extracurricular activities, the quality of their essays, and their performance on standardised tests. The following is a list of the criteria that must be met in order to be accepted into any undergraduate or graduate programme.
In order to be considered for undergraduate programmes, applicants are required to submit not only their high school transcripts but also their SAT or ACT scores and at least one letter of recommendation.
Scores from either the TOEFL or IELTS are required to be submitted by international students.
[Read More: IELTS vs TOEFL: Which Language Test is a better option?]
Graduate programmes require applicants to hold a bachelor's degree from an institution that has been granted accreditation.
Additionally, applicants are required to submit their transcripts, scores from standardised tests (such as the GRE, GMAT, or LSAT), recommendation letters, and a statement of purpose.
Scores from either the TOEFL or IELTS are required to be submitted by international students.
Cost of attendance
The cost of going to NYU, which is a private school, can be quite high. But the university has a number of scholarships and financial aid programmes that can help students pay for school. Here are the estimated costs of going to school for the school year 2022-2023:
Undergraduate programmes: Tuition and fees for undergraduate programmes at NYU are estimated to cost $56,000 per year, and room and board are estimated to cost $19,000 per year.
Graduate programmes: The estimated tuition and fees for graduate programmes at NYU vary by programme, but the average cost is around $50,000 per year. The cost of room and board is estimated to be $24,000 per year.
Scholarships and Financial Aid in the USA
NYU, USA offers various scholarships and financial aid programs to help students with the cost of attendance. The following are some of the financial aid programs offered by NYU:
Need-based aid: NYU offers need-based aid to students who demonstrate financial need. This aid can include grants, loans, and work-study programs.
Merit-based scholarships: NYU, USA offers merit-based scholarships to students who demonstrate outstanding academic achievements or talents in specific fields.
External scholarships: NYU also encourages students to apply for external scholarships from organizations and foundations outside the university.
New York University (NYU) is a private research university located in the heart of New York City. Founded in 1831, NYU has grown into one of the largest and most prestigious universities in the world, with over 50,000 students enrolled across its various campuses.
Interesting facts about NYU Campus
The Washington Square Campus is the primary location for NYU students and faculty and is one of the university's many campuses in the New York City metropolitan area. The campus covers more than 230 acres and contains more than 100 buildings used for academic and administrative purposes.
Other campuses include the NYU School of Law Campus in Greenwich Village, the Tandon School of Engineering Campus in Brooklyn, and the NYU Abu Dhabi and NYU Shanghai campuses. All of these campuses are located in New York City.
What is the NYU Ranking?
The New York University consistently places high on lists that rank the best universities in the world. NYU is ranked 41st in the world by the QS World University Rankings for 2022, placing it among the highest-ranked universities in the United States.
This places NYU among the top universities in the United States. According to the QS Graduate Employability Rankings 2022, the university also has the sixth-best graduate employability rating in the entire country of the United States.
NYU Placements after Study in the USA
NYU has an impressive track record of placing its graduates in top companies and organizations around the world. The university has a dedicated career services department that offers a range of services to help students prepare for their careers, including job search strategies, and networking opportunities in the USA.
According to NYU Career Services, over 94% of NYU graduates are employed or enrolled in graduate programs within six months of graduation. The average starting salary for NYU graduates is around $68,000, and the university has a strong reputation for placing graduates in top companies and organizations across various industries.
Some of the top employers of NYU graduates include Goldman Sachs, Google, Deloitte, J.P. Morgan, IBM, McKinsey & Company, and Bloomberg LP. Graduates from NYU's Stern School of Business, School of Law, and Tisch School of the Arts have particularly high placement rates and starting salaries in the USA.
NYU also has a strong alumni network that offers opportunities for networking and career advancement. The university has over 500,000 alumni living around the world, many of whom are leaders in their fields and can offer valuable insights and connections to current students and recent graduates.
In addition to the resources provided by the university's career services department, many schools and departments within NYU offer their own career services and networking opportunities. For example, the Tandon School of Engineering has a dedicated career development centre that offers job search resources, resume review, and networking events specific to the engineering field.
Accommodation while studying the USA
New York University (NYU) offers both on-campus and off-campus housing options for its students.
On-Campus Housing: On the Washington Square campus and other NYU campuses, students can choose from a number of residence halls and apartments. Most of the housing on campus is for first-year students, but students in higher grades can also apply for housing. Most residence halls are like traditional dorms, with shared bathrooms and common areas. Some apartments, on the other hand, give you more freedom. Housing costs range from $16,000 to $24,000 per academic year, depending on the type of room and where it is.
[Read More: What is the cost of Living for Indian Students in the USA?]
Off-Campus Housing: NYU students can also choose to live in apartments and houses in the neighbourhoods around campus that are owned by private people. Students can find off-campus housing with the help of the university, which has a team of housing advisors and an online database of apartment listings. The cost of off-campus housing depends on where it is, how big it is, and what amenities it has. However, it is usually about the same as the cost of living on campus.
Overall, the choice of whether to live on or off campus is mostly a matter of personal preference and money. Living on campus can make college easier and more immersive by giving you access to campus resources and activities, while living off campus can give you more freedom and independence. Before making a choice, it's important for students to think about their options and weigh the pros and cons.
NYU - Courses & Fees
Courses
Duration
1st Year Tuition Fees

M.A.

(90 Courses)

(1 year-4 years)

INR 26.24 L-

52.49L

MIM

(17 Courses)

(12-24 months)

INR 28.7 L-

67.17L

B.A. (61 Courses)

(4-5 years)

INR41.91 L-

47.63 L

B.Sc.

(30 Courses)

(4-5 years)

INR 41.91 L-

49.98L

LL.M.

(9 Courses)

(1 year)

INR 56.52 L-

62.89 L

Others PG

(18 Courses)

(12 months-2

years)

INR 27.31L-

56.04L

BBA (15 Courses)

(2-5 years)

INR 13.15L-

50.54 L

MFA (9 Courses)

(18 months-3

years)

INR 28.7 L-

66.38 L

MS (55 Courses)

(1 year-3 years)

INR 26.24L-

70.7L

MBA/PGDM

(8 Courses)

(1 year-3 years)

INR 63.49 L-

89.44L
Conclusion:
If you are considering applying to NYU, USA it is essential to start preparing well in advance and meet all the admission requirements. The university has a highly competitive admission process, and it is crucial to showcase your academic achievements, extracurricular activities, and personal statement to stand out from other applicants.
NYU is located in New York City, one of the most vibrant and exciting cities in the world. The university provides an excellent opportunity for students to experience the culture, arts, and entertainment that the city has to offer.
In conclusion, NYU is an excellent university that offers high-quality education and research opportunities. It is a popular choice for students from around the world who are looking to pursue undergraduate, graduate, or doctoral programs in various fields of study. With proper preparation and financial planning, NYU can be a fantastic choice for your academic and personal growth.
Frequently Asked Questions
The common notion is that foreign universities are expensive, although with scholarships this is an exaggerated issue. What many fail to consider are time and effort. Studying in an Indian college leads to a lower average salary than earned by our western counterparts. This salary sets the tone for all future promotions since companies often look at your previous salaries during compensation appraisals. Additionally, most senior positions tend to be scooped up by individuals who have an international outlook through global exposure. Finally, studying in a foreign country is an incredible learning experience helping students get a better academic as well as soft skill development.
Canada has been one of the market leaders in education for decades. However, what currently sets Maple Country apart is immigration. Canada is wholeheartedly inviting students to study in their universities to fill job vacancies that are always growing in the country. Students who study in Canada (especially a Master's Degree) are practically assured of a Permanent Residency Visa.
A good score doesn't automatically qualify a candidate for a scholarship, however, it is one of the primary factors that the admissions department looks for in a scholarship application. There are other attributes such as a candidate's academics, extra-curricular, financial background, and application essays (SOPs).
We get this question a lot. Many candidates know which career path they want to take, but are at a loss for how to take that journey. Understanding the job role and the industry that you want to get into is the first step to picking the right university.
Carefully consider the immigration options of the country that the university that you are considering is in. This is more important when you intend to stay back in the country after the completion of your course.
Also, review the placement history of the university as well.
The first step is to list your preferences. By listing your preferences and strengths, describe your course of preference. Extensive research on the modules, software and its length for your preferred subject is necessary.
---
Recent Posts