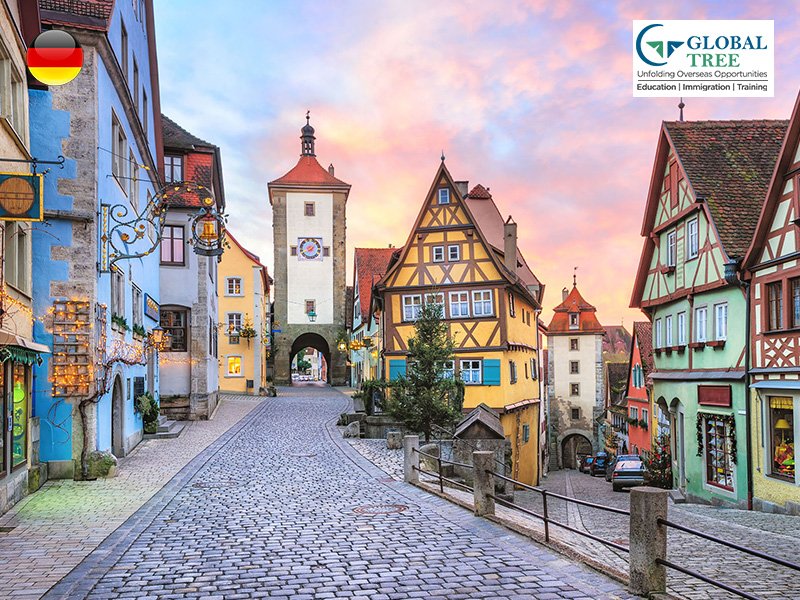 Benefits Of Studying In Germany
A huge number of students from India and across the world are beginning to consider Germany as their option for overseas education on account of the various benefits that the country offers. We take a look at some of the benefits that arise from studying in the country
Germany is a popular destination for education in the world Germany happens to be one of the most popular destinations for students from all parts of the world. Many students are so impressed with the quality of learning that they are willing to surmount the language barrier. Students can opt for courses that are taught completely in English which has made the country more popular than before among the international student set. A student can tap into a global network of alumni just by gaining admission into a school in Germany,
German Universities are globally recognized Germany is home to well reputed universities which are renowned and respected all over the world for the superior quality of their output. Students who complete their bachelors or masters at a university in Germany can take advantage of the high quality of education imparted in these universities and institutes of higher learning when they are seeking job opportunities in their relevant field
Students who study in Germany can benefit from Erasmus program The Erasmus is a scholarship program which is a collaboration between the countries of the European Union. Under this program any student who is taking a full time course in a member country can choose to spend part of his academic course at any of the other countries in the EU. As Germany is part of the Erasmus program, students who choose Germany for their abroad education also get the opportunity of studying in other parts of Europe

[Read More: How to Pick Universities to Study in Germany?]

Cost of education is extremely low in public universities Germany has abolished tuition fees for public universities for both local as well as international students from October 2014 onwards. As a result the cost of education has come down drastically for students studying at a university in Germany.
There are greater Job opportunities for students who graduate from German universities The German economy is booming which is leading to many new growth opportunities. On the other hand the number of people who are of an employable age is drastically reducing on account of demographic shifts in the population. A wide range of job opportunities are available in Germany for fresh graduates and first preference is accorded to students who graduate from German Universities
You can continue to stay in Germany after you complete your course and look for a job opportunity Unlike other countries where you are required to leave upon completion of the course or change your visa to a work visa, Germany allows you to stay on in the country for a period of eighteen months and use that time to search for a job. If you manage to find a job during the period you can then apply to settle permanently in the country
Students from India can take advantage of the Indo-German partnership program The Indo-German partnership allows students from India to get first preference as well as concessions for fees and other benefits when applying to German universities.
Scholarships For Study In Germany
A huge variety of options are available for students from India who are keen on studying in Germany but cannot afford the fees. Many universities offer financial aid packages to the student.
Apart from student loans these students can also apply for one of the scholarship schemes sponsored by the government or non government agencies. Some of the most well-known scholarships for higher education in Germany are.
DAAD Scholarship – This scholarship is offered to international students by the German academic Exchange for studying in Germany for various degrees. There are various scholarships that are available under the DAAD umbrella for studying at different universities in Germany
Einstein International Post- doctoral fellowship – This scholarship program is intended for students who are pursuing post-doctoral research at a University in Berlin. It is sponsored by the Einstein foundation.

[Read More: Intakes in Germany]

Heinrich Böll Scholarships for International Students – The Henrich Boll Scholarships is intended for students who come to study abroad in Germany at an accredited university or institute of higher learning.
Humboldt Research Fellowships for Postdoctoral Researchers – The Fellowship provides Postdoctoral grants for scientists who come from diverse countries and are provided for any subject and nationality.
Konrad-Adenauer-Stiftung (KAS) Scholarships – The scholarship provides grants to students who are under the age of 30 and have completed a degree from a university in their home country. To qualify for this scholarship you will need to demonstrate high academic achievement, volunteering activities as well as interest in politics.
Cost Of Education In Germany
The cost of education in Germany is quite less when compared to countries like USA and UK, which is another reason why it remains a popular destination for students.
The costs range from around 17,000 CAD to upwards of 58,000 CAD at the undergraduate level.
At the graduate level the costs are lower and range from 8000 CAD to 20,565 CAD
Best Universities In Germany
Ludwig-Maximilian University of Munich (LMU) LMU is situated in the capital of Bavaria and was established 1472 and offers degrees in both German and English. The student body consists of 7000 international students who hail from 125 different countries, which is the largest for any university in Germany. The total student strength for the university is 51000. The university is renowned for its courses natural sciences, medicine and social sciences. Prominent alumni of the university include Heisenberg and Pope Benedict XVI.
Technical University of Munich (TUM) TUM has more than twenty percent of its student body coming from other countries of the world. The university is highly popular with international students and offers its courses in English as well as German. The alumni at TUM come from all parts of the world and include 13 Nobel prize winners.
Heidelberg University Heidelberg University which was established in 1386, has the distinction of being the oldest academic institution in Germany and also one among the oldest functioning universities in the world. It's international student diaspora accounts for more than 20 percent of its total student body which roughly consists of 30,000 students. The university has a few masters programs that are taught in English. These include Economics, American studies and international health.
Humboldt University of Berlin Humboldt University has been the alma mater for thinkers such as Karl Marx as well as Freidrich Engels. It is one of the eleven universities in Germany that have been deemed as a university of Excellence. The institution is well renowned for its courses in art and humanities as well as its programs on immunology neurosciences.
Free University of Berlin (Freie University) The university has liaison offices at various cities in the world including Delhi in India. The Free University of Berlin is one of the most popular overseas education destinations from scholar and researchers all over the world.