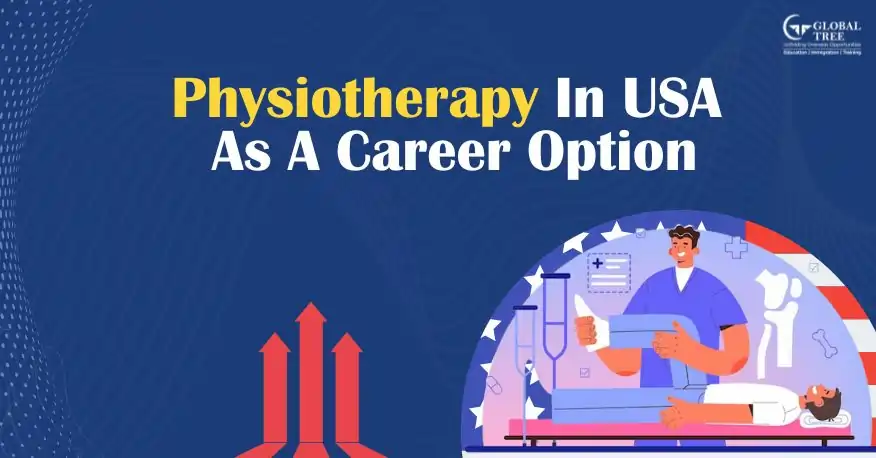 Introduction
Studying Physiotherapy in USA can do wonders in having your career lift off. Physiotherapists in entry-level roles earn between $75,000 and $80,000 per year. As a physiotherapist, a master's degree can earn up to 177,000 USD per year, which is 33% more than a bachelor's degree. A PhD candidate can earn up to 253,000 USD each year.
This article will, in detail, tell you about physiotherapy courses in USA for international students, and how you can benefit in future by taking the best course of action.
About Physiotherapy in USA
What is Physiotherapy About?
Physiotherapy, also known as Physical Therapy, is one of the fastest-growing branches of medicine. It is a system that treats disease and disability through physical movement. It is a Therapeutic, Rehabilitative, and Integral Portion of the medical profession. Many students who Study Abroad, plan to choose Physiotherapy as their subject of choice.
Who Should Study Physiotherapy? / Who Should Physiotherapy in USA?
Whatever path you choose, you'll need to be a skilled communicator, and can simply explain symptoms and remedies to customers.

Kindness, empathy and compassion are also necessary skills.

Physiotherapy can be physically and psychologically demanding; therefore, you should be physically fit as well as have excellent organizational and planning skills.
Historians have determined that physiotherapy was invented by the Greek physician Hippocrates who is considered the "Father of Medicine." In 460 BC, Hippocrates used hydrotherapy (water therapy) to treat patients and invented this commonly used practice which is still used thousands of years later.
Why Study Physiotherapy in USA?
The United States has the most universities offering Master of Physical Therapy or Master of Physiotherapy programs in the world.

It is also home to the most prestigious universities offering physiotherapy programs. The Commission on Accreditation in Physical Therapy Education (CAPTE) has accredited this program (provided by top colleges).

Physiotherapy is one of the most rewarding jobs in the United States, with annual salaries ranging from USD 48,000 to over 115,000.

Physiotherapists are considered to have one of the greatest careers in the United States, according to the Physical Therapy (PT) website.

According to Forbes, physiotherapists have one of the highest rates of job satisfaction.
The profession's career forecast is bright due to a number of variables, all of which point to increased need for rehabilitative care offered by physiotherapists. Chronic diseases are more prevalent in an older population.

Medical technology improvements are allowing more trauma patients to survive their injuries, as well as the treatment of formerly crippling and fatal illnesses. Where the need for Physiotherapy arises.
What does a Physiotherapist do?
A physiotherapist uses many different kinds of intervention techniques for treating his patients. Some examples of the techniques used can be
Electrical Muscle Stimulation

Manual Therapy

TENS (Transcutaneous electrical nerve stimulation used to control pain)

Acupuncture, and others.
The practice of physiotherapy requires one to perform
a physical examination

discuss the case history

diagnose physical disorders and dysfunction

select the required physical therapy programs for treating the patient

monitor the progress and response to treatment.
The profession can give a lot of job satisfaction as it helps patients to relieve their pain and recover from physical ailments.
Physiotherapy was established in Canada for returning soldiers after World War One.
Types of Courses for Physiotherapy in USA
We'll cover both Undergraduate and Postgraduate Physiotherapy courses and their types. But ideally these options can be found all over the globe:
5 Major Types of Undergraduate Physiotherapy Courses
BPT-Bachelor of Physio/Physical Therapy

BSc in Physiotherapy

BOT-Bachelor of Occupational Therapy

Diploma in Physiotherapy

Bachelor of Veterinary Science or BVSc
7 Major Types of Post Graduate Physiotherapy Courses
Master in Physiotherapy (MPT)

M.Sc. in Physiotherapy

Master of Physiotherapy (Neurology)

M.D. in Physiotherapy
Master of Physiotherapy in Sports Physiotherapy

PG Diploma in Sports Physiotherapy

PhD in Physiotherapy
Physiotherapy and Physical Therapy are the same thing.
Crack the latest admission process in 9 Steps for Physiotherapy in USA
International students can apply to one or more physiotherapy schools in the United States using the American Physical Therapy Association's (APTA) PTCAS application program. The PTCAS application cost is 155 USD (12,707 INR, approximate). You can talk to Global Tree Experts about understanding the procedure thoroughly. In addition to the PTCAS application, several universities in the United States need an additional application.
The following is the application process to apply in the United States for-physiotherapy programs:
1. Complete the application,
including basic information
WES evaluated transcripts and courses.
2. Enter the names of the physiotherapy schools.
3. Pay the application cost and submit the form.
4. After PTCAS has verified the application, it is distributed to the various physiotherapy colleges.
5. Colleges review applications and choose students based on academic performance, work experience, and other predetermined criteria.
6. Acceptance letters are provided to selected individuals.
7. Pay the fees upon selection and apply for a student visa after admission is confirmed.
8. Fly to the United States to complete other administrative tasks and arrange for housing before the start of the academic year.
9. Considering acceptance to a Physiotherapy program in the United States is extremely difficult, students can apply through Global Tree counseling and admission services and avoid losing their opportunity at their determined college.
Physiotherapy practicing career-wise involves homework too :)
Know how to get in Physiotherapy Course in USA with the Latest Eligibility
The eligibility to study in USA, for physiotherapy is given below:
Eligibility for a Bachelors in Physiotherapy in USA
Obtained at least 50% mark in their 10+2 or intermediate (high school degree) from a recognized board or school.

For admission to BPT and other courses, Upload or submit transcripts from all the high schools attended. If your transcripts, diploma, or other academic documents are not in English, an approved English translation must be included. Include any AP, IB, or GCE results.

The minimum age to apply for the BPT course is 17 years.
Eligibility for a Masters in Physiotherapy in USA
A bachelor's degree of three to four years in STEM subjects or a relevant field to take admission in postgraduate.

A GPA of 3.0 out of 4(65-70%)
Test Scores, do also cross check with a counselor while applying:
TOEFL iBT - 100

IELTS - 7

GRE/GMAT scores
CV & Work Experience may also be asked depending on the institution.
3 Letters of Recommendation (Academic and Professional)

Statement of Purpose (SOP)
Vertigo can be treated with physiotherapy.
List of latest Entrance Tests to Study Physiotherapy in USA
The common tests include an English proficiency test, and GMAT/GRE. But try to find out the most accurate information for the university you've chosen. Let's check out it out:
GRE
The Graduate Record Examination (GRE), a standardized test, is administered by the Education Testing Service (ETS). You must take the exam as part of the admissions process if you intend to pursue a post-graduate degree in the United States.
GMAT
The Graduation Management Assessment Test is a computer-adaptive test that is necessary for all businesses, schools, and colleges. Furthermore, a GMAT score is required for admission to management programs such as MBA or any Finance related courses at any top business schools abroad.
TOEFL
The TOEFL (Test of English as a Foreign Language) is an English proficiency test used by students who want to study abroad as well as those who want to immigrate to English-speaking countries. It is the most widely utilized exam in the world.
IELTS
IELTS - The International English Language Testing System (IELTS) is a test that assesses your command of the English language. It is similar to the TOEFL and is usually taken by prospective students who want to study in countries where English is the primary language. Certain countries, such as Canada and Australia, also need it as part of the immigration process.
Physiotherapy Offers Psychological Benefits Too.
10 Best Universities to study Physiotherapy in USA
| S.No. | University Name | Duration of DPT Degree | Tuition Fees (USD*/year) | DPT Dual Degrees/Sequential Courses |
| --- | --- | --- | --- | --- |
| 1. | University of Delaware | 2.5 years | 38,750 | DPT/MS in Anatomy and Clinical Health Science |
| 2. | University of Pittsburgh | 2.3 years | 49,287 | DPT/PhD in Bioengineering, MS in Health and Rehabilitation Sciences, |
| 3. | Washington University in St. Louis | 2.5 years | 43,204 | NA |
| 4. | Northwestern University | 3 years | 51,633 | DPT/MPH, and DPT/PhD |
| 5. | University of Iowa | 2.5 years | 34,646 | DPT/PhD |
| 6. | University of Southern California | 3 years | 73,634 | NA |
| 7. | Duke University | 3 years | 38,000 | NA |
| 8. | Emory University | 3 years | 27,246 | DPT/PhD, DPT-MPH, DPT-MBA, and DPT/MA-Bioethics Dual Degree |
| 9. | Creighton University | 3 years | 38,040 | NA |
| 10. | MGH Institute of Health Professions | 3 years | 42,300 | NA |
Physiotherapy benefits individuals with diabetes, cancer, muscle sprains and strains, sports-related injuries, all types of bodily pain, arthritis, and respiratory problems.
What is the fee for Physiotherapy in the USA?
Let's learn about the 10 Top Universities to study Physiotherapy degree courses in USA and an approximate cost of tuition:
1. University of Delaware
The department of physical therapy - college of Health Sciences at the University of Delaware is another great option for student's intent to Study Abroad for their masters in physiotherapy. The department is ranked as the top institution for physical therapy by the US News & World report. Its fee is 25,87,660 INR approximately.
2. University of Pittsburgh
The Department of Physiotherapy at the University of Pittsburgh is an excellent choice for students who plan to study abroad for their physiotherapy course. The university offers MS in physical therapy as well as doctoral programs in physical therapy and bioengineering. Its Fee is 13,64,665 INR approximately.
3. Washington University
The physical therapy program at Washington University, St. Louis is another great option for those who wish to study abroad to take up the profession of physiotherapy. The University offers both masters and doctoral programs on the subject. Its fees is approximately 17,86,636 INR per semester.
4. Northwestern University
The Doctor of Physical Therapy Program at Northwestern University is located in a top academic medical environment where they stress the discovery and integration of new information with education and clinical practice. The approximate fee is 42,70,410 INR
5. University of Lowa
The University of Iowa's Doctor of Physical Therapy (DPT) curriculum involves 212 years of post-baccalaureate degree study and clinical practice. Each year, approximately 120 scholarships totaling $400,000 are awarded to DPT students enrolled in the Department of Physical Therapy and Rehabilitation Science (PTRS). The recipients of these honors are recognized team players who exhibit outstanding professional behavior in the classroom, clinic, and community. Its approximate fee 13,73,024 INR
6. University of Southern California
The University of South California&rsquo's department of physical therapy and biomineralogy offers various high-quality programs for students who are interested in Study Abroad for a course in physiotherapy. The courses include neurological Physical Therapy, Orthopedic Physical Therapy, Pediatric Physical Therapy, and others. Its fee is 63,94,491 INR approximately.
7. Duke University
The Doctor of Physical Therapy (DPT) program, housed in the Duke School of Medicine's Department of Orthopedic Surgery, is continuously recognized among the best training programs in the country--this year, DPT is ranked 7th in the U.S. News & World Report rankings. Its fee is approximately 31,42,866 INR.
8. Emory University
Emory University's list of programs includes Doctor of Physical Therapy Program, DPT/PhD Program, DPT-MPH Program, DPT-MBA Degree, DPT/MA-Bioethics Dual Degree, and Residency Training Programs. Its fee is 11,26,717 INR (approximately).
9. Creighton University
In the Creighton Physical Therapy Program, the Omaha PT program was the first entry-level Doctor of Physical Therapy (DPT) degree in the United States, and they have been teaching at the clinical doctoral level for the longest time of any program. Today, two distinct physical therapy programs—in Omaha and Phoenix—provide an integrated curriculum as well as rebuilt, technologically enhanced lab and classroom areas. Its fee is approximately 31,46,174 INR.
10. MGH Institute of Health Professions
They offer Doctoral in Doctor of Physical Therapy and Degrees & Programs in Clinical Residency in Orthopedic Physical Therapy. Its fees are 24,86,834 INR for Spring, 11,70,138 INR for Summer and 24,80,879 INR for Winter.
Per Henrik Ling --"the father of physiotherapy"
(Read More: Want to find out the cost of living in USA?)
9 Worthy Scholarships to Study Physiotherapy in USA
The Aga Khan Foundation International Scholarship
The Civil Society Leadership Awards
The American Association of University Women
Contact scholarships for Mexican students
Foreign Fulbright Student Program
ColFuturo scholarships for Colombian students
The Joint Japan/World Bank Graduate Scholarship Program
MPOWER Financing scholarships for international and DACA students
The P.E.O. International Peace Scholarship for female international students
(Read More: How to obtain an Education loan to Study abroad?)
What is the Average Salary after completing Physiotherapy in USA?
The average annual salary of physical therapists was $95,620. The employment rate of physical therapists in the USA is expected to grow by 17%. Let us look at the industry-wise salary on average.
Home Healthcare services - 82,37,591 INR

Nursing and residential care facilities - 82,24,385 INR

Hospitals, state, local, and private - 81,74,860 INR

Offices of physical, occupational and speech therapists, and audiologists - 65,59,533 INR
(Also check: Most In-Demand Jobs after Studying in USA & Internships)
What to do after Physiotherapy from USA?
The Future Scope of Physiotherapy
People's lifestyles in India have changed as a result of increased urbanization. With the majority of today's youth entering the corporate sector, stress levels have skyrocketed. As a result, the demand for qualified physiotherapists is increasing. During the period of the physiotherapy course, one acquires the competence required to find job at private orthopedic clinics, hospitals, rehabilitation facilities, fitness centers, sports centers, defense institutions, and so on. Highly qualified physiotherapists might also open their own clinic and care to the needs of their patients.
Physiotherapy is great for injury rehabilitation, endurance training, or recovery from things like a motor vehicle accident but other conditions such as obesity can be treated.
(Read More: How to obtain a Work visa for USA?)
What are the Career Prospects for Physiology as a Career?
A physiotherapist can find many opportunities, especially in countries like the USA, Canada, and Australia, where the emphasis is laid on physical fitness and many people take up Sports as a practice.
A physiotherapist can work independently or as a part of the triage of doctors for treating patients with specialized neurological disorders which would be diving into neurological physiotherapist as your specialization.
Some physiotherapists also take up a medical course in pediatrics and specialize in pediatric physiotherapy.
Earnings: On average, an entry-level Physiotherapist in the USA can expect to earn 56200 USD per annum, while a physiotherapist with a few years of experience can earn up to 113,340 USD per annum.
(Read More: How to settle permanently in USA?)
19 Excellent Job Opportunities for Physiotherapy as a career
Various industries that a physiotherapist can opt as a career for are listed below:
Hospitals
Outpatient clinics
Schools and education centers
Sports training and fitness centers
Nursing and extended care facilities
Inpatient rehabilitation facilities
Patient homes
Physiotherapists can also specialize in one or more of the following areas to further their careers:
Cardiovascular and Pulmonary Clinical Specialist (CCS)
Geriatric Clinical Specialist (GCS)
Orthopedic Clinical Specialist (OCS)
Neurology Clinical Specialist (NCS)
Pediatric Clinical Specialist (PCS)
Oncology Specialist
Women's Health Specialist (WCS)
Electrophysiologic Clinical Specialist (ECS)
Sports Clinical Specialist (SCS)
Wound Management Specialist
Certification in a specialty area highlights a physiotherapist's experience in that field, increases credentials, and opens doors to new work opportunities. Students who have a taste for independence and entrepreneurship can also start their private
To know more about the profession of physiotherapy and more about how to Study Abroad with physiotherapy as a subject gets in touch with Global Tree at Begumpet, Hyderabad, one of the Best Abroad Education Consultants in India having more than 12 branches all over India for helping you with your Study Abroad Process.
Frequently Asked Questions for Physiotherapy in USA
Are Physiotherapy and Physiology the same?
Physiology and physiotherapy are two distinct disciplines. Physiology is the study of creatures' lives, such as people, animals, and plants. It is a subfield in biology. Physiotherapy, on the other hand, is the use of science and technology to assist individuals and alleviate pain. It is mostly recommended for people who are unable to move.
How do I become a Physiotherapist in USA?
To practice as a physical therapist in the United States, you must first obtain a Doctor of Physical Therapy degree from a recognized physical therapist education program and then pass a state licensure exam. Professional DPT programs are typically three years long.
Can I Work in USA after BPT from India?
You certainly can. To practice as a Physiotherapist in the United States, individuals must first pass the National Physical Therapy Exam, which is administered by the Federation of State Boards of Physical Therapy.
Frequently Asked Questions
The common notion is that foreign universities are expensive, although with scholarships this is an exaggerated issue. What many fail to consider are time and effort. Studying in an Indian college leads to a lower average salary than earned by our western counterparts. This salary sets the tone for all future promotions since companies often look at your previous salaries during compensation appraisals. Additionally, most senior positions tend to be scooped up by individuals who have an international outlook through global exposure. Finally, studying in a foreign country is an incredible learning experience helping students get a better academic as well as soft skill development.
Canada has been one of the market leaders in education for decades. However, what currently sets Maple Country apart is immigration. Canada is wholeheartedly inviting students to study in their universities to fill job vacancies that are always growing in the country. Students who study in Canada (especially a Master's Degree) are practically assured of a Permanent Residency Visa.
A good score doesn't automatically qualify a candidate for a scholarship, however, it is one of the primary factors that the admissions department looks for in a scholarship application. There are other attributes such as a candidate's academics, extra-curricular, financial background, and application essays (SOPs).
We get this question a lot. Many candidates know which career path they want to take, but are at a loss for how to take that journey. Understanding the job role and the industry that you want to get into is the first step to picking the right university.
Carefully consider the immigration options of the country that the university that you are considering is in. This is more important when you intend to stay back in the country after the completion of your course.
Also, review the placement history of the university as well.
The first step is to list your preferences. By listing your preferences and strengths, describe your course of preference. Extensive research on the modules, software and its length for your preferred subject is necessary.
---
Recent Posts