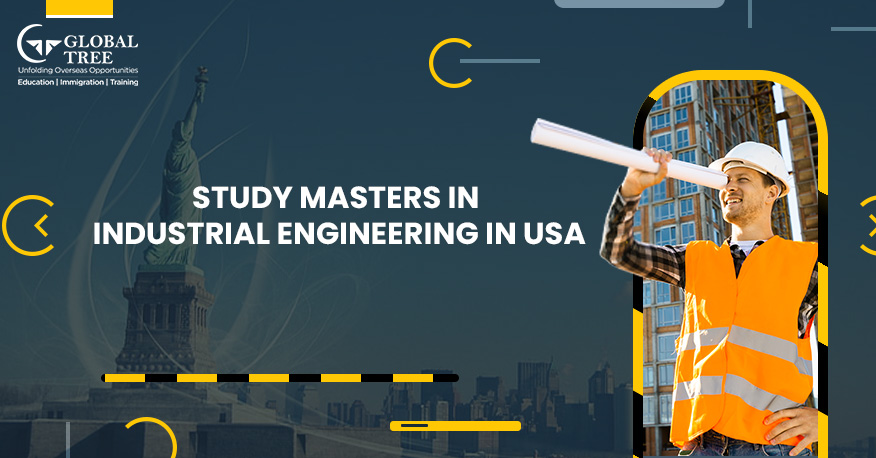 Masters in Industrial Engineering Courses
Industrial Engineering is an area of engineering that deals with the optimization of complex systems or processes. Although the basic ideas are quite similar to those of some business-oriented fields, such as operations management, the engineering side tends to place more emphasis on comprehensive mathematical proficiency and the use of quantitative methodologies.
In order to specify, predict, and evaluate the outcomes of such systems or processes, industrial engineering makes use of the mathematical, physical, and social sciences as well as the principles and methods of engineering design.
It also focuses on the development, improvement, and implementation of integrated systems of people, money, knowledge, information, equipment, energy, materials, analysis, and synthesis. Industrial engineers so develop procedures and frameworks that raise production and quality.
Industrial Engineering Courses Structure
Programs in industrial engineering are often taught mostly through lectures, seminars, and workshops, but you may also have the chance to learn on the job. Each university's curriculum will be different in terms of both content and structure; however, you'll likely take the following modules:
Mathematics
Engineering cost analysis
Business management
Engineering statistics
Physics for engineering
Supply chain management
Operation systems
Massachusetts Institute of Technology is one of the top universities in the USA, known for providing high-quality education for Industrial Engineering. Career prospects might advance if you choose to study Industrial Engineering at such universities.
Industrial engineering course Subjects
By managing employees and corporate operations, industrial engineers seek to boost productivity. In order to aid in financial planning, cost analysis, production planning, and actual distribution of goods and services, they also study management control systems. The following is a list of a few of the topics:
Engineering Economics
Engineering Statistics
Facilities Planning and Design
Human Factors and Ergonomics
Inventory Management
Management Science
Manufacturing Engineering
Production Planning and Control
Top Specializations in Industrial Engineering
Core courses in manufacturing, plant design, and logistics are frequently included in an industrial engineering master's program. However, depending on the curriculum you select, certain subjects, electives, viewpoints, and areas of specialization change. Below is a list of some of the specializations:
Operations Research
Facilities Planning and Design
Ergonomics
Logistics and Inventory
Manufacturing and Production Engineering
Management Science and Engineering
Industrial engineering Core Skills
Industrial engineers also need to possess the following skills:
Creativity
Critical-thinking skills
Listening skills
Math skills
Problem-solving skills
Speaking skills
Writing skills
Requirements for Masters in Industrial Engineering
Universities have different standards for a Master in Industrial Engineering. However, a few of the requirements are as follows:
You must take the GRE to apply to the majority of American and Canadian colleges. Germany's universities don't often demand GRE scores. Australian universities do not, however, require the GRE for admission.
IELTS or TOEFL scores are required as proof of English language proficiency and for student visa applications.
Candidates must have earned a Bachelor's degree with a passing grade in all of the degree-level subjects they studied in the same specialization.
Cost of Studying for Masters in Industrial in the USA
You must calculate a total cost that includes both your study and living expenses before you can register for an MS in industrial engineering in the USA.
Tuition Fees
The cost of studying MS Industrial Engineering in the United States for foreign students differs by the university. The program's total annual cost in the USA, however, varies from 22,260 USD to 53,200 USD. To provide financial assistance, a wide range of scholarships are offered in the USA which is either fully-funded or partially-funded scholarships.
Cost of Living in the United States:
The cost of living in the United States while you are a student will rely on your preferences for lodging. The average monthly expense of lodging in the USA ranges from 1,200 USD to 2,700 USD. This may cover things like your meals, transportation, office supplies, and other small costs.
Top Scholarships
| Scholarship Name | Eligibility | Benefits |
| --- | --- | --- |
| Scholarship by Society of Women Engineers, University of Arizona | Female students pursuing a degree in engineering discipline and have a GPA of 3.5 on 4.0. | Valued at more than 500,000 USD |
| President's Endowed Scholarship, Texas A&M | Students must have a good academic achievement and have a GPA of 3.5 or more | 3,000 USD |
| International Graduate Warhawk Scholarship, Auburn | International students with a 3.00 on 4.00 scale and a TOEFL-iBT score of 76+ | 4,000 USD |
| International Graduate AUM Scholarship, Auburn | Students must have 2.75 on 4.00 scale and TOEFL-iBT score 68 or higher | 2,000 USD per year |
| Graduate Professional Scholarships, Wayne State | Students enrolled into professional advanced level degrees. | Varies |
Work Opportunities in the USA:
Due to its high employment and competitive salaries, the US is one of the top nations for industrial engineering job prospects in the country. There is an availability of several job opportunities and internships in the USA where the average starting wage for an industrial engineering MS graduate is 88,950 USD per year. Following an MS in industrial engineering, some positions in the USA, along with their typical salaries, include:
| Job Profile | Average Salary |
| --- | --- |
| Industrial Engineer | 85,604 USD |
| Engineering Production Manager | 112,638 USD |
| Manufacturing Engineer | 81,335 USD |
| Quality Assurance Engineer | 82,439 USD |
| Sourcing Manager | 88,620 USD |
| Equipment Engineering Manager | 116,273 USD |
FAQ's
Scope of MS in industrial engineering in the USA?

There are employment possibilities for industrial engineers in a variety of industries, including manufacturing, design, hardware, technology, retail, and even healthcare. It offers a flexible area of study that you can tackle from either a technical or management-focused perspective.

Is earning a master's degree in industrial engineering worthwhile?

In the USA, an industrial engineer with a master's degree makes an average yearly income of $95,300. With additional abilities, these professionals' earning potential is frequently increased.

Is working in industrial engineering a viable career in the US?

One of the most sought-after specialties in the USA is industrial engineering. It is simple to understand why industrial engineers have such a diverse set of abilities and are capable of holding both managerial and technical roles.

How much does an MS in Industrial Engineering cost in the USA?

MS in industrial engineering costs between 22,260 and 53,200 Dollars in tuition per year in the USA.

Will a high GPA and job history be sufficient for admission?
Yes, you will undoubtedly be admitted early if you have a strong bachelor's degree and some job experience.
(Read More:Last Minute tips to prepare for the GRE exam)
Frequently Asked Questions
The common notion is that foreign universities are expensive, although with scholarships this is an exaggerated issue. What many fail to consider are time and effort. Studying in an Indian college leads to a lower average salary than earned by our western counterparts. This salary sets the tone for all future promotions since companies often look at your previous salaries during compensation appraisals. Additionally, most senior positions tend to be scooped up by individuals who have an international outlook through global exposure. Finally, studying in a foreign country is an incredible learning experience helping students get a better academic as well as soft skill development.
Canada has been one of the market leaders in education for decades. However, what currently sets Maple Country apart is immigration. Canada is wholeheartedly inviting students to study in their universities to fill job vacancies that are always growing in the country. Students who study in Canada (especially a Master's Degree) are practically assured of a Permanent Residency Visa.
A good score doesn't automatically qualify a candidate for a scholarship, however, it is one of the primary factors that the admissions department looks for in a scholarship application. There are other attributes such as a candidate's academics, extra-curricular, financial background, and application essays (SOPs).
We get this question a lot. Many candidates know which career path they want to take, but are at a loss for how to take that journey. Understanding the job role and the industry that you want to get into is the first step to picking the right university.
Carefully consider the immigration options of the country that the university that you are considering is in. This is more important when you intend to stay back in the country after the completion of your course.
Also, review the placement history of the university as well.
The first step is to list your preferences. By listing your preferences and strengths, describe your course of preference. Extensive research on the modules, software and its length for your preferred subject is necessary.
---
Recent Posts
---
---