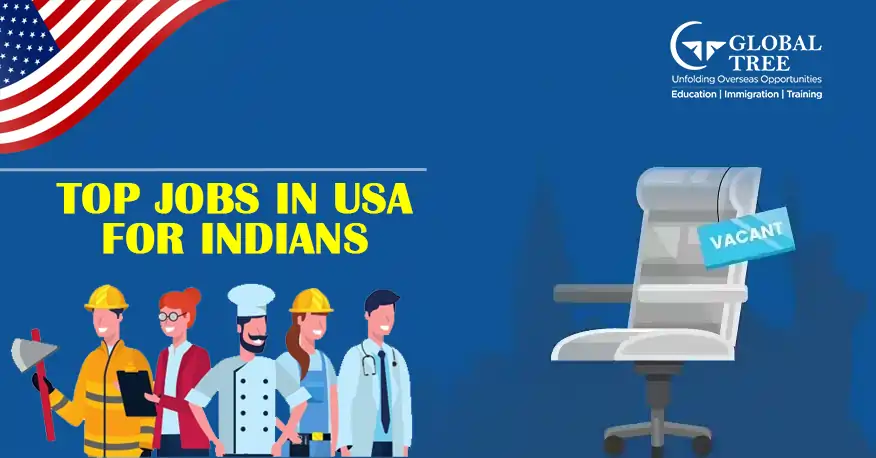 Introduction
The USA is the hub for research and career opportunities. Especially for International Candidates, there are 1000+ jobs available. Jobs in technology, finance, corporate management, healthcare, and other fields are expanding quickly in the US.
And it's not just Silicon Valley and Wall Street; some of the fastest-growing businesses can be found in places like Boston, Massachusetts, and Boulder, Colorado. However, if you are from another country, you need to get permission to work in the United States before you may attempt to build a high-profile career there.
Here's all that you need to know about getting the best jobs in the United States as an Indian citizen.
How to get a Job in USA for Indians?
The first step in getting a job in the USA for an Indian is to apply for both a job and a work visa in the USA.
There are also more alternatives, such as getting in touch with people who were already working abroad or asking to be transferred to the US division of the Indian company you're currently employed by.
Let's take a closer look at the divisions that describe how to find employment in the USA that are provided below.
1. How to Apply for a Job in the United States?
There are a few job sites in the USA where you can look for employment, and you can get in touch with many of them prior to traveling.
The steps listed below will assist you in applying for jobs in the United States of America (USA).
Job Application: Start searching for jobs, sites like CareerBuilder, Flexjobs, Indeed, Glassdoor, Monster and other USA job portals will help you with your search.
Company Research: Thoroughly research about the Company, its profile, working domain, and understand what the job description is.
Cover Letter: Curate a cover letter that conveys your purpose of application to the company. Write the letter in a professional way. Yet make sure to talk about your passions, interests and other topics that help them know the real you.
Resume: Make sure your qualifications match the job description provided. It is very crucial to have an updated CV submitted to the company you are applying for.
Indian Companies also have established their branches in the US. Through these companies you can apply for abroad internships and other jobs.
Candidates can get USA jobs & internships from organizations like BUNAC, CIEEE, CI, and Intern Group.
Additionally, scholarship programs like Fulbright, which offer short-term employment chances to candidates with a year of work experience, give preference to Indian students.
Therefore, Indian nationals must follow this procedure in order to get employment in the United States.
2. Websites to find specialized jobs in USA for Indians
Here is a list of websites organized by category that will help you find specialized employment and open openings, as well as salary information and other important details. You can narrow down your search by date posted, income estimate, job kind, experience level, and so on.
Technical Jobs - Dice, GitHub, Stack, Overflow, Hired.com, Angel.co
Hospitality - Hcareers.com, LinkUp, Hospitality Online, iHireHospitality, eHotelier
Design - Dribbble, Carbonmade, Coroflot, Behance, AwesomeWeb
Sales - SalesJobs.com, SalesHeads.com, Sales Gravy, SalesTrax, Rainmakers
Freelance jobs - Freelancer, Upwork, craigslist, fiverr
3. Best Job Recruiting Agencies in USA for Indians
A common concern among applicants is how to get a job in USA for Indians. Here is a list of the top employment firms you should get in touch with if you need help finding a job.
| Company name | Job opportunity category | Number of offices |
| --- | --- | --- |
| Robert Half | Creative & Marketing, Accounting & finance, administrative, technology and legal | 325 offices across 42 states |
| Kelly Services | All specialised fields including Education, science, Government, Engineering and Industrial | 148 |
| Randstad | Engineering, IT,Finance and Accounting | 4,700 offices across 38 markets |
| Adecco | Legal, technical and industrial sectors | 5400 offices across 60 countries |
| Korn Ferry | multiple job industries and job functions at organisational levels | 50 countries |
| Aerotek | Manufacturing & production, Warehouse & distribution, maintenance and facilities sector | 200 offices in USA |
| TEKsystems | IT recruitment firm including project management, database administration, network engineering, architecture etc. | 100 worldwide |
| Lucas Group | Senior to Executive level job opportunities, special service to military veterans | 10 |
| Kforce | Technology, finance and accounting sector | 50 |
| Insight Global | IT, Accounting, Finance and Engineering | 61 regional offices |
What is the Average Salary in USA- Ultimate Guide
Some of the Best Jobs in USA for Indians
Indians seek to work in the US since it offers the highest-paying jobs in the world for skilled professionals.
According to the Bureau of Labor Statistics, occupations including nurses, wind service technicians, waiters and attendants, cooks, general managers, IT, software web developers, testers, and research analysts will experience a 30–50% growth rate in the years 2021-31.
From the table below, you can learn more about the best paying employment in the USA for Indians.
| S.No. | Job Category | Job Role | Average Salary(USD) Per Year | Conversion in Indian Currency (INR) Per Year |
| --- | --- | --- | --- | --- |
| 1 | Health care workers | Doctors, Nurses, Lab technicians | $208,000 | ₹17195880 |
| 2 | Chief Executive | Driving the company's profitability | $185,950 | ₹15372951 |
| 3 | Nurse Practitioners | Undertake Patients examinations, and diagnostic tests, look after treatments including prescriptions | $183,580 | ₹15177017 |
| 4 | Dentistry | Dentists, Dental doctors | $183,300 | ₹15153869 |
| 5 | Pediatricians | Medical care of infants, children, adolescents, and young adults | $177,130 | ₹14643779 |
| 6 | Airlines | Pilots, Co-pilots, Flight engineers | $160,970 | ₹13307792 |
| 7 | Architectural Manager | Overseeing all technical activities related to architecture and engineering projects | $149,530 | ₹12362018 |
| 8 | Information Technology | IT Managers | $139,220 | ₹11509665 |
| 9 | Business & Financial Manager | Managing Industry investment activities, financial planning | $120,644 | ₹9973941 |
| 10 | Software Developer | Design, monitor, develop and test new software programs and applications. | $103,560 | ₹8561564 |
| 11 | Data Scientists | Analytical data specialists in the field of big data enterprises | $107,801 | ₹8912178 |
| 12 | Social Media Planner | Content creator for the company's social media channels, and social media strategist | $110,080 | ₹9100588 |
8 Top Jobs in USA for Indian Freshers
There are a few employment openings for recent Indian graduates looking for work in the USA. The list of the top jobs held by Indians in the USA is shown below:
Entry level Engineer / Fresher in pharmaceutical, automobile industries etc.
Customer service representative
Sales Executive
Content writer
Research assistant in scientific laboratories and tech jobs
Library Assistants
Catering Assistants
Language Translators
Additionally, you can choose to study your masters in USA, &therefore you gain professional skills along with higher chance of settlement.
Part-time Jobs in USA for Indians
International students who would like to work part-time in the United States must obtain a work visa from USCIS.
A part-time job allows you to manage additional expenses, build professional networks, and develop interpersonal skills that will strengthen your CV.
Indian immigrants may add to their monthly income in the United States in a variety of ways. The location of your studies has a significant impact on your part-time earnings.
In the United States, the average hourly salary can be as high as $15 per hour in some places and as low as $7.25 in others.
Part-time work in the United States for Indians is roughly classified as On-Campus and Off-Campus occupations.
On-Campus Jobs:
Teaching Assistant, Research Assistant, Library Assistant, Department Assistant, Peer Tutor, Catering Assistant and Food Runner, Barista, Campus Ambassador, and Campus Tech Support are all popular part-time positions on campus.
This category has the advantage of paying on time and typically above the minimum wage.
Off-Campus Jobs:
This includes working in call centers, as retail clerks, as tour guides, as language interpreters, and so on. Paid internships in the United States are also included in this category; however, valid authorization from a Designated school official (DSO) is required for the above-mentioned positions.
Aside from this, other resources such as the Career Services office, Student Unions, University Departments, and online platforms such as LinkedIn, Facebook, and others will assist you in obtaining relevant and up-to-date information regarding part-time jobs in the United States.
To stay in the nation, you must have an authorized work visa in addition to the job. Let's take a look at it.
Work Visa in the USA
A Green card, also known as a permanent residence in USA, allows immigrants unlimited authority to reside and work in the United States of America.
Working professionals from all over the world who are applying for work visas need to be aware that there is a cap on the number of immigrant visas issued by the United States each year at 140,000.
According to the US Immigration Statistics 2022, 2.75 lakh employment-based immigration permits (Green cards) were issued by the US Citizenship and Immigration Services (USCIS), of which 91,639 (or 33%) were given to Indian nationals.
The types of US work authorizations available to immigrants through immigration and non-immigration programs are listed below.
Fastest Ways to get a Green Card
US work visa categories for non-immigrant workers
H-1B: Individual in Specialty Occupation (specialised field)
H-1B1: Free Trade Agreement Expert (FTA); Chile and Singapore
H-2A: Provisional Agricultural Worker
H-2B: Provisional Non-agricultural Worker
H-3: Special Education Visitor or Trainee
L: Intra-company Transferee
O: Person with Extraordinary Achievement or Ability
P-1: Team or an Individual Athlete, or an Entertainment Group Member
P-2: Entertainer or Artist (Group or Individual)
P-3: Entertainer or Artist (Group or Individual)
Q-1: for Participants in an International Cultural Exchange Program
US work visa categories for employment-based immigrants
Employment First Preference - E1: Priority Workers – Individuals with Extraordinary Professional Talent
Employment Second Preference - E2: People with Extraordinary Ability, Professionals with Advanced Degrees and Individuals having labour certification endorsed by the US Labor Department
Employment Third Preference - E3: Skilled Workers, Unskilled Workers and Professionals
Employment Fourth Preference - E4: Particular Special Immigrants
Employment Fifth Preference - E5: Immigrant Investors
If you intend to work and remain in the USA, exercise caution and carefully evaluate the primary information you provided when applying for your visa because you may occasionally be required to provide additional information to be admitted
Conclusion
If you intend to go abroad, it is crucial to be aware of prosperous and in-demand professions. However, variables like educational background, professional experience, and technical abilities are essential to getting jobs in the USA for Indians. I hope this essay has answered your questions on how Indians can get employment in the United States.
FAQs Frequently Asked Questions for Jobs for Indians in USA
Which job has highest scope in USA?
Healthcare professions top the list of highest-paid jobs with projected growth of 13% by 2031. Twenty-two of the 25 highest-paying occupations are healthcare positions. Corporate chief executives are in the highest-paid profession outside of the healthcare field.
What are the top 3 jobs in America?
Software Developer.
Nurse Practitioner.
Medical and Health Services Manager.
What jobs can get me a visa in the US?
Jobs Approved for H-1B Visas
Accountants and Auditors.
Architects.
Biologists.
Budget and Management Analysts.
Chemists.
Civil Engineers.