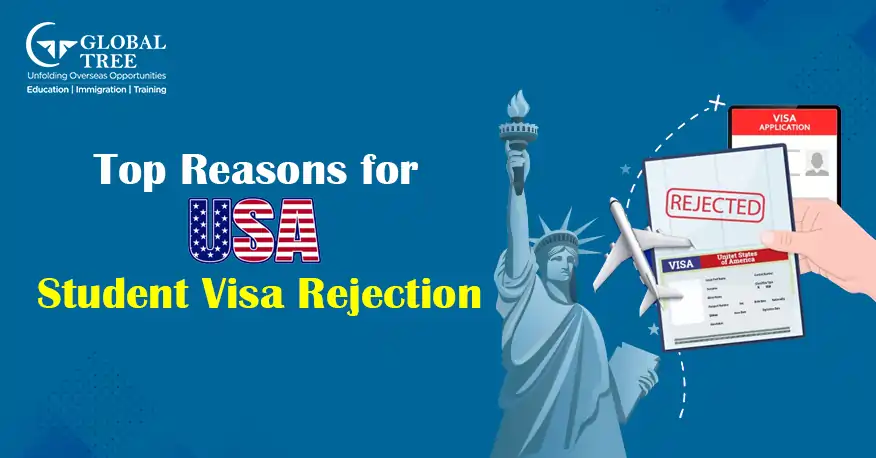 Introduction
Indian students prefer studying in the United States because of the country's cutting-edge research, entrepreneurial prospects, and innovation.
According to the IIE Survey, the USA ranks first in luring foreign students for higher education. There are numerous factors that make the USA the top choice for students looking to study abroad, not just one or two.
The United States of America offers a package that includes having 17 of the best universities in the world, an unending array of academic options, a diversified culture, and limitless work chances for international students.
Why Study in USA?   
The majority of the top colleges in the world are found in the United States, which is not a surprise given that the country makes significant investments in academic standards and research infrastructure. Additionally, the United States holds the record for having the most universities worldwide.
Both inside and outside of the US, there is a significant demand for graduates from US universities. Studying in the USA gives students who intend to stay in the country the chance to find employment through the OPT or CPT programs and continue living in the nation on a work visa after they land a more permanent position.
The United States is fortunate to have a diversified population that hails from numerous cultural and geographic origins, so students who study there are less likely to miss home. As a result, they can settle in more easily and later on, do better in their careers.
The American educational system is incredibly adaptable. Starting in high school, students can select from a wide range of disciplines to suit their own interests and requirements. Additionally, individuals can choose from an infinite number of topic combinations to graduate in.
What are the Documents needed to study in USA as an international student?
The US government offers visas, which are official documents, to let foreigners enter the nation for a number of purposes, including travel, commerce, or research. To be approved for a visa to the United States, applicants must submit the necessary documentation, pay the necessary costs, and show up in person for an interview at a US embassy or consulate in their country of residence. The kind of visa required depends on the visit's purpose and duration.
Those with a valid US visa may enter and stay in the US for the specified period if they abide by all conditions and limitations specified by the applicable visa category.
1. Passport: To enter and leave the United States, you need to have a valid passport. Ensure that your passport is still valid for at least six months after the time you intend to remain.
2. Student visa: You must apply for a student visa in order to study in the US. Visas for students are available in the following categories:
F-1 Visa: This visa is only available to full-time scholars enrolled in recognized academic programs.

J-1 Visa: Students who are involved in research initiatives and exchange programs are eligible for this visa.
15 reasons for US visa rejection that you might not be aware of:
It is essential to thoroughly understand the specific requirements for the visa category you are applying for, provide accurate and complete documentation, and be well-prepared for the visa interview in order to improve your chances of receiving a visa.
F1 visa rejection reasons:
Here are 15 typical factors that can result in a USA student visa application being rejected, while the precise causes can differ from case to case:
Incomplete or inaccurate application: A visa application may be rejected if insufficient or incorrect information is provided, as well as information that is inconsistent or incorrect.

Lack of strong ties to home country: If you are unable to demonstrate that you have sufficient ties to your homeland, such as relatives, a job, or a piece of property, concerns may be raised about your intentions to leave the United States after your brief visit.

Inadequate financial resources: The inability to present proof of sufficient funds to cover tuition, housing, and daily expenses involved with living and studying in the United States.

Inadequate supporting documents: Failure to produce necessary documentation to support your financial situation and goals, such as bank statements, asset proof, or sponsorship letters.

Failure to meet visa requirements: You do not meet the educational, language, or specialized skills requirements for the visa category you are seeking.

Previous visa overstays or violations: If you have a history of exceeding the validity of a prior visa or breaking American immigration rules, concerns about your adherence to visa conditions may develop.

Criminal history: Having a criminal background, such as previous convictions or engagement in unlawful activities, may result in a visa denial.

Inadequate purpose of travel: A lack of clarity in your statement of purpose, such as vague academic or professional aims, or an insufficient rationale for the anticipated stay in the United States, might result in visa application denial.

Inadequate travel history: A lack of travel experience, particularly in nations with close ties to the US, may raise concerns about your motivation and ability to adapt to a new social and cultural situation.

False or fraudulent paperwork: Giving erroneous information or submitting false documents might result in a speedy visa refusal as well as long-term immigration consequences.

Concerns about your health: A visa may be denied if you have a medical condition that endangers the public's health or if you cannot present proof of the required vaccinations.

Consular officer discretion: The consular official has extensive discretion when choosing whether to grant a visa. If he or she has concerns about your dependability, good intentions, or eligibility, he or she may deny your visa application.

Inadequate preparation for the visa interview: Inadequate preparation for the visa interview may result in a negative evaluation of your application, including the inability to offer persuasive replies to questions or supporting paperwork.

Administrative errors: In a few cases, administrative blunders or misunderstandings may result in visa rejections. In order to reduce the risk of such mistakes, it is crucial to check your application and any accompanying documentation properly.

Failure to attend an interview: Your application may be rejected if you are unable to attend the visa interview. As a result, you must show up on time for scheduled visa interviews.
7 Tips to avoid being rejected for the US Student Visa:
Remember that each visa application is unique, and the consular officer's decision is final. While these ideas can assist enhance your chances of getting a visa to study in the United States, there is no guarantee of acceptance.
It is critical to prepare thoroughly, present your case boldly, and provide any necessary material to the best of your ability.
Consider the following ideas to improve your chances of obtaining a US student visa and avoiding rejection:
Begin early: Begin the application process early to allow enough time to gather the necessary papers, accurately complete the paperwork, and schedule the visa interview.

Know visa requirements: Ensure that you meet all eligibility requirements by being acquainted with the exact specifications for the sort of student visa you are applying for.

Complete and accurate documentation should be prepared: Provide the necessary supporting papers to the US embassy or consulate. Check again that the information provided matches the information in your application and is correct and consistent.

Demonstrate strong ties to your home country: In order to persuade the consular official that you intend to return to your home country after finishing your studies, you must be able to express and show proof of your strong ties to your home country, such as family, property ownership, job prospects, or future study plans.

Prepare for the visa interview by doing the following: Conduct extensive study on the college, the program, and the planned length of stay in the United States. Continue to practice answering interview questions so that you can properly explain your academic ambitions, aspirations, and financial capability.

Financial documentation: Keep detailed and dependable financial records to demonstrate your ability to pay for your academics and living expenses in the United States. This could include bank statements, recommendation letters, or sponsorship documents.

Maintain a high academic profile: Maintain a solid academic record and a study schedule that is aligned with the program you wish to pursue in the United States. This might demonstrate how committed and serious you are about studying.

Follow visa application guidelines: Read and adhere to any directions given by the US embassy or consulate carefully, paying close attention to any restrictions.
Conclusion:
To summarize, a variety of conditions can lead to the denial of a US visa application. To reduce the likelihood of a visa being denied, it is critical to thoroughly investigate the visa criteria, present extensive and exact evidence, demonstrate strong ties to your home country, and effectively prepare for the visa interview.
You can also seek professional counsel and direction from study abroad consultants such as Global Tree Overseas Consultancy to effectively negotiate the difficult visa application procedure. In the end, each case is different, and the consular officer determines whether to approve or deny a visa application.
FAQs Frequently Asked Questions for USA Student Visa Rejections
What percentage of F1 visas get rejected?
The USA Student visa rejection rate as previously reported, the US State Department denied approximately 35% of all F-1 applicants. US visa data also demonstrates considerable regional differences in denial rates.
What is the success rate of F1 visa in India?
Obtaining an F1 visa, despite the fact that it is a student visa, is difficult. The approval rate for F1 student visas stands at approximately 80%.
Should I pay visa fee again if F1 visa gets rejected?
Make a fresh application, repay the visa cost, and schedule another interview. Before reapplying, take the time to learn why your previous application was declined and address the flaws.
Reapply when you have addressed the reasons for denial effectively or when you have fresh information that supports your application.
How many attempts are there for F1 visa?
There is no limit to the number of times you can apply for an F-1 visa, though it is definitely not a good idea to apply repeatedly without correcting what went wrong the first time.