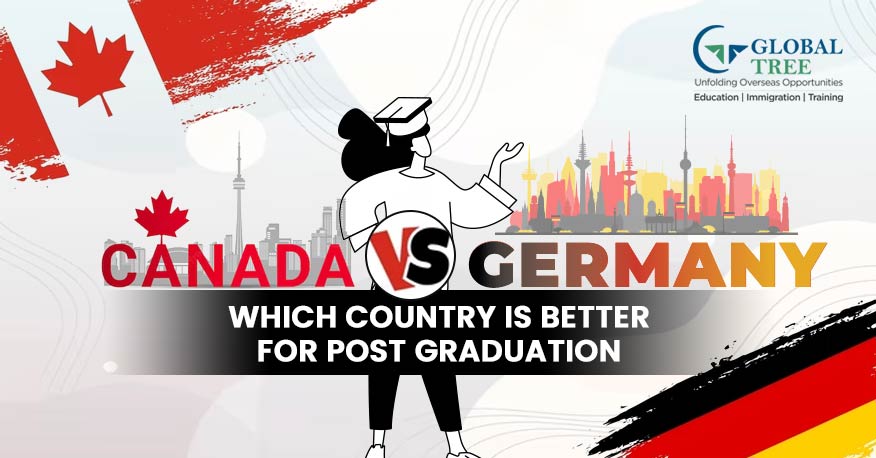 Best Country For Post-Graduation
Many students will prefer to pursue their higher education abroad. But it's extremely difficult to make a choice between different countries. You have to reach a decision after scouring through all the options. Only you can find the best option for yourself. In this article, we will compare Canada's and Germany's higher education. And a number of other factors that may help you understand the pros and cons of both countries. Higher education usually refers to a post-graduation or Doctorate level study. For this type of education, you will need proper university support. Making a choice of institution or country would be extremely difficult for students. We take a comparative study of the benefits and requirements of studying in Canada vis a vis studying in Germany, two of the best destinations for studying abroad for many students from India.
Overview of Study Abroad in Canada vs Germany
Germany and Canada, are both ranked among the advanced countries for academics, and both can boast of universities and colleges that are recognized all over the world. Both of them provide an excellent environment for learning and research and are equipped with the best technological advancements as well as a well-endowed research infrastructure. Both countries churn out graduates, who go on to reach the heights of their careers or become highly successful innovators and entrepreneurs. So the decision for a student on which country to choose will depend on individual preferences and factors. We have, however, provided a comparison of the major factors to make the decision process easier
[Read More: Best MS Courses to Study in Canada]
What is the Cost of Tuition for Abroad Education in Canada vs Germany?
One of the most important factors, when you are considering a university or country is the cost of tuition for any student. The comparison between Canada and Germany is easy when it comes to considering the cost of tuition as Canada can cost upwards of 1,20,000 CAD each year in tuition, whereas the cost of tuition for the Top Universities in Germany is negligibly low, with most state-funded universities providing tuition-free of cost. The average cost of learning at German universities where tuition is charged is as low as 500 Euros per year.
What is the Cost of Accommodation?
In this criteria, Germany has an advantage over Canada, as the cost of rent in Canada, can be quite expensive. A cheaper option would be to find and rent a room out of campus. Germany on the other hand can be more affordable for students who are planning to live on campus, as the cost of accommodation both on campus and out of campus is quite low.
What is the Cost of Living in Canada vs Germany?
In this factor, Germany scores over Canada, as the cost of living in Germany is quite low when compared to Canada. This can be an important criterion for students who are living on limited funds. Utility bills, as well as food, are more expensive in Canada when compared to Germany. Moreover, it is easier to find part-time work in Germany when compared to Canada, which can help to offset some of the expenses.
[Read More: Scholarships to Study in Germany for Indians]
What is Campus Life like in Germany vs Canada?
Campus life can be different in Canada and Germany. Culturally Canada is more suited for students who are more extroverted in nature, and like to take part in many social activities. Students who are more introverted may prefer to study in Germany, as people in Germany tend to keep to themselves. However, they can be very helpful should you require any assistance. Both Canada and Germany have ample opportunities for socializing for international students should you be bitten by the partying bug.
What are the Prospects for Immigration after Higher Education in Germany vs Canada?
Students who graduate from Canada, generally tend to find it easier to immigrate successfully and gain permanent residency within around 3 to 4 years, after completing their course of study in the country. On the other hand, the process of immigration after graduation is comparatively more difficult after completing your graduation from Germany and can take as much as 7 to 8 years. So if you are planning to settle abroad in the country where you study, then Canada would be your best option.
[Read More: What is Student Direct Scheme in Canada?]
What is the Language of Communication in Germany vs Canada?
For most English-speaking international students, Canada can be the preferred choice, as English is spoken widely in the country, and is the medium of instruction in most universities. Germany on the other hand will have only a few courses in English, and unless you prefer the challenge of learning a new language, you would be most likely choose Canada for your Study Abroad plans
What are Job Prospects after Graduation?
Canada has a more competitive job market when compared to Germany, it is fairly easier to find a job in Germany than in Canada after graduation. However, you are more likely to find better quality and higher-paying jobs after graduation from Canada, than graduating from Germany. Moreover, most first-time job placements in Canada need you to provide references from your teachers. The above factors can be quite handy when it comes to making a decision about which country you choose to study in. For more help and guidance, get in touch with our Expert Study Abroad Consultants.