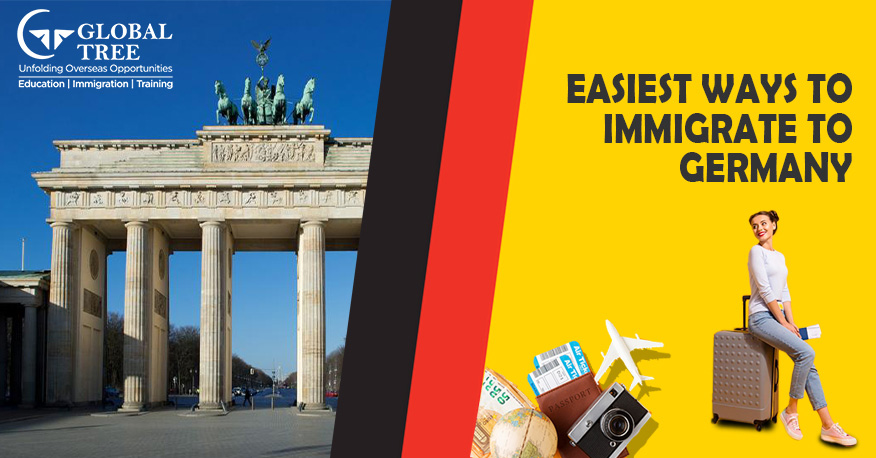 People Looks Towards Immigrating To Germany
Germany has been deemed as the fifth most preferred nation to move to. This is due to the countrys well-performing economy, education system and job prospects. People from across the globe look towards Immigrating to Germany. In this blog, we will focus on information regarding how to Immigrate to Germany and general information regarding Immigration to Germany.
To immigrate to Germany, you would require a valid reason. There are many paths that foreign citizens could move to this country. This includes the reasons which are mentioned below in detail:
Pre-Requisites For Immigration To Germany
Every different immigration purpose has got a financial threshold that applicants would require to fulfill; applicants should prove that they have got enough funds to finance themselves in the country. Even if you are working in the country, you should have got the funds for covering your expenses till you got your salary.
Health Insurance
If you do not have proper health insurance cover, then you are not allowed to Immigrate to Germany.The suggested way is to get health insurance policy of the country.
Basic Proficiency In German Language
To live in Germany, you would require knowing a little bit of German language. The Common European Framework of Reference for Languages has three levels of language proficiency.
Get A German Visa
Citizens from non-EU nations are needed to apply and obtain a visa before entering the country. All other citizens who dont require a visa to enter the country. They might apply for a residence permit after entering the country without a visa.
Types Of Germany Visas
Tourist Visa, Business Visa, Visas to Study in Germany, Job Seeker Visa, Working (Job) Visa, Guest Scientist Visa and Training/Internship Visa.
[Read More: How to Get Health Insurance Before Embarks On Study Abroad]
Germany Immigration For Employees
Germany has been witnessing a shortage of Skilled Workers and highly qualified individuals. They are continuously looking for IT professionals, engineers, medical employees and other qualified professionals. To motivate such individuals for Germany immigration, overseas immigration authorities have relaxed the strict requirements to Immigrate to Germany and work.
Because of this, one of the most preferred immigration to Germany is through searching a job in the country. The steps to Immigrate to Germany for doing work are as follows:
Search a job in the country which accepts foreign citizens
Apply for the German Working Visa
Migrate to Germany and get the working residence permit
Apart from this, to avail the residence permit for working in Germany, both the employer and the employee should prove that
There should be a shortage of employees that are from the country or the EU, so the position cannot be filled by them.
The employee would have got similar conditions as any other native employee in terms of working environment and salary.
Employees should meet all the requirements related to working experience and education for the employment position.
The company should hire employees that should meet all the requirements of the country.
As an employee, you would get a chance to work as long as your residence permit allows. If your employer wants you to continue, even after your work permit is getting expired, you could apply for an extension or after some period of time, you can also apply for Germany PR.
[Read More: Planning To Migrate Germany For Joining Family?]
Immigrate To Germany For Education
Many people are not aware that universities in Germany offer very fewer fees. Due to this, Germany has become the favorite place to immigrate for education.
To Immigrate to Germany for pursuing a university degree, you should avail a visa to Study in Germany. If you get a visa and if you complete your education here, you could live in Germany and search for a good job but you are allowed to do this for a limited period of time.
If you get successful in getting a job in that period of time, you are permitted to live in Germany. It has been witnessed that around 54% of foreign students who had finished their degree prefer to live in the country and finds a job.
Germany Immigration for Business persons
If you interested to do business or looking to invest in the country, then you have taken right decision as the country offers better prospects of doing business. Investors and business people that could create economic prospects in the country are permitted to immigrate there.
There is a certain threshold of investment that you require to make. In addition, you would require getting a Self Employment Visa that falls under the category of working visas. To avail the visa you should prove the following criteria:
You should have enough funds for making investment
Your investment should benefit the economy of the country
Your investment is highly demanded in the country
Immigrate To Germany For Family Reunions
There are examples when individuals immigrate to the country for many reasons, but they have to leave their loved ones behind. All the kids and spouses are permitted to apply for Germany Immigration to join their parents or spouse.
To get entitled for Germany Immigration for family reunification, spouses should prove that they are married and they have to show their childrens birth certificate. For kids over 16 years of age, there should be a proof of proficiency in the German language.
For spouses, they require getting minimum proficiency in the German language. If your spouse is already living in the country and working, the same would be applied to another spouse who is joining. The visas for spouses are constrained by the similar conditions.
German Resident Permits
If any person got any one of the visas for immigration, they would also require getting a residence permit. The residence permit could be provisional or permanent.
Provisional Residence Permits allows foreign citizens to live in Germany for a certain period of time and then return back to their native countries.
Permanent Residence Permits mean that the foreign citizen could live in Germany for an unlimited period of time. A permanent residence permit doesnt mean that you have got a citizenship.
Standard Residence Permit
It is a type of residence permit which is used for entire purposed of immigration for certain reasons like concluding training courses, for people who are looking to return back to this country and those who visit the country for humanitarian or political reasons. This visa is valid for limited period of time and could be extended.
EU Blue Card
This card is given to those foreign citizen employees who have got the high qualification and to those who are looking to work in Germany. To qualify for this card, you would require having already searched a job in the country with the minimum salary specified by the government.
This EU Blue Card permits its holders the right to live in Germany for a period of four years with a chance to change their residence permit into permanent residency.
To qualify for PR you should show enough proficiency in the German language should have also got enough funds and have already worked in the country for more than one year.
Permanent Residence Permit or Settlement Permit
The permanent residence permit is also known as Settlement Permit. This is granted to those who have got either a residence permit or an EU Blue Card for a period of five years and should meet certain language requirements,
If you are looking to Immigrate to Germany, it is recommended that you go with a company that has got years of experience in the Germany Immigration process. Global Tree is one of the Best Immigration Consultants in India that helps you in your Germany Immigration process.