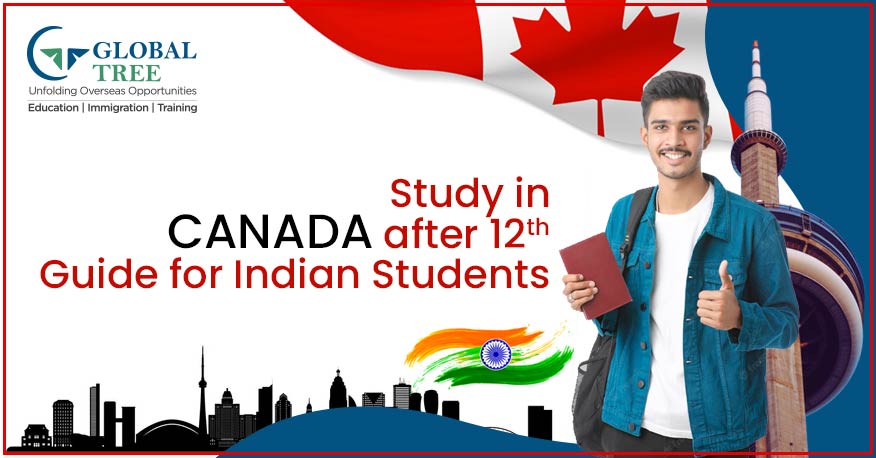 Study in Canada After 12th
After completing 12th grade, you need to select a field of study that decides your future. While India has several top universities, studying abroad helps you explore the global education system. Canada is one of the greatest study-abroad destinations, offering a variety of scholarships for Indian students after they have completed 12th grade. The country aims to provide students with a bright future.
If you want to study in Canada after 12th grade, this blog will help you with all the needful steps and information from its education system to eligibility and scholarships.
Advantages of Studying in Canada
Due to the already large population of Indians in Canada, approximately 1.37 individuals, it becomes easy and comforting for an Indian student to shift there. There are other advantages of studying in Canada, such as:
Academic excellence: Students who wish to study in Canada after 12th have a choice from 26 of the top most universities. This country aims to focus on the overall development of the student.
Affordability: Another advantage is the fact that the living costs in Canada for students are not very high and affordable for a student. The average is approximately 5500 CAD to 30,000 CAD for a Bachelor's degree in Canada.
Top Universities in Canada
According to the QS World University Rankings 2022, 28 Canadian universities have been mentioned in the list. After high school, you can choose to study subjects such as medicine, law, commerce, science, computer science, and nursing in Canada. The top Ten Canadian Universities according to the QS World University Rankings 2022 are shown in the table below.
| University | Location | World Ranking |
| --- | --- | --- |
| University of Toronto | Toronto | 26 |
| McGill University | Montreal | 27 |
| University of British Columbia | Vancouver | 46 |
| Université de Montréal | Montreal | 111 |
| Western University | Ontario | 170 |
| University of Ottawa | Ottawa | 230 |
[Read More: Guide to Choose the Best College to Study in Canada]
The Best Cities to Study In Canada
Canada has multiple academic institutions that offer the best facilities, great job placement and career opportunities.
Some Canadian cities, such as Vancouver, Montreal, and Toronto, are well-known for providing an ideal atmosphere for study and living. International students need to select a location that gives them the best in regard to safety, an affordable cost of living and a great educational institution.
The 5 cities that rank the highest are as follows:
Montreal
Vancouver
Toronto
Ottawa
Quebec City
[Read More: About Best Cities in Canada for Indian students]
Top Courses to Study in Canada
There are various undergraduate courses available in Canada at universities and colleges. The course options are as mentioned below:
Arts Courses In Canada
BA English
BA Economics
BA Sociology
BA Psychology
BA in Political Science
BA History
BA Geography
Bachelor of Arts and Cultural Studies
BA Public Administration
Bachelor of Journalism and Mass Communication
Bachelor of Mass Communication
Bachelors in Fashion Designing
Bachelors in Journalism
Bachelors in Digital Media
[Read More: 6 Top Colleges to study Fashion Designing in Canada]
Commerce Courses In Canada
B.Com (Finance, Marketing, Accounting, Taxation, Advertising)
BCA or Bachelor Of Computer Applications
BALLB
BCM
Bachelor in Cost Accounting
Bachelor in HR Management, Business Administration, Hotel Management
CA
CS
Bachelor of Computer Applications (BCA)
Bachelor of Commerce (B.Com)
Bachelor of Business Administration (BBA)
Bachelor of Foreign Trades
Company Secretary
Accountancy Courses
Bachelor of Economics

Science Courses In Canada

MBBS
E/ B. Tech
Bachelor of Architecture (B. Arch)
Sc. (Science)
BCA (IT and Software)
Sc. (IT and Software)
MBBS
Pharmacology
Mechanical Engineering
Civil Engineering
Geological Engineering
Biomedical Engineering
Electrical Engineering
Chemical Engineering
Computer Engineering
Mechanical and Material Science Engineering
Engineering Physics
Mining Engineering
Post Basic B. Sc. Nursing
Mechanical Engineering
Civil Engineering

Aviation courses in Canada

Canada is well-known for its reputed aviation courses

B. Sc in Aviation
B. Tech/B.E. in Aeronautical Engineering
Commercial Pilot License or CPL
B. Sc in AME (Aircraft Maintenance Engineering)
B. Tech in Aerospace Engineering
B. Sc in Aeronautics
B. Tech in Aerospace Engineering with Avionics specialization

Nursing Courses in Canada

Auxiliary Nursing and Midwifery (ANM)
General Nursing and Midwifery (GNM)
Post Basic B. Sc in Nursing
B. Sc in Nursing

Hotel Management Courses In Canada

B. Sc in Hotel Management
BHM (Bachelor of Hotel Management)
BBA in Hotel Management
B. Sc in Culinary Arts
B. Sc in Hotel and Catering Management
B. Sc in Hospitality and Hotel Administration
B. Sc Hotel Management, Catering, and Tourism
BHMCT (Bachelor of Hotel Management and Catering Technology)
B. Sc Resort & Event Management
B. Sc (Hons) in International Hospitality Management

Design courses in Canada

Canada is also known for its design programs.

Bachelor of Interior Design
Bachelor of Environmental Planning and Design courses.

Application Process for Canada

The following is a step-by-step guide to help you fill out your application forms.

Step 1: Take a decision regarding the course and the university

Step 2: Collect and be prepared with the specified paperwork:

The following are some of the documents that most universities require:

Educational certificates
Test scores of SAT, IELTS, or TOEFL, Transcripts
Passport
Letter of motivation
LOR
Portfolio of work (if asked for a course like design)
An official transcript from secondary school
Visa Documents
Financial Documents specified by the university

Step 3: Admission requirements as specified by the university

Step 4: Submit your application form

Most applications are submitted on the official website via online mode in Canadian universities.

[Read More: Detailed Application Process to Study in Canada]

Step 5: Wait for your admission confirmation from the university

Step 6: Complete your visa application

Academic cycle

Universities in Canada admit students in three intakes and they are as follows:

| Intake | Month |
| --- | --- |
| Fall | September |
| Winter | January |
| Summer | April- May |

Eligibility

The Eligibility criteria may vary from one university to the other but the following is the requirement from the standard tests like TOEFL and IELTS

For UG/Bachelor courses and a diploma course, the eligibility criteria is a 213 score and above in TOEFL out of 550 or a 6/6.5 and above in IELTS.

Along with the TOEFL and IELTS scores, the following scores and documents are required as well:

1. 12th Class scores

2. SOP

3. LORs

4. A valid passport

5. Student visa

Cost of Study in Canada

The annual tuition fees range between CAD 20,000 and CAD 30,000 approximately. However, tuition fees in Canada vary based on the universities and programs that you have chosen. In addition to this, application fees range from $50 to $200 CAD approximately. Students must, however, pay between CAD 2,000 and CAD 18,000 per year for a diploma or a certificate programme.

Cost Of Living in Canada

Approximately 1200 CAD - 1500 CAD a month is the cost of living in Canada.

Scholarships for International Students in Canada

International students are granted several scholarships to Study in Canada and a few of the scholarship programs are mentioned below:

University of British Columbia Scholarships for International Students:

This scholarship offers approximately $10 million or more as financial assistance and scholarships for the students.

Carleton Prestige Scholarships:

Those with a 90% and above score are offered this scholarship.

Lester B. Pearson International Scholarships:

Complete tuition fees and residence support is covered for four years of the undergraduate program.

York University International Student Scholarship Program:

Students who have an excellent academic record can get this scholarship for up to 4 years and approximately $60,000 – $100,000.

Winnipeg President's Scholarships for World Leaders:

The scholarship is awarded to international students and ranges from $3,500 – $5,000.

Humber College International Entrance Scholarships:

During the September and January intake, with this scholarship students are granted either full or partial payment of tuition fees.

Frequently Asked Questions

The common notion is that foreign universities are expensive, although with scholarships this is an exaggerated issue. What many fail to consider are time and effort. Studying in an Indian college leads to a lower average salary than earned by our western counterparts. This salary sets the tone for all future promotions since companies often look at your previous salaries during compensation appraisals. Additionally, most senior positions tend to be scooped up by individuals who have an international outlook through global exposure. Finally, studying in a foreign country is an incredible learning experience helping students get a better academic as well as soft skill development.

Canada has been one of the market leaders in education for decades. However, what currently sets Maple Country apart is immigration. Canada is wholeheartedly inviting students to study in their universities to fill job vacancies that are always growing in the country. Students who study in Canada (especially a Master's Degree) are practically assured of a Permanent Residency Visa.

A good score doesn't automatically qualify a candidate for a scholarship, however, it is one of the primary factors that the admissions department looks for in a scholarship application. There are other attributes such as a candidate's academics, extra-curricular, financial background, and application essays (SOPs).

We get this question a lot. Many candidates know which career path they want to take, but are at a loss for how to take that journey. Understanding the job role and the industry that you want to get into is the first step to picking the right university.

Carefully consider the immigration options of the country that the university that you are considering is in. This is more important when you intend to stay back in the country after the completion of your course.

Also, review the placement history of the university as well.

The first step is to list your preferences. By listing your preferences and strengths, describe your course of preference. Extensive research on the modules, software and its length for your preferred subject is necessary.

---

Recent Posts
---
---