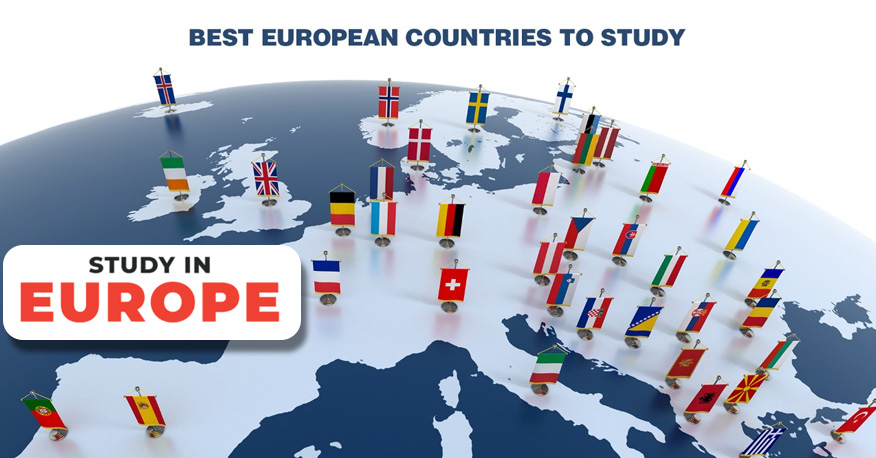 Looking For Abroad Education In Italy?
Located in the Mediterranean Europe, Italy is a nation of great culture and beauty. Its glory lies mainly in the deeply rooted history which has formed its civilizations and way of living, from its delicious food to classical music, from the peaceful villages to the energetic cities. Education in Italy is increasingly esteemed with a wide range of excellent educational institutions across the country, welcoming foreign students. Italy has played a key educational role as one of the promoters in modernizing higher education of Europe. Students who undertake Education in Italy get valuable knowledge not only in classrooms but also through daily life in this vibrant, dynamic and incredible nation.
Know More About Italy
The capital city of Italy is Rome, the local language which is spoken there is Italian. The country's population is around 60 million. Around 18,00,000 students are pursuing an education here out of which 70,000 are Foreign Students. The academic year starts from the month of November till October. The currency of Italy is Euro, calling code of this country is +39 and Time zone is CET (UTC+1). If you are ready for a thrilling experience of meeting new individuals, exploring delightful places and like to be surrounded by the culture, arts, and history, then this country is the perfect destination for you.
Students who seek to Study Abroad in Italy
could experience a wide range of novelties unlike anywhere across the globe.
Education System In Italy
Universities in Italy are among the oldest universities in the globe. As part of the education system in the country, most learnings take place in big lecture halls, but that depends on the type, of course, you have selected. Students are also expected to conclude a considerable amount of self-education hours outside the classroom to prepare for exams.
Higher education exams are held after the learning period and are mostly oral, although few courses in this country also need written tests. Every exam is offered on many dates from which students could choose.
The educational year is made up of two semesters. The initial semester begins in the month of September/October and ends in the month of Jan/Feb. The second semester begins in the month of Feb and ends in July. The actual start and finish dates of degree programs in this country vary in each university, but every educational semester lasts for roughly 20 weeks, which is made up of 14 weeks of learning period and six weeks of the exam period.
[Read More : Know everything about Italian Education System]
Types Of Colleges/Universities
The education system in the country was changed in 1990 for creating a compatible education system throughout Europe. It has implemented a three-cycle system which consists of Bachelor degrees, Master degrees, and Doctorate.
There are around 89 university institutions which are classified in various categories such as 58 universities are public entities that are endowed with scientific, learning, financial, managerial and bookkeeping autonomy.
17 are non-state universities which are recognized by the state, two universities for foreigners which specialize in education and research for the growth of Italian language, literature, and culture. Six higher education colleges that specialize in postgraduate university education and six telematics universities.
Documents required applying for the visa
Application forms for the student visas should include a photo, legal travel document and supporting documents depending on the type of visa any student is applying for.
Students should submit the following documents such as acceptance letter from the university; proof enough financial support, health documents and details of accommodation.
Working During Your Education
Non-EU students might work during their Overseas Education in Italy if they got a work permit. The processing time differs between regions and it takes two months. Therefore, it is good if students don't rely on getting a job after arriving in the country.
Accommodation and Cost of living in Italy
Student housing in the country is managed by the university office for Foreign Students. These accommodation offices offer information on renting apartments, which are generally cheaper than the amount of searching housing in the private market of the country.
Students housing in the country is expensive in cities and could range from 300 Euros to 600 Euros a month, depending on the location and size.
[Read More: Cost of living in Italy for Indian Students 2022]
For students who want to make their own arrangement of accommodation, rental houses ads appear in local newspapers.Accommodation information could also be found with real estate agencies. The least rental period for much accommodation in the country is one year, but student accommodations in furnished rooms are usually available for a shorter period of time. Cost of living in cities like Rome and Milan are higher than in the rural areas.
Transportation - Public transportation is the most convenient way to travel for students.
Food - A meal at any restaurant would cost you around six to ten Euros while cooking at home stays relatively affordable.
Extra Costs- Students must also consider other expenses like internet and phone bills, books and social activities and other educational supplies.
Cost Of Study & Tuition Fees In Italy
Tuition fees in the country are usually less than in other nations across Europe. Higher educational institutes in the country set their own tuition fees, but in case of University Education, there is a minimum cost for admission and maximum cost for student contributions, that could not exceed 20% of state funding.
Tuition Fees In Public Universities
Average tuition fees for higher education in the country are between 850 Euros - 1000 Euros every year, depending on the University and Education Program.
Tuition Fees In Private Universities
Private universities in the country are expensive and most of them have similar tuition fees for non-EU Students.
Scholarships & Funding
There are many scholarships and funding that student can apply for while pursuing Education in Italy. Few scholarships not only cover tuition fees but also living costs.
Scholarships are limited and are given to students on merit basis.
Best Global Universities In Italy
Students who seek to Study Abroad in Italy could explore these universities; there are many universities in the country which has got global rankings. Some of the universities to mention are Sapienza University of Rome, University of Padua, University of Bologna, University of Milan, University of Trieste, University of Florence and much more.
Pre-Requisites For Italian Universities
There are many prerequisites that you might require to keep in mind while applying to pursue Bachelor Degree, Master & Ph.D. in a university.
Bachelor Education
To meet the criteria for pursuing a bachelor degree at an Italian University, you should have successfully completed your secondary education, have a law school certificate; qualify for higher education in your home nation.
Master Education
To pursue Master degree at an Italian University, you would require having a bachelor degree. You would require submitting the documents while applying for the program:
Educational transcript of your previous education
Proof of Identity
University Application form
Recommendation Letter
Personal Statement
Proficiency in language
PhD Education
To meet the criteria for Ph.D. at a university in this country, you required a relevant diploma or master degree. Few universities also need for applicants to submit their research proposal. Always check with your university to confirm the least grade you require to get an entry pre-requisites you require to meet in order to Study in Italy. If you are looking to Study in Italy, it is recommended that you go with a company that has got years of experience in the Overseas Education process. Global Tree is one of the
Best Abroad Education Consultants
in India that helps you in your Italian Education process.