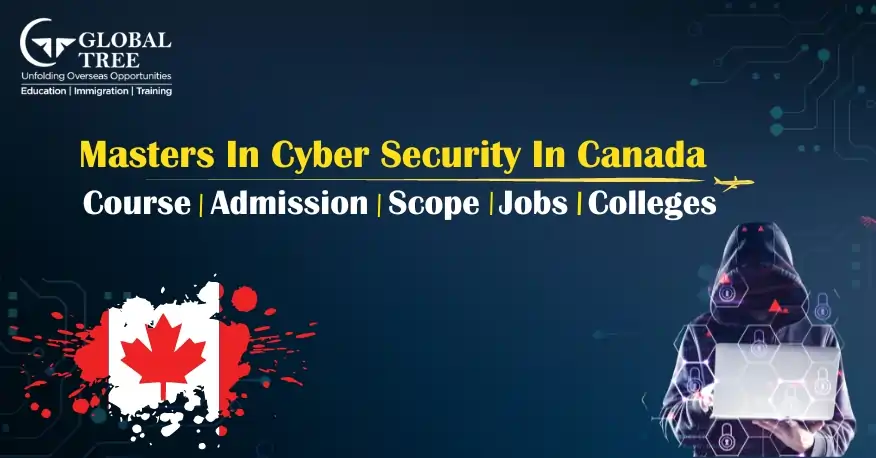 Introduction
In a world that is getting more and more linked, we need cyber security experts more than ever. As technology changes, so do the dangers it poses. In Canada, getting a Master's degree in Cyber Security can give you the information and skills you need to protect digital infrastructure and fight cyber threats. This blog will talk about different parts of the programme, like its goals, how to get in, what it teaches, the best colleges, scholarships, job chances, and more.
About the Course on Cyber Security
What Does it Mean?
A Master's in Cyber Security focuses on the study of methods, technologies, and practises that keep digital systems and data safe from attacks, breaches, and entry by people who shouldn't be able to get in. It covers things like network security, cryptography, risk management, digital forensics, and ethical hacking.
Who Needs to Study?
This programme is good for people who have a background in bachelor's in information technology computer science, or a related area and are passionate about fighting cyber threats and making sure digital assets are safe. Programming skills, the ability to solve problems, and a critical mind are all helpful.
Why Learn?
The need for people who know about cyber security is growing quickly, and getting a Master's in Cyber Security can lead to satisfying jobs. With its advanced infrastructure, research possibilities, and growing tech industry, Canada is a good place to study cyber security.
Some quick facts about the Cyber Security Course:
Usually lasts between one and two years
Degree: MSc or M Eng (Master of Science or Master of Engineering)
Network security, cryptography, ethical hacking, digital forensics, and risk management are the most important topics.
Types of Courses in Cyber Security
Full-Time: In a full-time programme, students can focus on their studies the whole time and get their degree in less time.
Part-Time: Part-time programmes are made for people who already have jobs but want to get a Master's degree while still working.
Diploma: Some schools offer programmes that lead to a diploma. These programmes have a focused and intense curriculum in certain areas of cyber security.
How to get into a Cyber Security Course?
Eligibility: Most universities demand a Bachelor's degree in computer science, information technology, or a related field. Some programmes may require that you already know how to programme or have work experience.
Entrance Exams: Some colleges may require standard tests like the GRE or GMAT.
Tips for Admissions Tests: You can do better if you do enough to get ready, such as taking practise tests, reviewing key ideas, and getting help from mentors or online tools.
Cyber Security Course Outline
A Master's programme in Cyber Security may cover the following topics and specialisations:
Network security: Includes protocols, encryption, firewalls, intrusion detection systems, and safe network design.
Cryptography and Secure Communications: This course focuses on encryption algorithms, cryptographic protocols, key management, and secure communication routes.
Secure Software Development: Talks about safe ways to code, software bugs, and checking software security.
Incident Response and Digital Forensics: Teaches how to look into cyber incidents, collect proof, and analyse digital artefacts.
Risk Management and Compliance: Talks about risk assessment, security policies, compliance standards, and how to handle incidents.
Ethical Hacking and Penetration Testing: This course looks at techniques for ethical hacking, risk assessment, and methods for penetration testing.
Security Governance and Policy: This area focuses on making security strategies, policies, and frameworks to make sure that organisations follow the rules and work together.
Books We Recommend:
William Stallings and Lawrie Brown's "Computer Security: Principles and Practise"
Bruce Schneier's "Applied Cryptography"
Dafydd Stuttard and Marcus Pinto's "The Web Application Hacker's Handbook: Finding and Exploiting Security Flaws"
Top Colleges to Study Cyber Security in Canada
Here is the list of top universities to Study Masters in Cyber Security in Canada
University of Toronto
University of Waterloo
University of British Columbia
McGill University
Carleton University
Ryerson University
University of Toronto is the one of the top universities in Canada and it offers a Master of Science in Cyber Security programme and is known for its strong study programmes in cyber security. It offers a full curriculum and research chances in areas like cryptography, network security, and developing secure software.
University of Waterloo: The Master of Mathematics in Computer Science with a specialisation in Cyber Security programme at the University of Waterloo is a diverse way to learn about cyber security. It gives students a lot of hands-on training through research projects and partnerships with businesses.
University of British Columbia: The University of British Columbia's Master of Engineering in Electrical and Computer Engineering programme has a Cyber security and Privacy specialisation. It talks about things like system security, network security, and tools that make privacy better.
McGill University: The School of Computer Science at McGill University offers a Master of Science in Cyber security. The main goal of the programme is to teach advanced skills in areas like network security, digital forensics, and creating secure software.
Carleton University: The Master's programme in Computer Science at Carleton University, which focuses on Information Systems Security, is a good way to learn cyber security ideas and technologies. Students can work on study projects and work with partners from the business world.
Ryerson University: Ryerson University's Master of Science in Computer Science programme has a Cyber Security and Privacy specialisation. It talks about things like data privacy, secure software creation, and network security.
What is the tuition fee for Cyber Security Course in Canada?
The cost of tuition for a Master's in Cyber Security can vary based on the school and the length of the programme. For foreign students, the average cost of tuition per year in Canada is between CAD 15,000 and CAD 40,000. It's important to remember that fees may also cover things like health insurance, living costs, and study tools. But scholarships and other forms of financial aid are available to help students pay for their schooling.
Scholarships to Study Cyber Security in Canada
Students who want to get a Master's degree in Cyber Security can choose from a number of scholarships available to Study in Canada and other forms of financial help. Some well-known awards are:
Canada Graduate Scholarships (CGS): These scholarships are offered by the Canadian government and can be used by both Canadian and foreign students in research-based cyber security programmes.
Mitacs Globalink Research Award: This programme helps foreign students get research funding so they can work on cyber security projects with Canadian universities and businesses.
Grants offered by universities: Many universities have their own grants and ways to get money for students who are good at cyber security. These scholarships may be given based on academic performance, financial need, or the potential for study.
It is best to look at the websites of universities and research groups to learn about scholarship possibilities and how to apply.
What is the Average Salary for a MS in Cyber Security Course in Canada?
People with a Master's degree can expect to make a good living in the area of cyber security. The average salary for a cyber-security professional in Canada is between CAD 70,000 and CAD 120,000 per year, based on factors like experience, expertise, job role, and the organisation. As the need for cyber security experts grows, people with advanced skills and years of experience in the field can make even more money.
Future Scope of MS in Cyber Security Course
After getting a Master's degree in Cyber Security, learners can choose from a wide range of jobs. Some possible ways to make a living are:
Security Analyst: analysing security dangers, keeping an eye on them, putting security measures in place, and doing risk assessments.
Security consultant: someone who helps companies improve their cyber security infrastructure and policies by giving them expert tips.
Incident Responder: Looks into cyber security events, responds to them, and finds vulnerabilities and taking steps to fix the problem.
An ethical hacker is someone who does authorised penetration tests and vulnerability assessments to find security flaws and fix them.
The job of a security architect is to design and build safe systems, networks, and infrastructure.
Getting a Ph.D. in Cyber Security or doing research and development can also lead to jobs in academia or study.
Cyber Security Jobs In-demand now in Canada
The need for people who know about safety is growing in many areas. With a Master's degree in Cyber Security, graduates can look for work in:
Government departments and defence organisations are working on cyber security projects and protecting national interests.
Banks and other financial institutions: Making sure that financial deals and customer information are safe.
Technology companies and software development firms are making secure software systems and goods.
Consulting companies that specialise in cyber security help organisations improve their security.
Protecting patient information and making sure medical systems are safe is important for healthcare organisations and hospitals.
Safeguarding customer information and payment methods for e-commerce and online stores.
Telecommunications companies need to make sure that their networks and equipment are safe.
Cyber Security Course vs. Other Courses in the Same Field
Even though there are other courses in cyber security that are similar, a Master's degree in Cyber Security gives you the in-depth information and specialised skills you need to protect digital systems. Here are some things to compare:
Information Technology vs. Cyber Security: Information Technology programmes focus on more general aspects of technology, like networking, software development, and system administration. Cyber Security programmes, on the other hand, focus on the security aspects of technology and how to deal with cyber threats.
Cyber Security vs. Computer Science: Computer Science programmes cover a wide range of areas, such as algorithms, programming languages, and software development, while Cyber Security programmes focus on securing computer systems, networks, and data.
Cyber Security vs. Data Science: Data Science programmes focus on getting insights from big datasets and using machine learning techniques, while Cyber Security programmes focus on protecting data and systems from unauthorised access and breaches.
(Read More: Why is Information systems course in demand?)
FAQs for the Cyber Security Course
Conclusion
Getting a Master's degree in Cyber Security in Canada can lead to a good job in an area that is always changing. As people become more and more dependent on technology, the need for skilled cyber security workers keeps growing. By going to respected colleges and getting specialised knowledge, practical skills, and hands-on experience, students who plan to Study in Canada can help protect digital infrastructure and fight cyber threats effectively.