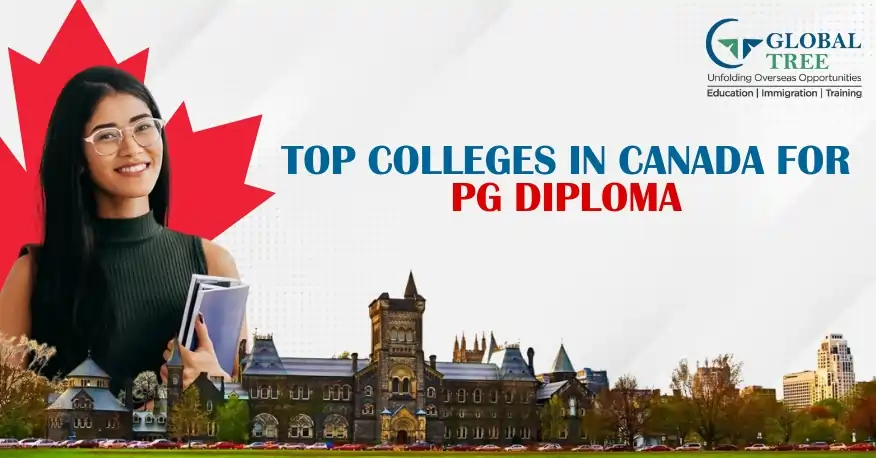 Introduction
Before learning about PG Diploma courses in Canada, let us understand PGD. A Post Graduate Diploma, also referred to as a PGD course, is a postgraduate diploma program awarded to students in an area, subject, or specialty of their choice. The PGD course aims to equip candidates with professional education and education, as well as to prepare them for employment in a subject or area of specialization of their choice. PG Diploma courses are specialized studies at the postgraduate level that typically last 6 months or a year. They are regarded as the finest option for a master's degree, particularly for students or working professionals seeking short courses.
Canada is ranked first in the world for delivering an excellent way of daily living. Studying in Canada is a great choice as they take pride in encouraging all residents to respect their individual cultures. Canada likewise enacted a national multiculturalism policy in 1971, which embraces the country's diversity.
List of PG Diploma Colleges in Canada
| Sr.No. | College | Popular Programs | Application Deadlines | Fees (CAD/Year) |
| --- | --- | --- | --- | --- |
| 1. | Algonquin College | PG Diploma in Advertising and Marketing Communications Management | February 1, 2023 (applications closed) | 18,694 |
| 2. | Centennial College | PG Diploma in Biotechnology - Advanced | Rolling | 18,444 |
| 3. | Confederation College | PG Diploma in Business Administration-Accounting | March 1, 2023 | 16,331 |
| 4. | Durham College | PG Diploma in Accounting – Business | October 1, 2023 | 14,184 |
| 5. | Dawson College | PG Diploma in Computer Science Technology | March 1, 2023 | 17,594 |
| 6. | Fanshawe College | PG Diploma in Civil Engineering Technology | February 1, 2023 (applications closed) | 14,756 |
| 7. | Fleming College | PG Diploma Business Administration | Rolling | 17,552 |
| 8. | George Brown College | PG Diploma Computer Programming and Analysis | Opens April 3, 2023 | 17,841 |
| 9. | Humber College | PG Diploma Computer Engineering Technology | February 1, 2023 (applications closed) | 16,394 |
| 10. | Sheridan College | PG Diploma Chemical Engineering Technology | Rolling | 18,155 |
| 11. | Sault College | PG Diploma Computer Programming and Analysis | Rolling | 17,907 |
Also check: Overall top Universities in Canada and Improve your Choices!
Algonquin College
Algonquin institution, a public institution, is Eastern Ontario's largest polytechnic institute. The university has three sites in Ontario: the main campus in Ottawa, as well as satellite campuses in Perth and Pembroke. Students at the Ottawa campus can choose on-campus housing for the duration of their studies. Each suite features two separate, fully furnished bedrooms, a shared bathroom, and a kitchenette. The student will be able to genuinely experience community living and an independent lifestyle by remaining on the Ottawa Campus. Students might choose to live alone or with roommates.By visiting the Students' Association Housing Board, you can make your own arrangements. International students can get fee waivers from the institution in the form of scholarships to study in Canada, as well as awards and bursaries. The majority of them are merit-based, although there are some need-based rewards.
Centennial College
Centennial College was established in 1966 as Ontario's first community college. Progress, Ashtonbee, Morningside, Story Arts Centre, and Eglinton are among the five campuses.
The main campus of the college is Progress, and the college has seven satellite locations. Centennial is regarded as one of the most culturally diversified institutions in Canada. For students hoping to get admission to CC, there are a variety of housing alternatives available. Hostels, homestays, and off-campus housing are among the available accommodations.
At Centennial College, residence accommodations are assigned on a first-come, first-served basis. On-campus life provides students from all over the world with an engaging experience and serves as their home away from home. Centennial College scholarships and prizes are given based on academic, artistic, athletic, and extracurricular activities, as well as community service. Any international students interested in studying in Canada can apply to the college and request these scholarships.
Confederation College
Confederation College, located in Ontario, Canada, is a provincially sponsored applied arts and technology institution. It was founded in 1967, amid the creation of Ontario's college system. It has been designated as an Indigenous Education Leader because it contributes to the development of policies for Indigenous learning in the postsecondary education sector. It provides Indigenous programs as well as support and services to its Indigenous students.
Confederation College has nine campuses in total. Confederation College's main campus is located alongside a shallow river and offers an environmentally friendly atmosphere.Thunder Bay, Ontario, is home to the main campus. The other eight campuses (Dryden campus, Greenstone campus, Lake of the Woods campus, Northshore campus, Rainy River District campus, Red Lake campus, Wawa campus, and Sioux Lookout) are likewise in Ontario.
The Thunder Bay campus is solely responsible for students who choose on-campus housing. The educational school provides a variety of housing options with varied amenities. The housing price covers utilities, a furnished suite, internet access, common area lounges, and an outdoor grilling area. International students have access to a range of off-campus housing alternatives in Canada; however, the International Education Center is not responsible for international students' housing. Students who intend to live off-campus should study and decide before arriving in Thunder Bay.
Education System in Canada: Things to Know before you join
Durham College
Durham institution, founded in 1967 in Oshawa, Ontario, Canada, is a public institution. Over 13,600 full-time undergraduate and graduate students attend the college. Durham College features a cutting-edge campus in two thriving communities: Oshawa and Whitby.
Durham College has 1360 students living on campus in residential halls. Durham College provides safe and convenient housing alternatives in Simcoe Village and South Village. Durham College provides guaranteed accommodation to first-year students. Durham College provides a variety of financial aid to defray the educational expenditures of deserving students enrolled at the university.
Durham College is a top-tier higher education institution in the modern era. The college offers a competitive and diversified curriculum as well as great mentoring from expert instructors from all over the world. Durham College students receive intense professional training, making them highly sought after in the employment market.
Dawson College
Dawson College is Canada's largest and most prestigious CEGEP (College of General and Professional Education). It was founded in 1969. The Dawson College campus is a history property with modern additions such as a rock climbing wall, an ecological peace garden, and a grand art gallery. The college, which is located in Montreal, Canada, is well-equipped with academic resources such as high-tech computer labs and classrooms. Dawson College does not offer any form of on-campus housing to its students. Students, on the other hand, can locate affordable housing options close to campus. Dawson Student Service maintains a listing of available houses in and around Montreal. Dawson College provides a variety of financial aid in the form of scholarships, loans, and bursaries to help students with their expenses. Scholarships are available for both the Fall and Winter semesters.
Fanshawe College
The Ontario College Athletic Association (OCAA) was founded by Fanshawe College, also known as Fanshawe College of Applied Arts and Technology. Fanshawe institution, located in the "Forest City" of London, Ontario, is Canada's sixth-largest public institution. Fanshawe College Courses are available to international applicants, and their stay in Canada is made as easy as possible. Applicants can choose between standard resident suites and townhouse units for on-campus housing. Aspirants who want to live near campus but not in on-campus housing can do so by searching Fanshawe College's online rental listings and using its off-campus housing services.
Study MBA in Canada: All you need to know
Fleming College
Fleming College is a public Applied Arts and Technology College. Sutherland Campus, Frost Campus, Haliburton Campus, and Cobourg Campus are the four lush and vast campuses that comprise the College.
Sutherland Residence Village, Severn Residence (Peterborough), and Frost Residence (Lindsay) are the three on-campus residences. For almost 30 years, the off-campus community has provided students with a safe and inexpensive living environment. International students looking for scholarships to study in Canada may undoubtedly apply to FC and receive a piece of the $2,000,000 CAD in bursaries and scholarships that the college grants each year. The offered rewards are merit-based and need-based, and they can be obtained by registering through an online application.
George Brown College
George Brown College of Applied Arts and Technology, founded in 1967, is a fully accredited public college of applied arts and technology. George Brown College has campuses in three different areas of downtown Toronto. St. James Campus, Casa Loma Campus, and Waterfront Campus are the three campuses. George Brown College offers lodging to 500+ students in 2-bedroom units. The rooms have Wi-Fi, cable TV, a phone with local calling, and a variety of other conveniences. The college's common areas include spacious game rooms, a relaxation area with movie screens, a BBQ patio, and study space. George Brown College gives financial help to students who achieve as well as those who require assistance.
Everything you need for a MS in Data Science in Canada
Humber College
Humber College is a public Applied Arts and Technology College in Toronto, Ontario, Canada. It is also known as the Humber College Institute of Technology & Advanced Learning.
Humber College has three campuses: North Campus, Lakeshore Campus, and Downtown Campus.
Humber College provides its students with a variety of housing options, including on-campus hostels and dorms, off-campus homes, and housing. All of the alternatives offer different amenities at differing rates and can be chosen based on an individual's needs and preferences. On-campus housing is provided at both the North and Lakeshore campuses. After accepting their separate offer letters, students can apply for residency after two business days. Because resident rooms are assigned on a first-come, first-served basis and are often full by April, students are highly advised to apply for housing as soon as they accept their offer of a place. Humber College students have a variety of options for off-campus housing. Humber uses a third-party listing service called Places4Students.com for landlords and students wishing to rent houses. This is a free program that helps students discover off-campus housing.
Humber College Scholarships are awarded after candidates are evaluated based on academic excellence, extracurricular activities, and community involvement. Humber College assures that great education is available to all applicants globally, regardless of financial circumstances. Scholarships and bursaries are available at Humber College to help students pay for their education. The scholarships will be extended only if the student achieves 80% or higher in each year of their bachelor's degree.
Sheridan College
Sheridan institution is a public institution in Canada that was established in 1967. Davis Campus in Brampton, HMC Campus in Mississauga, and Trafalgar Road Campus in Oakville are the three main campuses of Sheridan College. Sheridan College provides housing for all of its students. Students can live on or off campus, depending on their needs and preferences. The college provides both on-campus and off-campus options. Residence halls are provided on the Davis and Trafalgar Road campuses. Students from the Hazel McCallion Campus can stay at the Davis campus residence. Sheridan College hostels offer modern residential facilities to international students, including fully furnished rooms with a shared kitchen and laundry facilities. Off-campus housing is available to all Sheridan College students who want to live close to campus but do not want to live on campus. There are numerous services available to assist you in your search for housing, such as online classified advertisements and homestay choices. Sheridan College is committed to providing a high-quality education to all students and consequently provides a variety of financial help and scholarships to international students studying in Canada.
Study with the Complete Guide: Masters in Business Analytics Canada
Sault College
Canada is ranked first in the world for providing a great standard of living. Canadians are proud to encourage all residents to appreciate their respective cultures. In 1971, Canada created a national multiculturalism policy that welcomes the country's diversity. Sault College provides Postgraduate Certificate, Diploma, Advanced Diploma, Certificate, Continuing Education, and Distance Education programs. In addition, the School of Business offers Diploma and University degrees in four years. Sault College's main campus is located in the small town of Ste. Marie, Ontario. Dog parks, skate parks, yoga and wellness centers, and a long non-motorized hub trail around the campus. Ray Lawson Hall at Sault College offers single, double, premium single, and barrier-free rooms. Students must submit an online application for residency. A resident may keep a small fish in their room, but no other pets are permitted.
Significance of PG Diploma Courses in Canada
Short courses in Canada, such as PG Diplomas, certificates, and so on, allow students to gain industry experience while studying. Some of the most compelling reasons to pursue PG Diploma Courses in Canada are:
PG Diplomas are more job-oriented programs that focus on assisting students in acquiring skills required by industry and businesses.
PG Diploma courses in Canada allow you to intern while studying and then apply for jobs. PG Diploma institutions in Canada are significantly less expensive than universities.

One of the most significant benefits of PG Diploma courses is the availability of affordable education overseas. PGDM programs emphasize career-oriented education rather than research-based education.
Because Canada is a land of immigrants, your prospects of staying and obtaining permanent residency in Canada are the best when compared to other popular study destinations.
Complete Application Process for Canada!
Admission to PG Diploma Courses in Canada
Admission requirements for PG Diploma programmes in Canada may differ depending on the program and institution to which you apply. The section that follows goes over the admission requirements for PG Diploma courses in Canada:
What is the latest Eligibility for Studying PG Diploma Courses in Canada?
Admission to a postgraduate diploma program in Canada does not necessitate onerous requirements for international students. Unlike master's programs in Canada, you can apply for a diploma program after completing a three-year bachelor's degree. The following are some of the essential qualifying requirements for studying PG Diploma programmes in Canada:
An undergraduate degree in a relevant discipline with a grade point average of 65% or above.

Some courses in business administration, management, marketing, and so on may require you to have two years of work experience.
English Language Proficiency: International applicants must be fluent in English and present IELTS/TOEFL Marks.

IELTS: 6.5

TOEFL: 550 (pBT), and 213 (cBT), 88 (iBT)
In Canada, the admissions process for diploma programs is extremely flexible. The following documents are required for admission to PG Diploma Courses in Canada:
Transcripts of previous education
SOP for PG diploma courses Canada

Study permit

Proof of finances
Student Visa for Canada
To obtain a study permit in Canada, you must meet the following requirements:
Applicants must be currently enrolled in a designated learning institute (DLI). Applicants must provide proof of sufficient finances to cover tuition, living expenses, and return transportation costs.

An eligible applicant must be a law-abiding citizen with no criminal record and must not pose a threat to Canada's security.

Students may also be required to present a police certificate. It is critical for applicants to be in good health, and a certified medical certificate may be required if necessary.
Applicants must demonstrate to an immigration official that they will leave Canada at the conclusion of their approved stay.
Proof of acceptance, proof of identification, proof of financial assistance, letter of explanation, and SOP for the student visa are all required documents.
Complete Eligibility to Study in Canada
List of 7 Top Universities to Study Post Graduate Diploma Courses in Canada
| Sr.No. | Top Universities | Annual Fees Approximately (CAD) | Annual Fees Approximately (INR) |
| --- | --- | --- | --- |
| 1. | University of Winnipeg | 16,000 | 9.82 lakhs |
| 2. | Thompson Rivers University | 18,000 | 11.04 lakhs |
| 3. | Royal Roads University | 24,000 | 14.73 lakhs |
| 4. | Carleton University | 31,000 | 19.02 lakhs |
| 5. | Concordia University | 25,000 | 15.34 lakhs |
| 6. | McMaster University | 42,000 | 25.78 lakhs |
| 7. | Simon Fraser University | 32,000 | 19.64 lakhs |
Conclusion
Opting to pursue a PG Diploma in Canada can be a transformative and enriching experience for students seeking to advance their careers and broaden their horizons. With a wide range of high-quality programs offered by esteemed institutions, students can acquire specialized knowledge and practical skills that are highly valued in today's competitive job market. Moreover, the vibrant and multicultural environment allows for personal growth and a deeper understanding of global perspectives. The potential to work while studying and the prospect of post-graduation work permits provide a valuable pathway towards building a successful and fulfilling career in Canada or beyond. Overall, studying for a PG Diploma in Canada offers a well-rounded education, diverse cultural experiences, and exciting opportunities for a prosperous future.
Contact: Global Tree for the latest information
and get a free counselling session today!
Frequently Asked Questions for Studying PG Diploma in Canada (FAQs)
How can I study PG diploma in Canada?
To apply for a postgraduate diploma in Canada, you must have a bachelor's degree in the relevant field with at least 65% grades. Business administration, management, and marketing programs may require at least two years of work experience.
Can I get PR after 1 year PG diploma in Canada?
Unlike in Australia, there is no one-year PG Diploma or courses that can assist you obtain Canadian PR. We advocate enrolling in a one-year diploma program in the country and pursuing a work visa based on a full-time job offer. You can apply to the Canadian PR program once you have joined the company.
Which is better PG or MS in Canada?
It is entirely up to you to decide what you want to get out of your studies in Canada; if you want job-specific short-term courses, go for the PG Diploma. A master's program, on the other hand, will provide a specialized respectable degree as well as a lengthier stay in Canada.
Which diploma is best for PR?
Trade qualifications, engineering, computer networking, midwifery, education, and medical studies are all degrees that qualify you for permanent residency in Australia. Electrical engineering, nursing, painting, hospitality, building, construction, and other crafts are among the courses available.
Which course is easy PR for Canada?
Engineering and management are two of Canada's most PR-friendly programs. Canada has a severe scarcity of qualified employees, and several regions of the country, such as Toronto, attract jobs in these disciplines due to its large industrial industry.
What is the salary of PG Diploma in Canada?
Students who pursue a PGDM in Canada can expect to earn between CAD 22,000 and CAD 55,000. After completing the PGDM program in Canada, your pay will be determined by your college, location, specialization, and networking abilities.