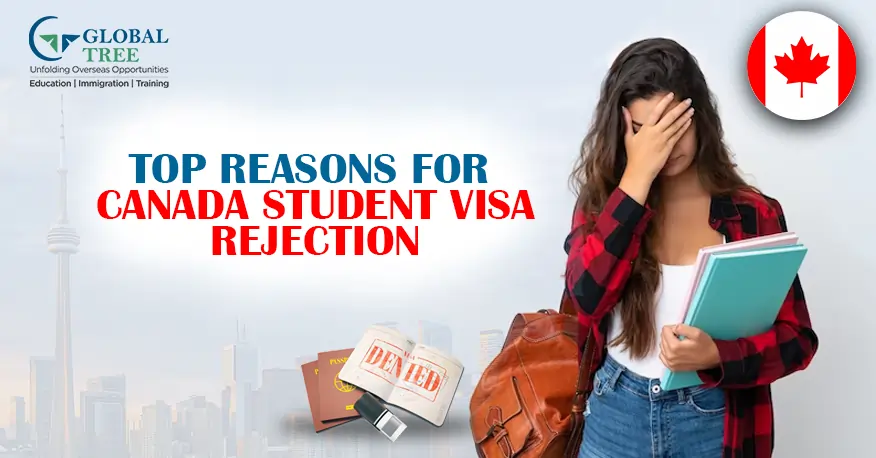 Introduction
Getting a Canadian student visa can be hard, and even the most qualified applicants can get a letter telling them they were not accepted. Yet we can get through the process of getting a study permit if we know what to expect and are well-prepared. The first step towards a good result is to understand the complicated reasons why some applications are turned down.
Aside from the academic requirements and admissions criteria, there are other factors that can make the difference between acceptance and rejection. To improve our chances of getting what we want, we need to be aware of and deal with these details.
In this blog, we look at the main reasons why Immigration, Refugees, and Citizenship Canada (IRCC) might reject an application for a Canadian student visa. Every part of an application, such as finances, program choices, and language skills, is important in deciding what will happen to an applicant's goals. Armed with this information, we also give you helpful tips to strengthen your application so that it can stand up to any potential problems.
What is the Refusal Rate of Canada Student Visa 2022?
A surplus of student visa applications has resulted in a large number of rejections for student visa in Canada. Citizenship and Immigration Canada (CIC) reports that approximately 30% of all student visa applications for Canada are denied each year.
9 Latest Reasons for Rejection of Canadian Student Visa
1. Financial Insufficiency
One of the most important parts of getting a Canadian student visa is showing that you have enough money to pay for your education. The first year's costs, like tuition, housing, and living expenses, must be covered well enough. The immigration officer carefully checks to see if you have enough money to live on your own in Canada. If there are questions about how much money you have, your visa could be turned down.
To be successful in this area, you need to plan your finances very carefully. Carefully figure out how much it will cost, taking into account tuition, housing, transportation, and daily costs. Then, get the proof you need, like bank statements, letters from sponsors, or proof of scholarships, to show that you can pay for these costs. This careful planning not only improves your chances of getting a study permit, but also makes sure you have enough money to pay for your education in Canada.
2. Choice of Program: Aligning Education and Goals
Choosing the right programme is an important step if you want to get a study permit to study in Canada. Visa officers look closely at the programme you've chosen to make sure it fits with your academic background and career goals. If the programme you choose doesn't seem to fit with your past education or career goals, it can raise questions that could lead to your visa being denied. Are you thinking what can you Study in Canada after 12th?
To handle this part well, it's important to pick a programme that fits with your academic and professional goals. Do a lot of research, talk to academic advisors if you need to, and make it clear in your application how the programme you choose fits into your career path. Choosing a programme that makes sense and shows that you did your research shows that you are committed to your academic journey in Canada and reduces the risk of rejection.
3. Letter of Acceptance: Authenticity and Eligibility
A valid Letter of Acceptance (LoA) from a Designated Learning Institution (DLI) in Canada is one of the most important things you need to do to apply for a study permit. But the LoA isn't just a formality; visa officers look closely at it to make sure it's real and that you're eligible for the programme it's for.
To make sure everything goes smoothly, it's important to get a real LOA from a recognised DLI. Check the details, like the length of the programme and when it starts, to make sure they fit with your study plan. Your application could be in danger if there are any discrepancies or doubts about the LoA. So, always be honest and accurate in your application and make a strong case for why you are eligible and want to study in Canada in the way you want to.
4. English Language Proficiency: Demonstrating Language Competency
International students must show that they can speak English well as part of the study permit application process. Standardised tests like the IELTS or TOEFL can tell a lot about how well you can do in an academic setting where English is spoken.
To meet this requirement, it's important to plan carefully. Start by finding out what kind of language scores your chosen institution and programme needs. If your scores are below the minimum, you should put time and effort into getting better at language. Sign up for prep courses, find a language tutor, and practise often. Getting the required scores not only helps your visa application, but it also shows that you are ready to do well in school in Canada.
5. No Permanent Stay: Demonstrating Temporary Intent
A study permit for Canada is a temporary visa, and it's important to show the visa officer that you don't plan to stay in Canada forever. If they think you might try to stay in Canada for good, your application for a study permit can be denied.
To ease this concern, you must show clear and convincing proof that you plan to go back to your home country when your study permit runs out. This doesn't mean you can't look for work after graduation or a permanent place to live, but your first goal should be short-term. With a well-written personal statement and other supporting documents, you can get this message across.
6. Incomplete Travel or Identity Documents: Ensuring Clarity and Completeness
Travel documents and proof of your identity are very important if you want to get a study permit. If your travel history has gaps or isn't clear, or if your ID documents aren't clear, it can make people doubt that your application is real.
To lower this risk, make sure you have accurate records of where you've been, like visas, entry and exit stamps, and boarding passes. Also, make sure that your identification papers, like your passport and national ID, are clear and easy to read. If you need translations, make sure they are correct and checked.
7. Intent of Return to Home Country: Demonstrating Temporary Stay
Even though a study permit lets you live in Canada temporarily, you must show that you plan to go back to your home country when it runs out. This is a very important part of your application that can change how the visa officer decides.
To ease this worry, you can show that you have ties to your home country, like family ties, job prospects, or property ownership. Your statement of purpose can also help explain why you want to stay in Canada for a short time and why you plan to go back home. A successful application must show that the person has a clear plan to follow the temporary nature of the study permit.
With these careful preparations and a thorough understanding of the Canadian study permit application process, your chances of getting the coveted permit to study and work in Canada can be greatly increased.
8. Lack of Job Prospects in Home Country: Addressing Future Employment
Visa officers often look at a person's job prospects in their home country to figure out how likely they are to go back there. If your application doesn't show that you can get a job in your home country after you graduate, it could be seen as a sign that you want to settle in Canada, which could cause your visa to be denied.
To ease this worry, gather proof that you will be able to find work in your home country, such as job offer letters or market research that shows your skills are in demand. Show that you want to use what you've learned in Canada to help your home country's workforce and development. By showing that you want to go back to your home country and help it grow, you can improve your chances of getting a study permit.
9. Biometric Rejections: Ensuring Correct Biometric Submission
Biometric information is a very important part of the application process for a study permit. If you don't send in the required biometric information or scan your biometrics wrong, you could be turned down.
Make sure to follow the instructions given by the visa application centre or embassy to avoid problems with your biometrics. Make sure that your biometric information is sent incorrectly and within the time limits given. Make sure you've double-checked your biometric appointments and that you have everything you need for the process. To avoid problems with your visa application, you must send in your biometric information on time and correctly.
How to Avoid Canada Student Visa Rejection This Year: 7 Crucial Tips
1. Document Checklist
In order to successfully apply for a study visa in Canada, you will need to compile a list of the required documents, which can be found on the website of the Canadian government.
2. Complete Application Thoroughly
Make sure that the application form for your visa is meticulously filled out and that there are no blank spaces left. Check and recheck your application to ensure there are no mistakes.
3. Letter of Acceptance
Upload a copy of the Letter of Acceptance that you have received from the Canadian educational establishment that you have selected. Check to see that it is genuine and fits in with the direction you want to take your education.
4. Financial Proof
You will need to demonstrate that you have the financial resources necessary to pay for both your tuition and your living expenses for the first year of your program.
5. Work Experience
If you have work experience, submit relevant documents such as salary slips or bank statements.
6. Travel History and Visa Rejections
Be truthful about your travel history and any previous instances in which you were denied a visa. Travel History and Visa Rejections. It is imperative that there be transparency.
7. Statement of Intent
Compose a convincing Statement of Intent in which you detail both your previous academic accomplishments and your sincere desire to pursue higher education in Canada.
Canada Student Visa Rejected: How to Apply again?
Options after Canadian Student Visa Rejection
If your Canadian study permit application is rejected, you have several options:
Request Reevaluation: You can request the IRCC to reevaluate your application if you believe there was a mistake or if you can provide additional information to address concerns.
Appeal in Federal Court: While less common, you can appeal the decision in federal court if you believe that the rejection was unjust or based on incorrect information.
Submit a New Application: Many students prefer to submit a new, improved application after addressing the issues that led to the initial rejection. Seek guidance from experienced visa counselors to create a stronger profile.
How to reapply for Canadian Student Visa?
Receiving a visa rejection can be disheartening, but it's essential to remain persistent and learn from the experience. Here's a guide on reapplying for a Canadian student visa:
Understand the Rejection Letter: Carefully review the rejection letter to understand why your application was denied. This will help you address specific issues in your reapplication.
Correct the Issues: Work on the areas that led to your initial rejection. This may involve improving your financial situation, retaking IELTS language proficiency tests, or addressing medical concerns.
Update Documentation: Ensure all documents are up-to-date and accurately reflect your current circumstances. Provide additional evidence, if necessary, to strengthen your case.
Craft a Stronger Statement of Purpose: Revise your statement of purpose to emphasize your genuine intent to study in Canada and the benefits it holds for your future.
Consult an Immigration Expert: Consider seeking advice from an immigration consultant or lawyer who specializes in Canadian visas. They can provide valuable insights and guidance.
Reapply Timely: Waiting too long before reapplying may raise questions about your intentions. Apply for the next available intake to demonstrate your commitment.
Maintain Patience: Visa processing times can vary, so be patient throughout the reapplication process.
Conclusion
When we try to get an education, resilience is often our best friend. Getting a Canadian student visa is a long journey that requires careful planning and a strong will. Getting that rejection letter can feel like a setback, but it doesn't have to be the end of the road. With knowledge of the complicated web of things to think about in the visa process, you have the power to change your path. The path may be hard, but the goal is worth every bit of trouble.
Remember that every time you get turned down, it's a chance to learn, get better, and come out stronger. By carefully fixing the problems that caused the first setback, you can build a stronger base for your future efforts. Ask for help and advice, but the most important thing is to find people who will always believe in your goals. Canada's academic landscape is still open, welcoming, and full of promise for those who keep going.
So, as you stand at the edge of what's possible, know that this journey, with all its turns and twists, is a sign of how much you want to learn and grow. With each step you take, you're not just getting closer to a study permit, but also to a brighter, limitless future. Keep going, because the trip isn't over yet, and the end is closer than you think.