HOW YOU SHOULD SPEND THE FIRST 30 DAYS IN CANADA AS AN INTERNATIONAL STUDENT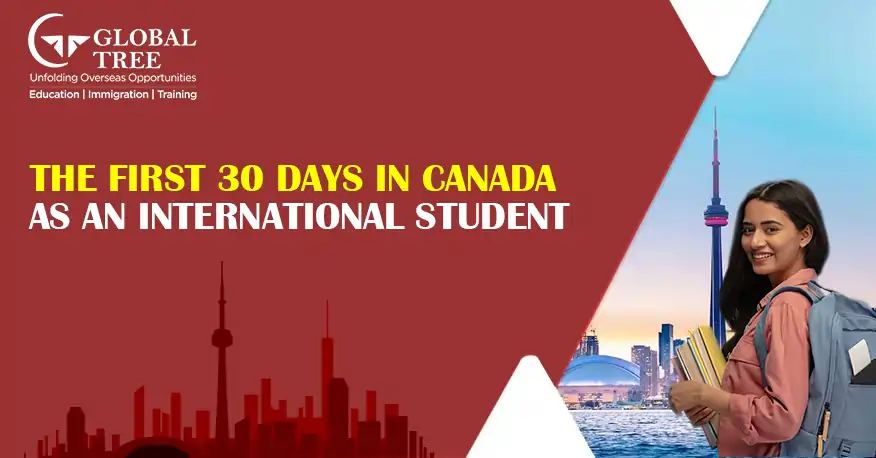 Introduction
Exciting and nerve-wracking, are these the two words describing your emotions?
You are in a new country and the feelings are definitely mixed.
When you set foot in Canada, you're not just entering a new country; you're also beginning a brand-new chapter in your life that will be rich with opportunities for personal development, education, and experiences you'll always remember.
Having said that, it is important to know that this journey starts with the essential first month, which is a time period that establishes the tone for the entirety of your academic and personal experience in Canada.
But you have nothing to worry about because this exhaustive guide is here to serve as your compass all throughout this fascinating stage. This blog will delve deeply into the most important aspects of your first month, and provide you with helpful insights and advice on how to make the most of your initial weeks as an international student in Canada.
Are you nervous? Scratch that, Are you ready to have the best time during your academics?
1. Find Housing in Canada for International Students
International students studying in Canada frequently report that one of their primary concerns is locating housing that is suitable for them. Even though some Designated Learning Institutions (DLIs) provide on-campus housing options for their students, a significant number of students are forced to look for housing off campus. Here is a more in-depth look at the housing options and resources that are available to you:
On-Campus Housing: Inquire with your DLI to determine whether or not they provide on-campus housing options. This option is not only practical, but it also gives you the chance to become fully integrated into campus life. Because of the high demand for these spots, submitting your application as soon as possible is typically recommended.
Off-Campus Housing: If on-campus housing isn't an option for you or doesn't meet your requirements, you may want to investigate the possibility of renting off-campus. Numerous DLIs provide students and approved posters with housing portals through which they can advertise available rental properties.
Online Resources: Many well-known websites, such as
Facebook Marketplace
They are available to assist you in your search for off-campus housing. These platforms provide a wide variety of listings, all of which can be filtered according to your location and your financial constraints.
Realtors:The process of looking for a new home can be made easier by using a real estate agent, although doing so may incur additional expenses. Realtors are able to provide guidance throughout the process of renting a home and have insider knowledge of the local housing market.
It is essential to take into consideration the fact that the majority of landlords in Canada favor annual leases. If you do not have a credit history in Canada, you may want to consider other options such as having a reliable co-signer or offering a larger down payment. In addition, when looking for a place to live, you should take into account the length of your typical commute and utilize an app like Google Maps or Transit to effectively plan your travel routes.
2. How to Get a Cellphone in Canada?
Staying connected is a fundamental aspect of your life as an international student. To ensure you can communicate with family and friends and access information on the go, you'll need a local cellphone number. Here's what you should know about setting up your cellphone:
Phone Plans Canada: The various mobile plans available in Canada come in a variety of package configurations and feature a range of pricing options. Think about getting a plan that bundles a device, some calling minutes, some data, and the ability to make international calls. A number of service providers offer student-specific variations of their plans.
Credit History: In order to qualify for post-paid plans with certain carriers, you typically need to demonstrate that you have a credit history in Canada. However, in order to determine eligibility, certain providers may carry out credit checks in multiple countries. You have the option of going with a pre-paid plan if you do not have a credit history.
Setting Up: If you prefer to get your phone plan set up in person, you can do so at a number of different locations, including stores, mall kiosks, and even airports. You also have the option of setting up your account online through a provider of services if you have a credit history that can be evaluated.
[Read More: How to get a Canada Work Visa: The Complete Guide]
3. How to Understand Banking in Canada?
Managing your money, paying your bills, and possibly finding work while you're in school all require that you have a Canadian bank account, so opening one is an essential step. You have a number of banking choices available to you in Canada; the one that's best for you will depend on your individual requirements and inclinations. The following is something that you ought to think about:
Bank Options: There is a wide variety of banking options available in Canada, including major banks, credit unions, and international banks. Canada is known for its diverse banking landscape. Although your location and priorities may influence which option is best for you, the majority of Canadian banks provide services of equivalently high quality.
Documentation: When you go to open a bank account, make sure to bring the necessary documents with you.
These documents include your:
Study permit
Your passport with a student visa
Your student ID
An acceptance letter from your DLI
And proof of residence.
Credit Cards: If you want to establish credit, keep track of your spending, and get access to financial protections, you should think about getting a credit card. Numerous financial institutions provide international students and newcomers with specialized credit cards and deals, particularly those with lower incomes and shorter credit histories.
4. Find Student Supports for International Students in Canada
Educational institutions in Canada are committed to providing international students with a variety of different forms of support. Your DLI provides access to a vast array of resources designed to assist you in achieving academic success and integrating successfully into Canadian society. The following information regarding the available support services is important for you to be aware of:
International Student Office: The international student office at your school is an invaluable resource that can provide language instruction, assistance finding housing, and organization of events that are catered specifically to international students. These offices are able to provide you with referrals to other relevant departments and resources located within the institution as well.
Career Centre: Because international students are permitted to work an unlimited number of hours, the Career Centre is an essential resource for career support. The career center at your school can provide assistance with the preparation of resumes, mock interviews, and networking events, among other services.
Student Identification Card: Getting your student identification card is an extremely important step. Not only does it make the process of registering for school easier for you, but it may also give you specific benefits at stores that are not affiliated with the school. For instance, if a student presents their school ID to participate in the SPC Card programme, they are eligible to receive discounts in a variety of different shopping categories.
Club Week: Club Week is an event that is held at the beginning of the academic year at many different schools. In contrast to the freshman orientations, club week provides an opportunity for all of the school's clubs to make their presentations and recruit new members. It doesn't matter if you're more interested in academic societies, hobby-based clubs, or cultural organisations; participating in club week is a great way to meet people who share your interests and expand your social network.
[Read More: Check out Cost of living in Canada]
5. How to Get a SIN Number in Canada?
A Social Insurance Number or a Social Security Number in Canada is also known as a SIN, is an essential piece of identification in Canada. It's needed for things like working and getting into government programmes, among other things. You can get your SIN by following these steps:
Online Application: Applying for a Social Security Number (SIN) online through the eSIN portal is the quickest and easiest way to get a SIN. You will be able to finish your application and upload digital copies of any required documents by using this safe and secure platform.
In-Person Application: Application in Person Service Canada frequently sets up SIN clinics at educational institutions and community organisations, which makes the in-person application process extremely convenient. In the event that you are unable to attend a clinic, you can make an appointment at a Service Canada Centre in the area and bring all of the required documentation with you.
Mailed Application: If you prefer, you can send a Social Insurance Number (SIN) application form that has been filled out and all of the required documents to the Social Insurance Registration Office.
Here is an ePortal for application of your SIN Number
Upon approval, Service Canada will issue a paper confirmation that includes your SIN number.
6. Importance of Office Hours in Canada - International Students Must remember
The opportunity to engage in conversation with one's instructors and other members of the school staff during their allotted office hours is one of the aspects of a postsecondary education that receives the least amount of recognition it deserves. These hours are extremely valuable for the following reasons:
One-on-One Interaction: Office hours offer a one-of-a-kind chance to get to know your professors better and to introduce yourself to them. Outside of the classroom, you will have the opportunity to engage in one-on-one conversations, inquire about the content of the course, and receive individualised instruction.
Networking: Building relationships with faculty members is an effective way to expand one's professional network and position oneself favourably for future opportunities. These connections can have a significant impact on your educational journey, whether it be through participation in research projects, the acquisition of internships, or the receipt of academic mentorship.
Academic Support: Your professors are subject matter experts in their fields and can provide you with insights that will help you better understand the material you are studying. Office hours are a valuable resource that you should take advantage of whether you need assistance with your assignments, preparation for an exam, or deeper insights into the topic that you have chosen.
[Read More: Learn about Canada's Education System while you are there!]
Conclusion
The first month of your time spent studying in Canada as an international student is a crucial period that will shape the entirety of both your academic and personal experiences here. You will be able to navigate this exciting journey with confidence and success if you make sure that you have suitable housing, that your mobile and bank account are set up, that you take advantage of the abundance of support services that are available, that you obtain your SIN number, and that you make the most of office hours. If you are open to the various experiences and possibilities that Canada has to offer, you will quickly discover that you have made a successful transition to your new home away from home.