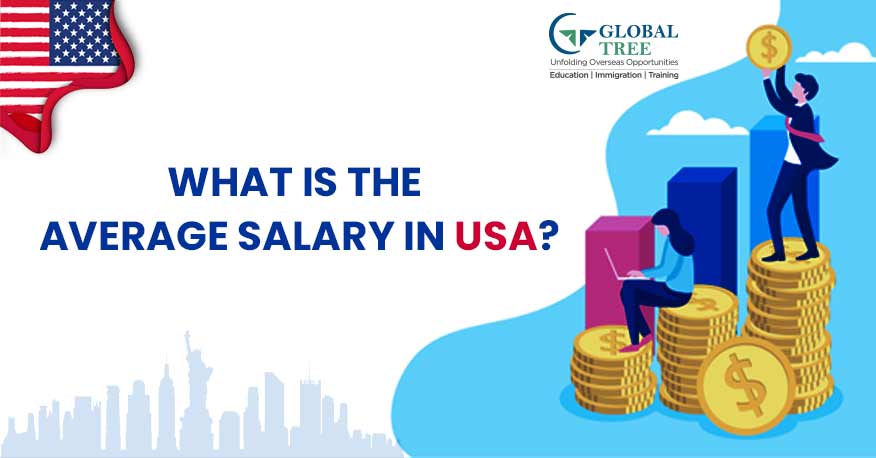 An Ultimate Guide in USA 2023
If you are planning to settle in the US, the first thing to think about is the average annual salary you can expect as a full-time employee. You can use this knowledge to plan particular courses that are in high demand right now and are therefore likely to pay you the most possible.
The Bureau of Labour and Statistics regularly releases annual financial data reports that contain information on the typical salary in the USA based on a number of factors.
Overview Of Average Income USA
The average weekly wage for a worker in the United States is approx. $984, despite the fact that salaries differ greatly based on the type of work, education level, and social and economic circumstances. If a worker works 52 weeks a year, their annual salary would be approx. $51,168, an increase of 5.1% from the prior year. Any amount above that ought to be viewed as a decent salary, but this isn't always the case. In the US, there are presently 111.5 million full-time employees.
Some of these individuals receive weekly pay, while others receive hourly pay. Additionally, a decent salary in one city might not be thought of as such in another. A good income is also influenced by the sort of employment, educational attainment, and, regrettably, even gender and ethnicity.
A middle-class household of three made between approx. $53,413 and $106,827 per year.
$55,613 in 2014
$58,476 in 2015
$60,309 in 2016
$62,626 in 2017
$64,324 in 2018
$68,703 in 2019

State-wise Average Salary in the USA

The typical salary differs from state to state. According to the Bureau of Labour Statistics, factors that affect a person's compensation or income usually include their location, age, professional experience, job description, and cost of living.

The richest part of the country is the Northeast. Massachusetts, New Jersey, and Maryland had some of the highest median family incomes in 2019. The best cities in USA for new immigrants with the greatest average salaries are California, Connecticut, Massachusetts, New York, and Washington.

The average salaries in each state in the United States are listed below:

| State | Salary (approx.) |
| --- | --- |
| Alaska | $ 59,290 per year |
| Alabama | $ 44,930 per year |
| Arkansas | $ 42 690 per year |
| Arizona | $ 50,930 per year |
| California | $ 61,290 per year |
| Connecticut | $ 62,350 per year |
| Colorado | $ 57,690 per year |
| Delaware | $ 54,370 per year |
| Florida | $ 47,750 per year |
| Georgia | $ 49,630 per year |
| Hawaii | $ 54,930 per year |
| Illinois | $ 55,130 per year |
| Idaho | $ 55,130 per year |
| Iowa | $ 47,330 per year |
| Indiana | $ 46,770 per year |
| Kentucky | $ 44,020 per year |
| Kansas | $ 46,520 per year |
| Louisiana | $ 44,170 per year |
| Maryland | $ 60,230 per year |
| Maine | $ 48,470 per year |
| Massachusetts | $ 65,680 per year |
| Michigan | $ 50,780 per year |
| Minnesota | $ 55,890 per year |
| Mississippi | $ 40,090 per year |
| Missouri | $ 47 820 per year |
| Montana | $ 45 370 per year |
| Nebraska | $ 48 250 per year |
| New Mexico | $47,040 per year |
| New Hampshire | $53,950 per year |
| New Jersey | $59,980 per year |
| New York | $63,970 per year |
| Nevada | $47,210 per year |
| North Dakota | $50,430 per year |
| Ohio | $49,430 per year |
| Oklahoma | $45,620 per year |
| Oregon | $53,890 per year |
| Pennsylvania | $51,340 per year |
| South Carolina | $44,380 per year |
| Rhode Island | $57,220 per year |
| South Dakota | $42,920 per year |
| North Carolina | $48,550 per year |
| Tennessee | $45,650 per year |
| Texas | $50,490 per year |
| Utah | $49,420 per year |
| Vermont | $51,120 per year |
| Virginia | $56,740 per year |
| West Virginia | $43,420 per year |
| Washington | $62,020 per year |
| Wisconsin | $48,850 per year |
| Wyoming | $49,760 per year |

[Read More: Check out the list of On-Demand Jobs in USA ]

Discussions about raising living wages frequently centre on the fast-food and restaurant employees. The lowest paid employees are Combined Food Preparation and Serving Workers, with a mean yearly average wage USA of $22,140. They have a typical hourly salary of around $10. With a possible salary of $411,000 annually, anaesthesiologists are the highest paid professionals in the US. They attend school for 12 to 13 years.

Factors that Affect the Average Salary US

The average income of Americans is affected by a variety of direct and indirect variables in addition to location and job type. In contrast to macroeconomic concerns that have an impact on the national income grid, the following are the main variables that affect income at the individual level in the United States:

Education

The typical salary of a person is determined by his or her educational background. For instance, a person with a high school certificate can make up to $40,612(approx.), whereas a person with a college degree can make at least $73,892 per year (approx.). Additionally, those with a master's or doctoral degree typically make $ 179 036 annually (approx.). So, it is utmost important to choose the on-demand courses to Study in USA.

Job Experience

The amount of work expertise a person has is a major factor in salary determination. One will be paid more the more expertise they have. According to research, professionals with more than five years of experience make 36% more money on average than those without this knowledge.

Age

The wage of those between the ages of 16 and 64 gradually rises. However, this is also influenced by schooling, training, industry, and experience. Age affects salary just as much as gender does, according to the statistics. Men's salaries rise as they get older as well. According to research, the weekly salary of males is 4.7% higher than that of women.

Men and women between the ages of 16 and 24 make an average wage of approx. $625 and $596, respectively. On the other hand, those who are 25 to 34 years old make $ 909 approx. for males and $ 980 approx. for women per week in pay.

Industry & Job Role

| Industry | Salary (approx.) |
| --- | --- |
| Carpenter | $ 41, 360 per year |
| Retail sales associate | $ 24, 580 per year |
| High School Teacher | $ 48, 891 per year |
| Mechanical Engineer | $ 95, 548 per year |
| Software Architect | $ 137 011 per year |
| Physician | $ 241, 659 per year |

Experience

Entry-level salaries are frequently cheaper. After 15 years of experience, pay increases level off unless workers are elevated to management roles. It was found that each additional year of expertise raises the average IT salary in the US by about approx. $2,700.

[Read More: Quickest Ways to get Green Card in USA]

Gender & Racial Groups

Currently, the average pay difference between males and women is 16.6%. According to reports, men made approx. $55,744 per year, or $1,072 per week, in the fourth quarter of 2021. Women, on the other hand, made an average of $894 per week, or $46,488 annually.

Average Salary Increment Percentage in USA

Employees are likely to receive an annual salary increase over the course of a year if the word is used. As their businesses grow, workers frequently receive raises in the banking, education, information technology, healthcare, travel, construction, and energy sectors.

Additionally, junior-level workers typically get a 3-5% rise, mid-career workers get a 6-9% raise, senior-level workers can get a raise of up to 15%, and top management is likely to get a raise of 20% or more. As experienced employees are more difficult to keep than freshers, employers may be able to offer them higher increment rates.

Every 16 months, salaries are likely to increase by 8% for workers. This, however, relies on a variety of variables, including a person's performance and the contribution they have made to the organization's success, among others. The amount of a raise is primarily determined by these variables.

These elements affect the average salary in the United States. As was already stated, an individual's industry, work history, and qualifications determine the raise they obtain. And it is vital to cross check these before migrating to USA and plan accordingly.

Conclusion

The median household income in the United States in 2019 was 68,703 dollars, according to the Bureau of Labour and Statistics. This is because there are many factors that influence the average wage in the US. The United States' richest 1% of wage earners contribute 20% of the nation's yearly revenue, while 34 million people are living in poverty (according to 2019 data). However, if one gets off to the proper start, they can make a living in the United States.

Frequently Asked Questions

Canada: The Great White North is Number 1 on this list. With easy immigration processes, a welcoming society, great education and healthcare, cool weather, and the ever-growing job market, Canada is the undisputed leader in immigration potential.

Germany: The Deutschland is famous for precision, quality, and high expectations. Unsurprisingly, it makes the list but we're still going to spell it out. Currently, home to over 170,000 Indians, Germany is a melting pot of different cultures mostly from other countries in the EU. A veritable hub for mechanical engineering, Germany has a low level of corruption, and a love for innovation and is home to over 25 Fortune 500 companies. With the demand for highly skilled professionals, Germany is a choice destination for young, smart immigrants from all over the world.

Provincial Nominee Program is one of the best routes for Canadian immigration. Every province (state) in Canada has its criteria for immigration. This criterion is custom-fitted to reflect the needs and growth opportunities arising in that respective province.

A Master's Degree translates directly into a better CRS score. Your educational qualifications reflect the contribution you would make to the destination country's economy which means that you would be more sought after. Speaking one of the country's primary languages (Eg: French for Canada) also greatly raises your chances for both visa success as well job opportunities.

If you fall under the NOC list in Canada or SOL in Australia (Occupations in demand list), it means that jobs are readily available for qualified candidates. On average, individuals earn 8 times as much salary in Canada as compared to India.

---

Recent Posts
---
---