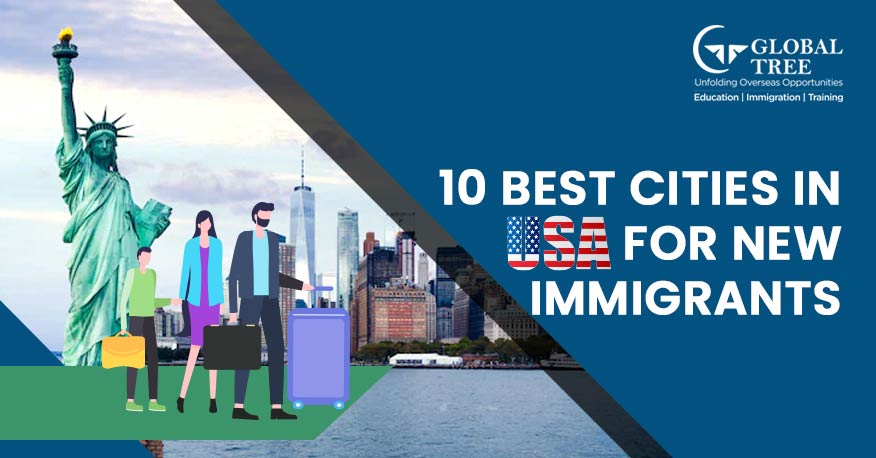 Best Cities in the USA to Live In After US Immigration
As we head into the middle of 2021, it is becoming even more important to weigh all options, before you decide which city you should settle in. There are a number of factors to consider when choosing a place of residence.
These include quality of life, cost of living, education opportunities, community integration, multiculturalism, healthcare infrastructure, and many more. Taking, these factors into account, the most updated list of best cities to live in the USA is provided below.
Raleigh, North Carolina


Raleigh, can be considered to be one of the best cities to live in the United States, The city, is home to the world-famous, Duke University and North Carolina State University, which are counted among the Top Universities in the USA for Research
On the social front, the city is a favorite among the youth, for its culture of partying, good food, and fine dining. The city is blessed with a mild and pleasant climate, that makes outdoor life fun and interesting. Quality of life and education opportunities in the USA are plenty, making this the top choice for new immigrants.
Austin, Texas
Austin in Texas, ranks high, among cities to live in for immigrants to the USA from India, it is a home away from home for most new immigrants, on account of its strong Indian diaspora.
The city has garnered a reputation for its tech companies and is one of the most favored destinations for tech start-ups as well as established multinationals. The city is a hub for talent and is a great place for anyone planning to advance their career. It also has a vibrant social life and is multicultural.
Colorado Springs, Colorado
Denver is famous for being one of the best cities to live in. The low cost of living in the states, which is lower than the state average, as well as multiple opportunities for employment in various sectors, have contributed to rising in popularity.
The city boasts of a beautiful, outdoor life, with many trails for biking as well as trekking. The city is also one of the cleanest cities to live in the USA, with the lowest air pollution index.
Boston, Massachusetts
Boston is an academic gold mine, with some of the best and most prestigious universities such as Harvard University, MIT, and many other world-famous universities in USA situated nearby, The city of Boston is well known all over the world as a place where the brightest students choose to live in.
The city shines in not just academics, but on the career front too, with a number of employment opportunities for new graduates in diverse sectors, including healthcare and technology. The city also boasts of a number of parks and trails, which cater to people interested in outdoor life, as well as a vibrant cultural and nightlife scene.
Atlanta, Georgia
This city is home to a number of old gold manufacturing and retail companies such as Delta Air Lines, Coca-Cola, The Home Depot, and others. The city is also fast earning a strong reputation for becoming one of the top destinations for new and emerging companies including many tech start-ups.
The city has miles of artificially constructed green trails, that make for a great outdoor life but also help to keep the environment around the city clean.
Tampa, Florida
The city of Tampa, situated in the sunshine state of Tampa, is a go-to destination for students as well as young professionals from all over the world. One of the main attractions is the low cost of living in USA, fuelled by the absence of a state income tax.
The city also boasts of more than 80 colleges, catering to different learning interests as well as a number of job opportunities.
Nashville, Tennessee
Nashville in Tennessee is famous for its food culture as a hub for cuisines from across the world. The city is also reputed for its growing music industry, as well as a number of opportunities for employment, in different sectors such as healthcare, technology, education, and insurance.
The city also boasts of strong social life and has people from many different backgrounds residing in it and calling it home.
Kansas City, Missouri
Redding in the city of Kansas in the state of Missouri can mean saving tons of money with highly affordable housing costs while enjoying the perks of living in one of the biggest cities.
Life of a Student in USA which No one tells you
The city is also one of the best cities for its sporting culture, as well as being famous for its jazz culture and bright nightlife. The city also has a strong corporate presence and offers many employment opportunities to professionals.
Columbus, Ohio
Ohio, in Columbus, can easily be one of the most favored places of residence, the city is extremely popular among people moving from other states, as well as from other countries.
This is not surprising considering the ample amount of job opportunities across a number of sectors, which include, Information technology, biomedical services, financial services, hospitality, and e-commerce. The city has in its vicinity a number of parks, which are a haven for nature lovers.
[Read More: All Roads Lead To USA! Options For Immigration To America ]
Phoenix, Arizona
Phoenix in Arizona boasts of a number of newly constructed as well as under-construction buildings, which bear testimony to its growth story. The city has a number of industrial as well as new-age companies, driving up employment opportunities. For fitness lovers, the city has a number of biking trails as well as hiking trails.
For parents of young children, the city has a strong education presence, with a number of schools with excellent quality of education On the basis of these and other features which provide an educated comparative study about the different cities in the United States of America, a new immigrant can make an informed choice about which city he would like to settle in after, in order to make the best life for himself and his family.
Get in touch with our expert USA Visa Consultants to get help and guidance for successful application process and US immigration.
Frequently Asked Questions
Which city is best for new immigrants in USA?
The best city for new immigrants in the US depends on a number of factors, such as your skills, interests, budget, and family situation. However, some of the most popular and welcoming cities for immigrants are San Fransico, Los Angeles, Seattle, Washington D.C., etc
Which US city has the most immigrants?
Here are the five U.S. metropolitan areas with the largest Indian immigrant populations in recent statistics, New York, Chicago, San Francisco, San Jose, and Dallas. These five metro areas accounted for about 35% of all Indian immigrants in the United States.