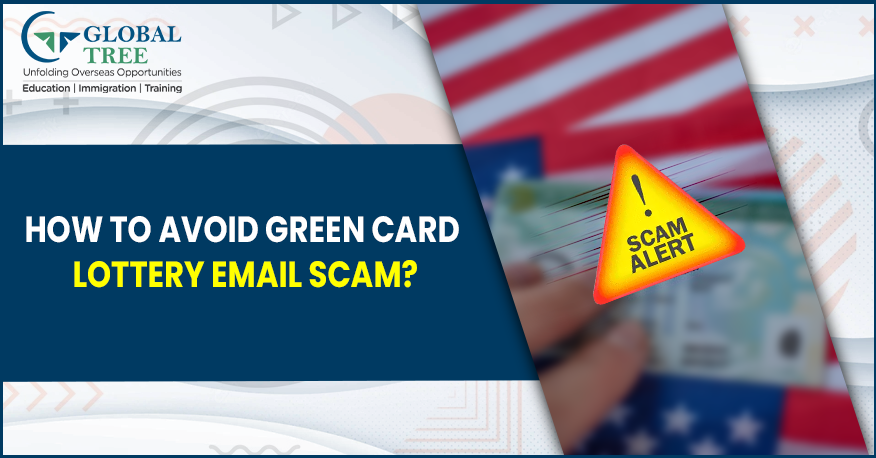 Green Card Lottery Scam
Have you ever received an email stating you won the Lottery for a USA Green Card and asked you to pay a fee to claim it? Congratulations, You Got Scammed. Remember, NEVER fall for it. A fraudster's email is written with exciting subjects to lure people into sending money. Be cautious and avoid such scams. This article will discuss "How to identify and avoid Green Card Lottery Scam emails".
How to identify if the Email Is Fraudulent?
Green Card Lottery Scam and Diversity Visa Program Scams are the two cons that have surprisingly become ubiquitous these days. Most times, to impersonate the US State Department, Fraudsters use emails. Here are some of the email address suffixes that scammers use.
@greencard-org.com
@usafix-org.com
@usa-dv-gov.org
@diplomats.com
@usa.com
@usa-lottery-gov.org
@visa-gov-us.org
@post.com
@dv-state.com
There are even more, but here are a few. A Simple trick to identify a scam email is if it is not ending with .gov. Try to think logically before taking a decision. Why would a government official ask to transfer money to get Green Card to immigrate to USA? Remember, the Department of State will NEVER notify successful applicants by letter or email.
How to identify Fraudulent "Government" Websites?
There are a lot of fake websites out there that claim to be from the US government. The websites are designed with images of the US Flag, White House, and Statue of Liberty to bring an official look. Hints to identify the fraudulent website
If a website's domain doesn't end in.gov, it is the RED FLAG
Another hint to identify fraudulent websites is, they demand money to complete the Green Card lottery entry forms. But the Green Card lottery forms are free to download and complete.
5 Tips to Avoid Green Card Lottery Scams
Remember, Downloading, Completing and Submiting the Electronic Diversity Visa Entry form is completely FREE. The money you spend to enter the green card lottery on a website or through a business is a fee for the company's services rather than going to the U.S. government. There are legitimate businesses that offer fee-based services to immigrants seeking to enter the lottery, but they are required to follow the same regulations that you do in order to submit your registration. When you could submit the application yourself for free, you should carefully consider if you actually need to pay someone to do so.
There is no such possibility that anyone could boost your chances of winning the lottery by following any of the procedures. So, if anyone claims such things, remember, there are only two chances of improving the winning chances.
A complete, error-free application and meeting all the eligibility criteria for USA Green Card is the best way to win a lottery
If spouses are applying, they can have better chances of winning the lottery as if anyone wins the lottery the other can get in as a spouse. As mentioned above, watch out in identifying the websites that are portraiting themselves as government website.
USA government will not send emails to the lottery winners. All the Green Card Lottery winners receive the letter through mail only.
This application filing fee will be paid to the Department of State; neither you nor the business that submitted your lottery entry will receive it (if you paid someone for this service). Nobody has been given permission by the Department of State to notify lottery participants for diversity visas of their winning entries, the following steps in the application process, or to solicit funds on the department's behalf. The most recent visa service costs are available on the Department of State website.
How to Report these frauds?
If you receive such emails, DO NOT RESPOND to the sender. You should report any phishing emails that ask you to transmit money through Western Union to spoof@westernunion.com or by calling 1-800-448-1492. Additionally, you can contact the Federal Trade Commission by phone at 1-877-FTC-HELP or online if you receive any fraudulent messages (1-877-382-4357).
Still in doubt?
Reach our expert USA Immigration counselors who can help you to avoid such scammers.