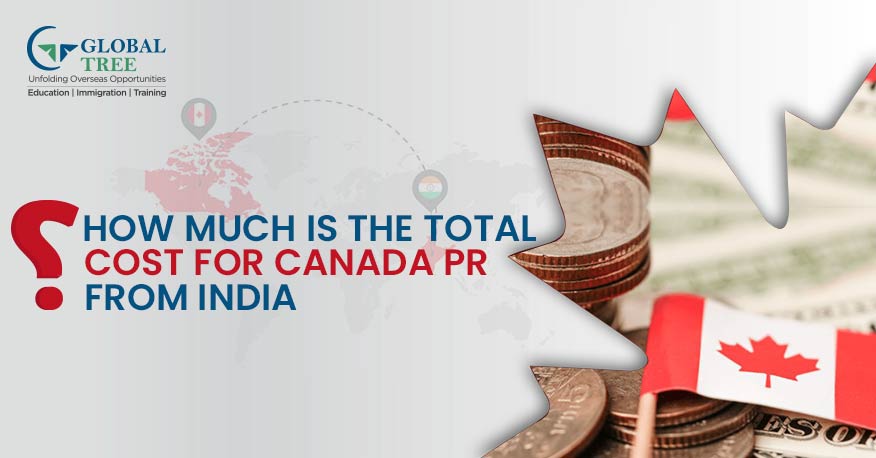 How much money do you need to move to Canada?
People who are interested in obtaining permanent residency in Canada may be uncertain about the total cost of the process, including the PR visa fee and the funds required to prove their ability to settle in Canada. The Canadian government has separated the requirements for permanent residency into two categories. Costs associated with creating an Express Entry profile or applying through another permanent residency program, and costs that arise after receiving an invitation to apply.
The Canadian government has updated the fees for all permanent residence visa applications, including those in the economic, permit holder, family, and humanitarian categories, effective April 30, 2022.
What does Canada PR from India cost in total?


The following is a breakdown of the total expenses involved in applying for a Canadian permanent residence visa from India:
| Charges applied for | Amount in CAD$ | Amount in INR* |
| --- | --- | --- |
| Canada PR Fee for Primary Applicant | 850 | 51,483 |
| Right of PR Fee | 515 | 31,192 |
| Spouse or Partner processing fee | 850 | 51,483 |
| Dependent Child (Per child) | 230 | 13,930 |
| IELTS Test fees | | 15,500 |
| * ECA from WES fees – Approx.- (including courier charge) | 240 | 14,545 |
| Medical Test | | 5,500 (vary from place to place) |
| PCC Fees | | 1000 (vary from place to place) |
*Please note that the cost in Indian Rupees may fluctuate based on the current exchange rate for the Canadian dollar.
*The fees for Educational Credential Assessment (ECA) listed here are specifically for WES; however, the assessment fee may differ for ECA through other evaluating organizations such as IQAS, ICASC, CES, and ICES. Additionally, the fees for WES do not include delivery charges, additional fees, or a 13% Harmonized Sales Tax (HST).
Explanation of Total Cost for Canadian Permanent Residency
This is a breakdown and explanation of the total cost of obtaining permanent residency in Canada from India:
Funds Required for Express Entry Profile Creation
To create an Express Entry profile, you will need two key documents: an IELTS test result and an Educational Credential Assessment (ECA). You will need to pay fees for both of these documents.
IELTS Test fee (approximately INR 15,500) for English language proficiency
ECA through WES fee (approximately CAD$240, or INR 14,545)
Funds required while submitting a Canada PR visa application
You will need to pay fees for the primary applicant, as well as for any spouse or common-law partner and dependent children. Here is the breakdown of costs for obtaining permanent residency in Canada from India after receiving an Invitation to Apply:
Permanent residence visa fee for the primary applicant - CAD 850 (primary applicant) + Right of Permanent Residence fee - CAD 515
Spouse/common-law partner or family member fee - CAD 850+ Right of Permanent Residence fee - CAD 515
Child (below 22 years of age) - CAD 230
Costs for Obtaining Medical and Police Clearance Certificates
In addition to the visa application form, you will need several other important documents, including:
Medical Exam (approximately INR 5,500) - prices may vary depending on location
Police Clearance Certificate (PCC) - this document may cost approximately INR 1,000 or more, depending on where you are applying
Proof of Adequate Settlement Funds
What is considered acceptable proof of having sufficient funds for settling in Canada?
You need enough money to support yourself financially while residing in Canada in order to apply for immigration to Canada. You will also need to provide proof of these funds when applying for permanent residency in Canada through the popular Express Entry system as a skilled immigrant. When calculating the total cost of obtaining permanent residency in Canada from India, you should include the cost of these settlement funds.
The Canadian government has recently updated the proof of funds required for express-entry candidates. All express entry candidates must update their settlement fund information in their profiles by June 8, 2022, to remain eligible for the program.
Updated Proof of Funds Requirement Table:
Proof of funds required to apply under FSW and FST categories of the Express Entry system:
| Number of family members | Funds required (in Canadian dollars) |
| --- | --- |
| 1 | $13,310 |
| 2 | $16,570 |
| 3 | $20,371 |
| 4 | $24,733 |
| 5 | $28,052 |
| 6 | $31,638 |
| 7 | $35,224 |
| For each additional family member | $3,586 |
It is recommended that the applicant bring a sufficient amount of money to cover daily expenses and secure housing in Canada. The following can be used as proof of funds:
Cash
Documents that show the property or capital payable to you, such as:
Stocks
Bonds
Debentures
Treasury bills
Documents that are receivable to you and guarantee payment of a specific sum of money, including:
Cheques
Travelers' cheques
Money orders
You are also required to submit proof of funds as per Canada Provincial Nominee Programs.
Frequently Asked Questions
Canada: The Great White North is Number 1 on this list. With easy immigration processes, a welcoming society, great education and healthcare, cool weather, and the ever-growing job market, Canada is the undisputed leader in immigration potential.
Germany: The Deutschland is famous for precision, quality, and high expectations. Unsurprisingly, it makes the list but we're still going to spell it out. Currently, home to over 170,000 Indians, Germany is a melting pot of different cultures mostly from other countries in the EU. A veritable hub for mechanical engineering, Germany has a low level of corruption, and a love for innovation and is home to over 25 Fortune 500 companies. With the demand for highly skilled professionals, Germany is a choice destination for young, smart immigrants from all over the world.
Provincial Nominee Program is one of the best routes for Canadian immigration. Every province (state) in Canada has its criteria for immigration. This criterion is custom-fitted to reflect the needs and growth opportunities arising in that respective province.
A Master's Degree translates directly into a better CRS score. Your educational qualifications reflect the contribution you would make to the destination country's economy which means that you would be more sought after. Speaking one of the country's primary languages (Eg: French for Canada) also greatly raises your chances for both visa success as well job opportunities.
If you fall under the NOC list in Canada or SOL in Australia (Occupations in demand list), it means that jobs are readily available for qualified candidates. On average, individuals earn 8 times as much salary in Canada as compared to India.
---
Recent Posts
---
---