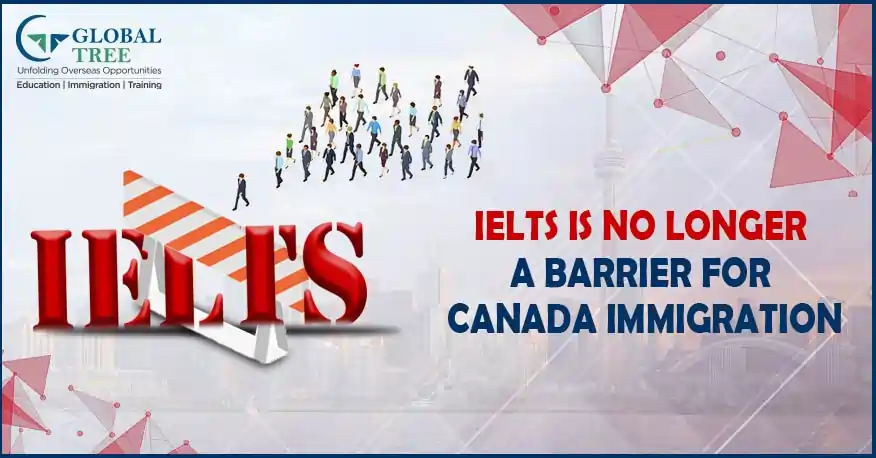 Low IELTS Score? You have no reason to worry – Canada PR
Is a low IELTS score stopping you from moving to Canada? It's not a problem anymore. You can move to Canada with a low IELTS score with the Provincial Nominee Programs. For those who are unaware, IELTS stands for The International English Language Testing System and is one of the most popular English language proficiency tests. It is important to prove English language proficiency in order to immigrate to nations where English is the native language, like the countries Australia, Canada, New Zealand, the UK, and the USA.
Language proficiency for Canada PR is important given that English is the first official language of Canada. IELTS, CELPIP, TEF, or TCF exam results can be submitted for Canadian immigration by applicants. If your English language test results are high enough, your chances of immigrating to Canada will increase.
The only circumstances in which you can migrate to Canada without having IELTS are temporary ones, such as a visiting or work visa. Because as a permanent resident, you are required to speak English well enough to interact with coworkers, neighbors, and other people.
Ways to move to Canada without IELTS
Non-native English speakers can find it challenging to fulfill high-scoring requirements, such as CLB 7 or above, and may fail to receive final approval. While applicants may perform well on other measures, such as age, employment history, and educational background, they often fall short on one of the main English language proficiency requirements for Express Entry.
The Provincial Nominee Programs in Canada came to the rescue of such qualified applicants. Many PNP streams choose and nominate qualified candidates for Canada PR from the Express entry pool even with a low IELTS score between CLB 4-6. Below are the Provincial Nominee Programs which allow you to obtain PR in Canada without an IELTS score of minimum CLB 7 or above.
[Read More: Saskatchewan PNP draw issues ITA to 280 – Canada PR]
Saskatchewan Immigrant Nominee Program (SINP):
The SINP offers a variety of exclusive immigration pathways that let foreign nationals become Canadian citizens permanently. The PNP is intentionally meant to target immigrants who can help the province's economy flourish, such as qualified workers, employees in fields where there is a lack of labor, employees who already have employment offers, and businesspeople. The province runs various PNP streams, primarily falling into three categories:
Saskatchewan International Skilled Worker
Saskatchewan Experience
Saskatchewan Entrepreneur and Farm
The Saskatchewan International Skilled Worker visa is the most popular of the three due to its sub-categories for occupations in-demand in Canada and for its Express Entry.
SINP's Occupations In-Demand sub-category:
The SINP OID subcategory is an ideal choice if your Express Entry profile is still in the pool and you are waiting for your ITA for Canada PR due to a low language proficiency score. For being eligible for the Saskatchewan OID stream, you must demonstrate proof of English or French language proficiency and must have a score equivalent to the CLB level 4 or higher in a language proficiency test. which is unquestionably less than what Express Entry's FSWP requires i.e., CLB 7 or higher.
The federal Skilled program, which is the most popular route for Canada's economic immigration, required a minimum score of CLB 7 in all four sections. This is equivalent to 6.0 in all four categories on the General Training section of the IELTS. Although CLB 7 is a sufficient score for consideration, applicants with CLB 8 or higher have a better chance of competing with other applicants in the Express Entry pool, increasing their likelihood of receiving an ITA for permanent residence in Canada. Opting for SINP's OID stream in such a case, for Canada PR can be a good option for you.
If you choose to apply for Canada PR as a skilled worker under SINP's OID subcategory, in addition to having a minimum language score of CLB 4, then:
In Saskatchewan, you are not required to already have a job offer in hand from a company. You simply need to be extremely skilled in a profession that is in demand in the province.
An Expression of Interest (EOI) must be submitted for applying to the SINP.
On the SINP point assessment grid, you must receive at least 60 points out of a possible 100.
Postsecondary education, an apprenticeship, or training must have been completed.
A diploma, certificate, or degree is required (in case of education obtained outside of Canada, an educational credential assessment report must be submitted).
At least one year of full-time work experience is required in a high skilled occupation (NOC "0," "A," or "B") that is not on the Excluded Occupation List.
Proofs of settlement funds, as well as a settlement plan, are required to apply for Saskatchewan Immigrant Nominee Program.
Are you planning to become a PR holder in Canada? We are here to help you. Contact us for more information regarding this.