SITUATIONS TOUGHEN UP IN CANADA FOR IMMIGRANTS AND INTERNATIONAL STUDENTS: YOUR NEXT BEST MOVE?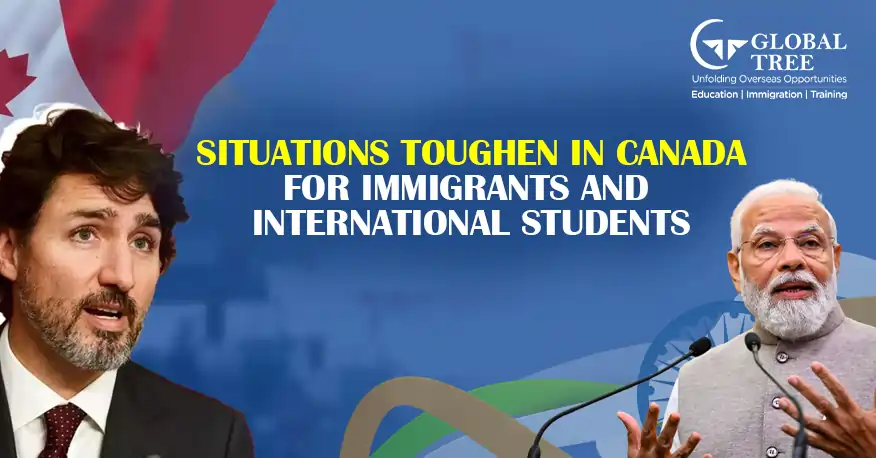 Introduction
The most recent news states - a diplomatic crisis has erupted between India and Canada.
The tensions between the two nations have further escalated, when Canada expelled an Indian Diplomat. In response to this India has barred any Canadian national from issuing an Indian visa, along with expulsion of a Canadian Diplomat from the country.
This situation puts United States in a tough position, considering that both the countries strategic partners of the of the Washington capital.
What can be your next move as an Indian residing in Canada?
As per the advisory issued by the Indian parliament, we would advise you to stay in a safe neighborhood.
If you are planning to go to study in Canada as an international student, it is better to talk to an industry expert.
Moreover, Global Tree may be of assistance.
There is no official announcement about the duration of the suspension. The two democratic countries have expressed their desire to maintain good relations.
What can you do as an Indian Student Planning to Study in Canada?
As Indian citizens are free to travel to Canada, it would be important for students to note that:
The importance of resolving these uncertainties cannot be highlighted enough for Canada, given that international students contribute nearly 25% of the country's economy.
A sharp decline in international student numbers would have an enormous effect on the Canadian economy.
As a result, the Canadian government is likely to stay proactive in attracting and maintaining overseas students by prioritizing their safety.
What caused the Tension Between India and Canada?
The relation between India and Canada began to crumble when Canadian Prime Minister Justin Trudeau made a risky, and uncalculated statement against the Indian government in the matters of killing a Khalistani terrorist Hardeep Singh Nijjar.
In his statement he mentioned Hardeep as a Sikh separatist activist and claimed of credible information linking New Delhi to the assassination of a Canadian citizen on Canadian soil.
[Read More: Latest Canada Express Entry Draw Details]
This allegation has triggered a diplomatic row and is threatening to deteriorate relations between the two countries.
India has vehemently denied the claim, calling it "absurd and motivated"
Canada expelled an Indian diplomat, whom Ottawa claims to be the head of the Indian intelligence agency in the country.
India, in response has rejected all allegations and made a statement about Canada harboring terrorists.
New Delhi also expelled a Canadian diplomat from the country.
Indian Parliament issues Advisory Measures for Indians in Canada
India has urged its citizens travelling to or living in Canada to "exercise utmost caution".
In Wednesday's statement, Delhi said that some recent threats were directed at its diplomats and some Indians "who oppose the anti-India agenda".
"Indian nationals are, therefore, advised to avoid travelling to regions and potential venues in Canada that have seen such incidents," it said.
September 21. 2023: In view of these event India has also suspended any visa processing services for Canadian citizens travelling to India.
This advisory does not restrict any Indians wanting to travel to Canada. There is no new law or restriction of any kind for visa processing for Indians.
It is also advised to not travel to regions with potential danger of the Anti-India movement.
Indian Students must be particularly vigilant and alert of their surroundings.
There is no impact on citizens already possessing a valid visa.
All types of new visas have been suspended to Canadian citizens until further notice.
No restrictions have been placed on Indian travelers yet
The suspension also applies to Canadians in a third country who want to apply for an Indian visa.
Those who already have a valid Indian visa, an Overseas Citizen of India visa, or an Overseas Citizen of India (OCI) card are not affected by the suspension of visa services. OCI cardholders are people of Indian heritage who have obtained foreign citizenship. They can enter and reside in India without a visa indefinitely.
You can always reach out to Global Tree in case you wish to immigrate or study in Canada. Their trained experts will help you understand in depth the choices you have, and how to navigate through them.
As a student or immigrant, your next best move is to stay calm and practice extra caution. Reducing stressful activities is a major factor in your skin's health. Here is a detailed guide to getting a Canada PR as an Indian Citizen, if you are planning for migration.
Sources: Times of India, BBC, Indian Express