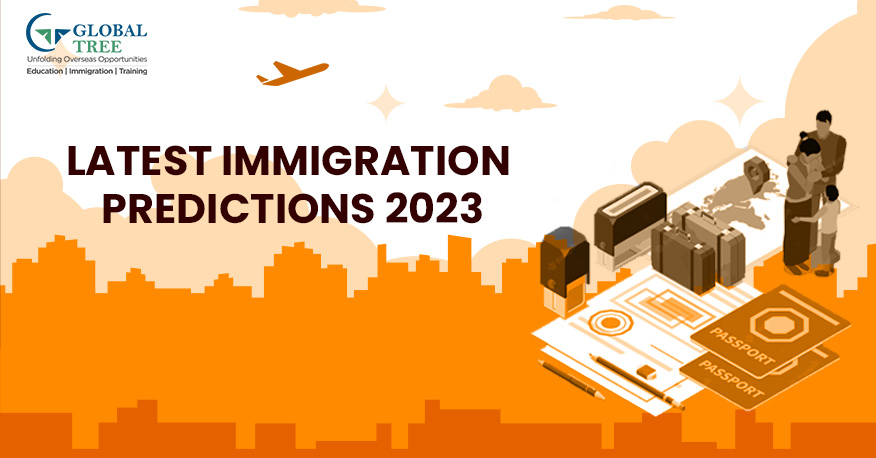 Introduction
The USA stands as the top study abroad-work destination for Indians. The year 2022 saw a lot of upheaval in immigration policy reform and border security issues.
Several of these difficulties currently exist and are probably going to remain when we enter 2023. Not with standing these obstacles, there are signs that immigration levels in the US are increasing again as COVID-19 limitations are gradually being lifted.
Let's take a closer look at what to expect for immigration in 2023.
Comprehensive Immigration Reform Will Pose A Challenge:
Comprehensive immigration reform has been a persistent legislative challenge in recent years, and it appears unlikely to be resolved in 2023. With the Republicans taking over the House of Representatives in January, it will be hard for a divided Congress to make big changes to the immigration system in the next year. Border issues are at the top of the Republican agenda, and a House run by Republicans is likely to stop any immigration plans that don't put strict security measures at the top of the list.
The most recent failed immigration plan was a draught deal put together by two senators from different parties. It would have given DACA holders a path to citizenship and billions of dollars for better border security. This bill was meant to be a last-ditch effort to keep promises about immigration in the new year, but it didn't get enough support in Congress to move forward. The recent bill is an example of a pattern that is likely to continue in 2023: partisan fights will stop immigration progress that is actually useful.
(Read More: Most Popular Reasons for Immigration to the USA)
Uncertainties Around Border Policy And Enforcement:
In 2022, border issues continued to be a significant concern in the US, and it is expected to persist in 2023. The asylum system remains hampered, and there is no indication of significant improvement in the near future.
Title 42, a policy introduced during the Trump administration that allows for the expulsion of immigrants at the border due to COVID-19 concerns, is expected to continue to have a significant impact on border enforcement in 2023. Despite the Biden administration's pledge to enforce it, the U.S. Supreme Court temporarily extended the policy.
Rumours are circulating that the Biden administration is considering new border policies for 2023 that would mirror those of the previous administration, which would make it more challenging for migrants to seek asylum at the U.S.-Mexico border. Despite being neighbouring countries, Mexicans also must apply for a USA Visitor visa in order to travel to the country. While there is no official announcement yet, government officials have hinted at ideas to limit border crossings, such as expediting asylum screenings for migrants in Customs and Border Patrol (CBP) custody, restricting the number of migrants who can approach a port of entry to seek asylum, and rejecting asylum claims of migrants who do not seek protection in another country first. The last regulation would replicate the Trump administration's "transit ban" from 2019.
Immigration advocates and lawmakers will closely monitor whether the Biden administration will revert to Trump-era border policies to address migrant crossings and political pressure or will take steps to reform the asylum system.
Public Charge Changes in the Green Card Application Process:
The public charge, a guideline used to determine whether people can be denied green cards based on their likelihood of using government benefits in the future, was a contentious issue during the Trump administration. For the first time since 1999, the public charge rule has been changed. Form I-485, which is used to apply for a green card, was updated on December 23, 2022, to include a new section about public charges. This will change how USCIS officers evaluate applications in 2023.
The Trump administration got rid of the "Declaration of Self-Sufficiency" form, which asked for some of the same information as Form I-485. If a Form I-485 applicant says "yes" to being a possible "public charge," they must answer more questions about their income, number of people in their household, level of education, and use of government benefits.
USCIS officials do not anticipate significant numbers of denials under this new rule, but it may affect applicants who are now required to declare more detailed financial information. Immigration advocates will closely monitor how the new policy affects applications in 2023.
Visa and Citizenship Backlog Improvements Expected:
A new report from the Pew Research Center says that in 2022, the most immigrants who became U.S. citizens in a decade will be more than 900,000. After going down during the pandemic, the number of immigrants who want to become US citizens is going up. Additionally, there has been an increase in the number of people receiving green cards, as well as temporary migrants, such as tourists and international students, over the past year.
USCIS will also implement internal process updates to address the backlog in processing immigration applications, such as hiring additional personnel and utilizing technology to improve efficiency in migrating to the USA.
In 2023, visa and citizenship approvals are likely to keep going up. Officials at the State Department have said that they expect the number of temporary visas to return to what it was before the pandemic. This is because the government has been hiring more people and making improvements to the way things work overall. To cut down on processing times, the State Department has also set up plans to move cases between consular posts and skip in-person interviews for some types of visas.
Despite the expected improvements in visa and citizenship approvals, unresolved immigration policy reform issues, border security concerns, and the impact of the pandemic on immigration remain major challenges for the United States.
(Read More: What are the policy changes made by USA immigration?)
Government Fee Hike:
The Biden Administration is proposing an increase in some USA application fees, which have not been changed since 2016. The proposal aims to keep costs low for low-income immigrants and naturalization applicants, but there will be significant fee increases for most employment-based visas and green card applications.
The proposed rule will be published soon, and the public will have a 60-day window to offer comments before USCIS issues a final rule with a timeline for implementing any new fees. It's essential to recognize that government fee hikes can have significant impacts on those seeking USA immigration benefits.