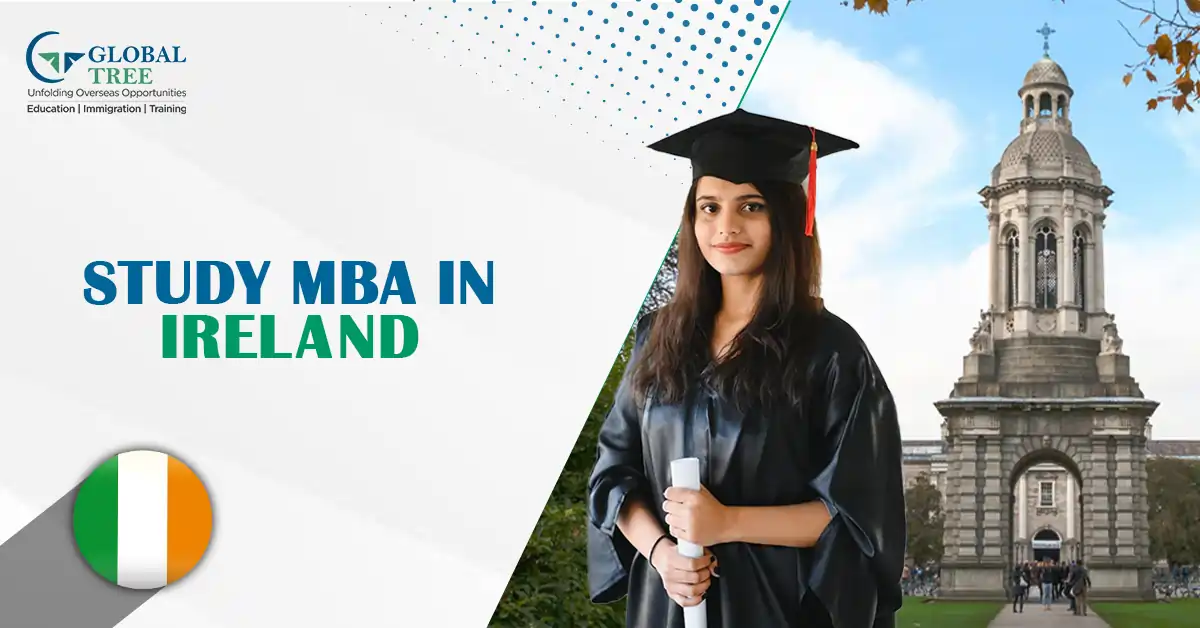 Introduction
The pursuit of a Master of Business Administration (MBA) is a pivotal career decision for many, and when considering global options, Ireland emerges as an increasingly attractive destination. MBA programs in Ireland are typically designed to span 1 to 2 years, and they are offered by a select number of prestigious colleges across the country. Moreover, Ireland hosts another enticing variant of the MBA – the Executive MBA (EMBA) tailor-made for professionals with substantial prior work experience.
For international students aspiring to embark on this academic journey, the cost of an MBA in Ireland is a crucial factor. The financial investment can range from approximately 10,000 to 36,000 EUR for the entire duration of the program, which translates to around 8.48 lakhs to 30.34 lakhs INR. In an era when the pursuit of higher education abroad can often entail considerable expenses, Ireland's B-schools present a compelling proposition. Notably, they offer a cost-effective yet academically robust alternative, firmly positioning Ireland as an attractive study destination for aspiring MBA students.
While Irish business schools may not command the same level of global recognition as their counterparts in the United States, Canada, or the United Kingdom, they boast reputable institutions that provide world-class business education. Prominent among these is the University College Dublin's Michael Smurfit Business School, which consistently secures a place in the top 100 B-schools for full-time MBA programs in renowned rankings such as Financial Times and The Economist. Additionally, Trinity College and Dublin City University stand as formidable competitors on the international stage, offering both traditional MBA and EMBA programs to a diverse cohort of international applicants.
As you contemplate pursuing an MBA in Ireland, you'll also be pleased to learn that MBA graduates from this country tend to be among the top earners in the business world. With an average annual salary hovering around 53,000 EUR (approximately 44.77 lakhs INR), these graduates find themselves well-compensated for their skills and qualifications.
Key Information for Prospective MBA Students:
Before delving deeper into the offerings and advantages of pursuing an MBA in Ireland, let's outline some key details about these programs:
Course Level: Postgraduate
Course Duration: 1 or 2 years
Course Type: Full-time | Part-time
Eligibility: Graduate from any discipline with 3 to 5 years of work experience.
Exams Required: IELTS | TOEFL | GMAT
Top Recruiting Companies: Amazon, Facebook, Google, Microsoft, Apple, Johnson & Johnson, Smartling, Genesis, Citco, Genesis, Intel, Twitter, Redhat, SAP, Deloitte, and more.
Average Tuition Fees: 10,000 - 36,000 EUR (8.48 lakhs - 30.34 lakhs INR)
Average Annual Salary: 53,000 EUR (44.77 lakhs INR) per annum
Top Business Schools in Ireland - Let's discuss some of the Best Ireland MBA Colleges
When considering your options for an MBA in Ireland, it's beneficial to take a closer look at some of the leading institutions offering these programs. Here's a glimpse of the notable MBA and EMBA programs, their admission deadlines, and the total program fees:
1. Trinity College Dublin:
MBA: Rolling Admission
EMBA: Rolling Admission
Total Program Fee: 36,600 EUR
2. University College Dublin:
MBA: Rolling Admission
EMBA: Rolling Admission
Total Program Fee: 36,760 EUR
3. University of Limerick:
EMBA: Application Deadline - July 10, 2023
Total Program Fee: 30,124 EUR
4. Technological University Dublin:
MBA: Application Open
Total Program Fee: 21,000 EUR
5. Griffith College:
MBA: Rolling Admission
EMBA: Rolling Admission
Total Program Fee: MBA - 14,000 EUR, EMBA - 28,000 EUR
6. Dublin Business School:
MBA: Rolling Admission
EMBA: Rolling Admission
Total Program Fee: MBA - 12,750 EUR, EMBA - 25,500 EUR
Read on Top Ireland Universities here for the Complete information on Ireland Universities and Colleges!
Advantages of Pursuing an MBA in Ireland:
If you're wondering what makes Ireland an enticing destination for pursuing an MBA, let's explore the key advantages:
Affordable Education: Pursuing an MBA in Ireland is a financially prudent decision, especially when compared to the substantial expenses associated with similar programs in the UK or the USA.
Salary Boost: Recent European studies have demonstrated that MBA graduates in Ireland tend to observe a substantial increase of 50-60% in their annual pay.
Employability: Ireland is considered Europe's most attractive business location, with the presence of European headquarters for global giants such as Apple, Google, Facebook, Airbnb, and LinkedIn. This abundance of multinational corporations provides abundant job opportunities for MBA graduates.
Placement Record: Irish universities have a strong track record of placing students within a short time frame. For instance, UCD's Michael Smurfit Business School boasts an impressive placement rate of about 88% within three months of graduation.
International Recognition: MBA programs in Ireland are conducted in English, making them globally recognized and facilitating international mobility for graduates.
Post-Study Stay: Ireland offers international students the advantage of a two-year stay-back option after completing their degree. This allows students to explore job opportunities in Ireland while remaining on a valid permit.
Investment in Education: Over the past decade, the Irish government has increased its investment in higher education by 10%, ensuring a world-class educational experience for students.
Entrepreneurial Culture: Ireland ranks 18th among the top 25 most entrepreneurial countries, making it an ideal environment for aspiring entrepreneurs.
Admissions for MBA in Ireland:
The application process for universities in Ireland can be efficiently completed online, ensuring convenience for international students. Prospective applicants, especially international students, are advised to closely monitor application deadlines and submit their applications at the earliest opportunity. Check Eligibility to Study in Ireland here.
MBA in Ireland Requirements for Admission include:
A bachelor's degree equivalent to an Irish university's primary degree level, typically at Irish NQF level 8.
Demonstrated proficiency in the English language, often assessed through tests such as IELTS with a score of 6.5 to 7.0, TOEFL with a score of 90, or other accepted English language tests.
A GMAT score within the range of 550 to 600.
A minimum of 3 to 5 years of relevant work experience.
An interview may be required as part of the admission process.
Documents Required for MBA Admissions in Ireland:
To initiate the application process for MBA admissions, international students must prepare and submit a specific set of documents, including:
A completed admission application form.
Academic transcripts from all previous educational institutions attended, accompanied by English translations where necessary.
Proof of English language proficiency through test scores such as IELTS or TOEFL.
A score report from the GMAT or GRE Test.
Letters of Recommendation.
A comprehensive Curriculum Vitae (CV) or Resume.
A copy of your passport.
Payment of a non-refundable application fee.
Indian students seeking an MBA degree in Ireland are typically required to hold a second-class honors degree equivalent to a 3-4 year bachelor's (hons) degree in arts, commerce, science, or a professional bachelor's degree from a recognized university or college.
Next Step: Application Process! How to apply to Ireland Universities?
Ireland Student Visa
International students aspiring to pursue an MBA in Ireland need to obtain a student visa to study and reside in the country. Non-EEA (European Economic Area) students, including those from India, typically require a D-type student visa to undertake studies in Ireland.
The Ireland student visa requirements typically include the following
Proof of medical insurance from a private medical insurance company.
Recent passport-sized photographs.
Bank statements demonstrating financial capability to sustain living expenses in Ireland.
Evidence that sponsors can afford to spend a minimum amount, typically 5-6 lakhs INR per year, to support the student's education.
A qualifying score in IELTS or TOEFL.
Acceptance from an accredited university in Ireland, along with evidence of paid tuition fees.
The visa acceptance rate for Ireland is remarkably high, standing at approximately 99%. This reflects the streamlined and student-friendly nature of the admission and visa procedures, ensuring a smooth journey for MBA students to Ireland.
MBA in Ireland Cost
Now, let's delve into the financial aspects of studying an MBA in Ireland, encompassing tuition fees and the cost of living for international students.
MBA in Ireland Cost of Tuition:
The tuition fees for MBA programs at universities in Ireland typically range from 10,29,875 INR at Dublin Business School to 28,58,933 INR at Trinity College Dublin for the full program duration. It's worth noting that Ireland offers a greater number of EMBA programs compared to full-time MBAs.
Cost of Living in Ireland:
In addition to tuition fees, international students should budget for living expenses while pursuing their MBA in Ireland. The average cost of living in Ireland falls within the range of 1,240 to 1,880 EUR per year, equivalent to approximately 1.04 lakhs to 1.58 lakhs INR. This estimate encompasses various expenditures, including accommodation, meals, transportation, books, supplies, and personal expenses.
Complete Information here: Cost of Living in Ireland for Indian Students
MBA in Ireland Scholarships:
While pursuing an MBA in Ireland is relatively cost-effective, some international students may still require financial assistance to manage their expenses. Fortunately, several financial aid options are available to support MBA students in Ireland. These options include scholarships, education loans, and opportunities for student employment.
Work-Study Opportunities in Ireland:
International students pursuing full-time courses in Ireland benefit from favorable work-study opportunities. After one year of study, they are not required to obtain a work permit, enabling them to seek part-time employment with a minimum hourly wage of approximately 10.50 EUR (equivalent to 886.50 INR). Students can explore additional avenues to self-finance their education, including:
Internship Programs: MBA students in Ireland can explore internship options, which may include stipends for their work. These stipends can help cover living expenses while enhancing their professional experience.
Post-Study Pathway: Ireland extends a post-study work permit to international students, allowing them to remain in the country after completing their academic programs. During this period, students can engage in full-time employment for up to 40 hours per week.
MBA in Ireland - Scope and Job Opportunities:
MBA graduates in Ireland are well-positioned for a diverse array of career opportunities across various sectors.
Here are some notable avenues:
Employment with Tech Giants: Ireland is home to major technology companies such as Amazon, Google, Facebook, and more. These corporations have a consistent demand for MBA graduates, particularly in roles that require advanced business acumen.
Entrepreneurship: The entrepreneurial culture in Ireland is vibrant, providing MBA students with an environment conducive to launching their own businesses and startups.
Post-Study Work Visa: Non-EEA students can secure a work visa for up to two years following the completion of their MBA. This work permit allows them to explore job opportunities in Ireland without the need for frequent renewals.
Competitive Salaries: MBA graduates in Ireland can anticipate competitive salaries, with average annual earnings around 53,000 EUR, equivalent to approximately 44.77 lakhs INR.
Complete Information here: Most In-Demand Jobs after Studying in Ireland & Internships
Work Permit Options in Ireland:
Following the completion of their studies, Indian students pursuing an MBA in Ireland have various attractive work permit options to consider:
Residence Permit: Upon finishing their studies, students can apply for a residence permit in Ireland, which offers a pathway to obtaining a work permit lasting two years.
General Employment Permit: This permit is renewable and allows individuals to continue their professional practice for two years.
Critical Skills Employment Permit: With a validity of two years, this permit requires the acquisition of a Stamp 4 endorsement upon expiration. The Stamp 4 endorsement grants students the freedom to remain and work in Ireland without the need for biennial renewals.
In conclusion, an MBA in Ireland presents a wealth of opportunities for international students seeking a high-quality, affordable education, and promising career prospects. With its welcoming visa policies, competitive salaries, and vibrant job market, Ireland has emerged as an increasingly attractive destination for MBA aspirants. The potential for career growth, combined with a rich academic experience, makes pursuing an MBA in Ireland a promising choice for those with global ambitions.
As you prepare for your educational journey, remember that diligent research, early applications, and financial planning can help you make the most of your MBA experience in the Emerald Isle. With the advantages of affordable education and promising job opportunities, Ireland offers the ideal backdrop for your MBA pursuit.