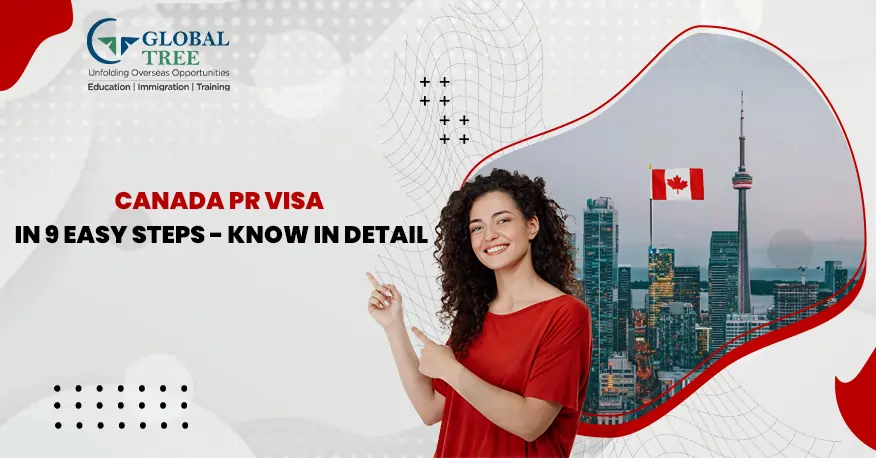 10 Steps for Canada PR
If you're considering a move to Canada, you might be wondering how to get a Canada PR. The good news is that the process is not complicated, but it does require some planning. And there are many ways to Apply for a Canada PR and Express Entry is one the easiest methods to get PR.
Here's what you need to know about applying for Canadian permanent residence through Express Entry in 10 Simple Steps:
Step 1: Complete Your Language Ability Tests


One of the primary requirements for Express Entry is proof of language ability. You will need to take the IELTS for proving your ability to communicate effectively in the English language. You can also give a relevant French language test such as Test de evaluation de Francians (TEF) to further improve your ranking.
Step 2: Create A Profile For Express Entry
You will need to create an Express Entry Profile for yourself online on the IRCC website in order to initiate the process for your Express Entry
Step 3: Complete Your ECA
If your education was completed outside of Canada then it is advisable to complete an Education credentials assessment. Completing an ECA can provide an additional 150 points to your Comprehensive Ranking Score.
[Read More:CRS score in the Express Entry]
Step 4: Apply For Provincial Nomination (optional)
You can also opt to apply for one of the various provincial nomination programs that are managed by the different provinces within Canada. If successfully selected for a provincial nomination, you can get an additional 600 points on your score.
Step 5: Get An Invitation To Apply
Once your application is approved and scores the threshold CRS score in the Express Entry draw , you will receive an Invitation to Apply. Once you receive an ITA you will need to submit a completed application within the next 90 days.
Step 6: Complete Medical & Criminal Background Checks
You will need to complete a health checkup with a Doctor from a qualified panel of doctors approved by the Canadian immigration authority and submit the same to the IRCC. Additionally, you will need to obtain a Police Clearance Certificate from each city you have resided in for more than six months on a continuous basis in the past.
Step 7: Application Is Reviewed By Canadian immigration Officer
During this step, you will not have any active part, but your application will be reviewed by an immigration officer. You should be ready, however, to furnish any additional requirements if requested, during this stage.
[Read More:What Is A Medical Test For Applying Canada Immigration]
Step 8: You Will Receive Confirmation Of PR Status
During this step, you will get confirmation of your permanent resident status. You can get your application processed faster under certain categories. For example. If you apply under the Canadian Experience Class your application will be processed as early as 3 to 4 months. You will receive a COPR (Confirmation of Permanent Residence) card at this step.
Step 9: Apply For Your PR Card
Congratulations! You are now qualified to travel to Canada and you are ready to migrate to Canada . You will need to apply for your PR card and can use it to travel in and out of Canada as you please.
Step 10: Pack Your Bags
The final Step is packing bags. You may this is the easiest thing to do but the packing is the hardest thing. Make sure to pack everything you need in a foreign country like Canada.
Plan your migration process ahead to skip the queue. Reach our Canada Immigration Experts for personalized assistance.
How do I qualify for Canada Express Entry?
To qualify for Canada Express Entry, you must meet the following requirements:
Age: You must be between 18 and 45 years old.
Education: You must have a post-secondary degree or equivalent.
Work experience: You must have at least one year of full-time skilled work experience in the last 10 years.
Language proficiency: You must have a minimum level of English or French language proficiency.
CRS score: You must have a minimum CRS score of 67.
The CRS score is a points-based system that is used to rank candidates for Express Entry. The CRS score is calculated based on your age, education, work experience, language proficiency, and other factors.
What is the total cost of Canada PR from India?
The total cost of Canada PR from India can vary depending on a number of factors, such as the program you apply for, the number of family members included in your application, and the fees charged by immigration consultants. However, the average cost is around CAD 2,500 – 3,000.
Here is a breakdown of the costs involved in applying for Canada PR from India:
Express Entry application fee: CAD 200 per person
Language proficiency test fees: CAD 16,500 for IELTS
Medical examination fees: CAD 550 per person
Biometrics fees: CAD 85 per person
What is the IELTS score for Canada PR?
The minimum IELTS score required for Canada PR depends on the immigration program you are applying for. For most programs, the minimum score is 6.0 overall. However, some programs have higher requirements, such as the Federal Skilled Trades Program, which requires a minimum score of 7.0 in each of the four subtests.