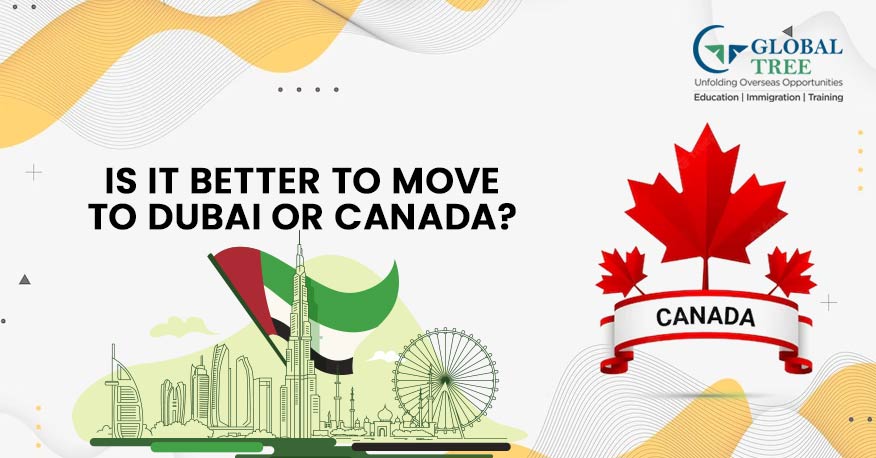 Dubai or Canada?
There are many aspects that separate the comparison between the two nations. No doubt Dubai is a happening city where each one of us always wishes to go. As most of us plan to visit Dubai mostly for a holiday along with the whole family. People also wish to migrate to this beautiful city because they want to work there. Many people plan to start a business in Dubai.
The cost of living in Dubai is very high for example the cost of housing and the cost of schooling is also very high. Most of the people with moderate salaries cannot afford to stay in Dubai. Although there is no burden of tax as such in this city. Dubai is a tourist destination as many people visit this city on a tourist visa.
And those who migrate to work in Dubai come on a job visa. This North American country is one of the ideal nations of the world for those who are looking for immigration and also for those who are looking to settle down in this country. This country is ranked among the best nations of the world in terms of quality education, job opportunities, Canadian Citizenship, and Permanent residency.
Canadian Immigration offers series of visa categories like Visit Visa, Business Visa, Student Visa, Canada Tourist Visa, Canada Work Visa, Canadian Experience Class, Federal Skilled Workers, Federal Skilled Trades, Family Sponsorship, Provincial Nominees, Quebec Immigration, Investors, Self Employed, and Refugees.
Education In Canada
Dubai is not much known as an ideal education destination, whereas Canada has always been known for its excellent universities and colleges which offer world-class educational facilities which have been attracting many students since many years. Canadian universities and colleges have a long list of courses to offer its international students.
Canada has always been a safe, secure and peaceful country for students to pursue an education in this nation. The best part is after completion of education Canadian Immigration is also offering Canadian PR so that foreign students can do work and settle down in the country.
[Read more: Calgary Canada A Great Place To Live]
Jobs In Canada
Most skilled workers always look forward to migrating to this country on Canada Work Visa. This country has always been known as the land of opportunities, and that is the reason it offers plenty of job prospects to overseas skilled employees all around its provinces.
Due to a shortage of skills in this country, Canadian companies have always been looking to fill up the vacant occupations with their overseas skilled workers. The employment sector which has always been in demand for job seekers are IT, healthcare and construction sector, etc.
Immigrants can also avail Canadian Citizenship in almost three years of migration into this nation along with the status of PR.
Canadian Visas
When compared to Dubai, Canada has got a bunch of visas to offer its immigrants. Apart from the Canada student visa and Canada work visa. The Canadian government has also got to offer a number of immigration programs related to business.
Canadian business immigration allows settling down in the country along with your whole family. Immigrants need to invest a specified amount in this nation and they have to meet certain criteria to avail these business visas.
Canadian Immigration Programs
Canada has got a number of immigration programs like PNP (Provincial Nominee Program), Express Entry Program and Quebecs Immigration, Skilled Workers Program, etc., through which one can migrate and can also settle down in this country.
Benefits Of Migrating To Canada
Social Benefits
An immigrant is entitled to avail of social welfare benefits like excellent health care, world-class education facilities, and benefits.
Health Care Benefits
Canada provides better health care services. Immigrants could avail free and better health services. They could also avail free medical services in almost all the government hospitals and clinics. Quality Education System The country has always been known for its world-class education facilities. There are a number of Canadian Universities and Colleges which offer quality education.
Numerous Job Prospects
Searching for a job in the land of opportunities is easy. People can find their choice of jobs as per their age, skills and educational qualification.
Canada Citizenship and Canada PR
After completion of education and after doing the job for certain years, one can also apply for Canada Citizenship. They would be entitled to get Canada Citizenship in almost three years of migration into its territory along with the status of permanent residency.
Canadian Permanent Residency
The benefit of this Canadian PR is that the immigrant can call their whole family to the country to stay along with them.
[Read more: Canada Immigration Key Highlights]
Children Tax Advantage
The Canadian government also offers funds to raise your children subject to the income and age of your children. Getting a Canada visa is the foremost priority of many immigrants when compared to Dubai. This nation has been the number one choice for many immigrants who seek migration to this country.
The US neighboring country has got the biggest number of immigration rates across the globe when compared to other countries of the world. Immigration Canada issues as many as 2,50,000 PR each year. Many Canadian provinces lack skilled workers, so they always admit a large number of immigrants into its workforce through their provincial nominee programs (PNPs).
An immigrant is entitled to get Canadian Citizenship in almost three years of migration into its land along with the status of permanent residency. The Canadian government has said that this year the influx of new immigrants would be the same as last year.
This year, the Canadian government is all set to welcome as many as 3,00,000 new immigrants from across the globe. Immigration Minister John McCallum said that the financial immigration programs would see a rise of 7% this year.
He also said that the immigrants with better experience and skills would be able to contribute to the Canadian economy as they assist in creating employment, outgrowth innovation, and toughen communities. To know more about the Canadian visa and immigration process, please log into our Global Tree website.