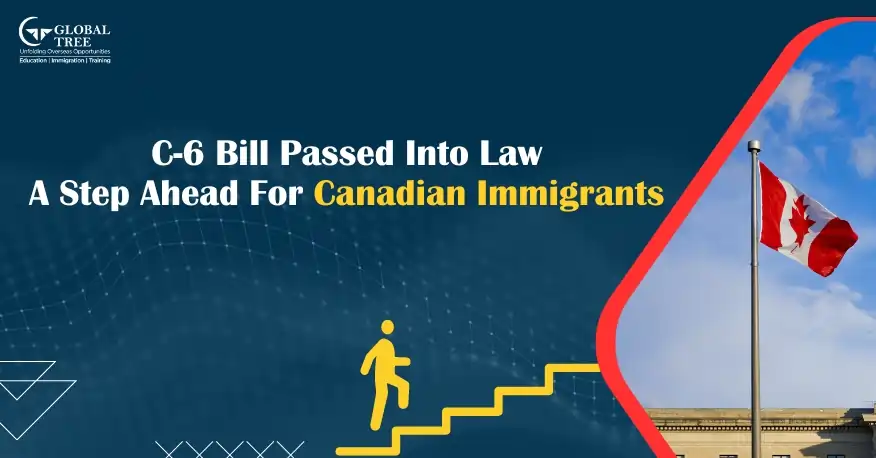 C-6, Canadian Immigration
In the midst of tightening visa norms and restrictive border regimes; in the face of nationalist policies and conservative attitudes, from hitherto open and immigrant friendly nations, it is countries like Canada, that are forging their mark on the historical landscape, that is being shaped out of current events. Canada has time and again proven itself to be the most immigrant friendly nation, welcoming individuals who wish to avail immigration to Canada, not only through its streamlined and hassle free immigration process, but also through measures taken to integrate the immigrant into the Canadian culture. The immigrants are not just provided an entry into the country, but are actively encouraged to become permanent residents and citizens if possible, as evidenced by Canada's immigration minister, who announced that the Government, would want all permanent residents to obtain Canadian citizenship if possible. And indeed, the Canadian Government seems to be putting its money where its mouth is, so to say, in passing the bill C-6 which is expected to further smoothen the pathway for individuals seeking immigration to Canada and expedite the process for obtaining citizenship.
The Bill C-6 brings forth a number of changes, primary among them is the reduction in the amount of waiting time for individuals who have recently obtained immigration to Canada to apply for Canadian Citizenship. Under the C-6 bill, which has as of 19th June 2017 been passed into law, new immigrants to Canada will need to stay in Canada for just 1,095 days, or three years, within five years before being? eligible to apply for citizenship, as opposed to the earlier requirement of 1,460 days within six years. Apart from the above primary change, the C-6 law will also bring in a slew of positive changes for individuals seeking immigration to Canada. Some of the more highlighted changes are enlisted below.
[Read More: Immigrate with Canada Express Entry]
The C-6 will enable permanent residents who had prior to obtaining PR status, spent time in Canada, either for work or study to count 365 such days as days spent for residency requirement.
The C-6 bill will also eliminate the provision requiring that new citizens to Canada, state that they intended to reside in Canada.
The C-6 law will allow children below 18 years of age to apply for Canadian citizenship without parental consent.
The C-6 is expected to provide individuals, who lost their citizenship on the grounds of having obtained it fraudulently, the right to appeal against the decision of the federal court.
Benefits of Canadian Citizenship
The benefits of being a citizen of Canada are multi fold. You will enjoy the special status of being a citizen of one of the most progressive and peaceful nations in the world, and all the benefits that accrue from such status. You will have all the rights, including right to health care, right to vote and right to run for office in a political capacity. You will also be able to acquire a Canadian passport, which allows you to enter 172 countries without requiring a visa. No wonder then, that a Canadian citizenship is one of the most sought after citizenship in the world.
[Read More: Top 7 Occupations in Demand in Canada Post-Covid]
To know more about online student forums, student networks and how you can seek help on such forums as a student living abroad, get in touch with Global Tree, the Most Trusted Immigration Counselor in India.