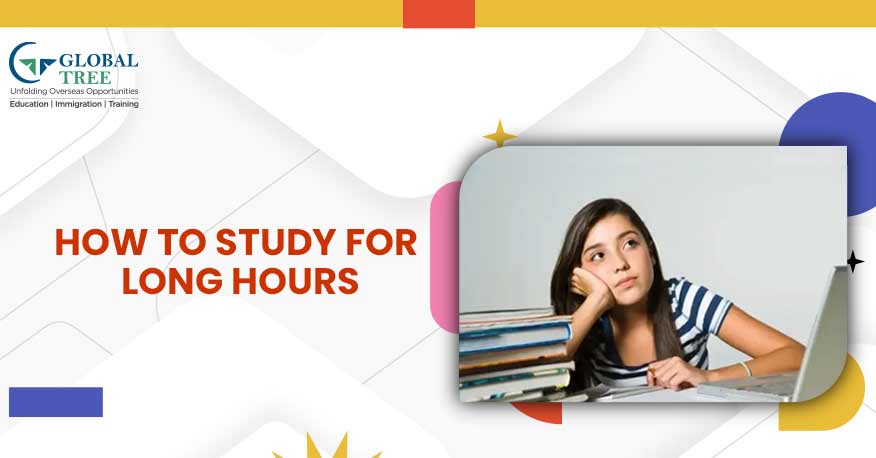 13 Smart Tips to Study for Long hours:
Are you struggling to sit for long hours to study especially while preparing for abroad entrance tests? If you are a student who can get easily distracted studying can be difficult, particularly right before an exam. The ability to stay motivated is essential to reaching your objectives, and every step you take to succeed calls for more than just a to-do list. You can achieve a lot for yourself if you gradually train your mind and create a habit of learning intently for extended periods of time.
1. Prioritise what to study
You must first and foremost properly set your priorities. Study the most important subjects first, then progressively move on to others. Since what you learn will stick with you for a very long time, try to study with a new mind.
2. Sleep for 7-8 hours
Sleeping for 7-8 hours every night is not fiction. To avoid feeling drowsy while learning, you need to get enough sleep. Giving up sleep to study more and perform better will only have a negative impact on your health and cause tension and anxiety. Additionally, being sleepy makes it harder for you to comprehend things. You could even take a quick nap in between to relax your body and thoughts.
So, it helps in studying for long hours without getting tired.
(Read More: A guide for GMAT exam preparation)
3. Eat healthy
When you're studying for exams, you need to be active, so it's a good idea to consume a balanced diet. You often feel sluggish after eating heavy, fatty foods. So, stay away from it when you're trying to learn. Fresh, home-cooked meals are known to boost productivity and mental acuity, particularly when they contain superfoods like berries, fish, nuts, whole grains, yogurt, legumes, tomatoes, etc.
4. Exercise every day
Regular exercise for 15 to 30 minutes is a good plan. It frees up your emotions, eases stiffness, and gives you energy to last the entire day. According to experts, physical activity causes the brain to produce neurotransmitters that keep it awake and alert. Exercise both awakens the brain and gives you a renewed sense of energy.
5. Turn your Room Study - Friendly
When we say study-friendly, it implies a well-lit room with fewer distractions. Lack of light makes you dull and sleepy, while studying in a well-lit area makes you feel lively and energetic. On your study table, you can also put inspirational quotes, pictures, and other upbeat items to keep you inspired. Make sure there aren't too many diversions in your space.
6. Take Breaks in Between
A 10-minute pause is very beneficial. For your intellect to work productively, breaks are crucial. When you study for a long period of time, your memory may suffer and your mind may feel overloaded with knowledge. Follow these above mentioned tips to score high on exams like IELTS.
It takes a delicate balancing act to concentrate and study for extended periods of time. So, in order to get the number, you want, you must establish a routine and strike a balance with your exercise, eating, and sleeping patterns.
7. Keep your phone out of sight
To avoid being enticed to use your phone, store it in a drawer or carry it with you at all times. Avoid using any other distracting electronic gadgets unless you absolutely need to in order to study. Download an app that blocks distracting websites if you need to use your tablet or computer to study for a paper in order to remain on task.
8. Choose a designated spot for
Locate a distraction-free area, such as a quiet corner of your house or the library. Try to learn there (or at a few other regular spots) every time. If you regularly study in the same location, you'll be aware when you get there that it's time to start working.
Additionally, find a desk or table where you can stretch out your reading materials while you study. In order to sit for long hours to study, avoid studying in bed because getting too comfy can make you lose focus.
(Read More: How to prepare for SAT Test?)
9. Mix up tasks and topics to prevent boredom
If you have several tasks or subjects to learn, focus on one for an hour before switching. Try to concentrate on one unit or topic for about an hour at a time, even if you are studying for an exam and can't switch topics.
You'll be more productive and retain more information if you switch up your tasks rather than trying to force yourself to focus on just one activity.
10. Study difficult subjects first
It will be simpler to study for a longer length of time if you complete your most difficult or tedious tasks first. Take on challenging projects when you're at your best, and save your easiest tasks for when you're starting to lose steam.
11. Play music if it helps you
Some people find that listening to music keeps them concentrated, but not everyone finds it effective. Listening to instrumental music while studying can help you stay focused if you don't find it disturbing.
Since classical music is also a great option because it doesn't have any distracting lyrics. Try listening to electronic music, ambient music, or natural noises. Create an hour-long playlist to help you keep track of time. You'll be able to plan your breaks and transitions accordingly.
(Read More: How to crack an entrance test to get admittance into the best universities?)
12. Write down your goals
Your commitment to your objectives may increase if you can see them clearly written somewhere. Write down your to-do list on a calendar or dry-erase board, and place it near your workspace.
In a pinch, write your objective in big letters on a piece of paper, an index card, or your assignment pad. Try outlining your study objectives to peers or family in addition to writing them down. You can keep yourself accountable by telling others what you need to accomplish.
13. Reward yourself when you complete a task
You are more likely to persist in your studies if you are aware of a reward ready for you. Playing video games, viewing TV, indulging in a snack, or splurging on a piece of clothing or accessory are all examples of rewards for a job well done. If you don't complete the job, don't be too hard on yourself, but make sure to only treat yourself when you do.
Hope this blog on how to study consistently for long hours is helpful. Studying on your own can be a difficult task, so you can always seek help. Contact us! We are happy to serve you if you are planning to Study Abroad.