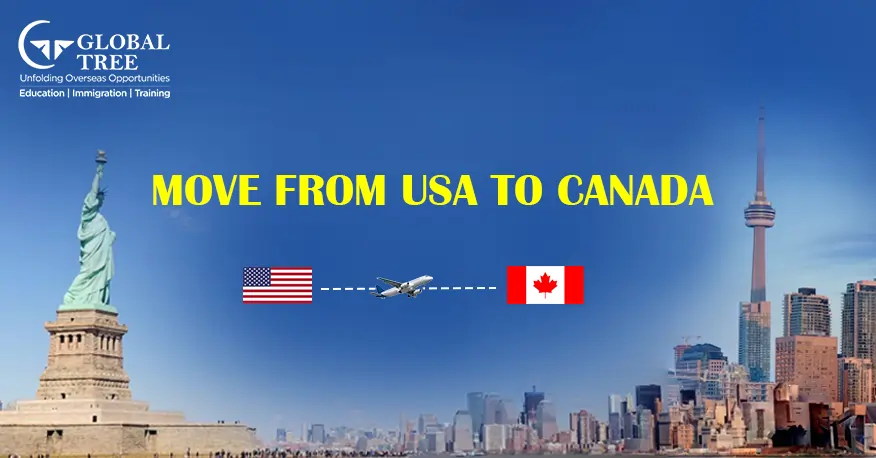 Introduction
Are you considering relocating from the United States to Canada?
There are many things to think about before moving, whether you want a change of scenery or wish to start over in a new country.
Everything you need to know about migrating to Canada from the United States, including the procedure, the price, and what to anticipate after you arrive, will be covered in this reference.
10 Reasons why you should move to Canada from USA
There are numerous reasons why you would wish to relocate to Canada from the United States. Perhaps you're looking for a change of scenery or fresh possibilities.
Whatever your motivation, there are a few things you should be aware of before making the switch. For starters, Canada is a totally different country than the United States, with its own distinct culture and customs.
The appeals of Canada are obvious: nature, pleasant cities, publicly subsidized health care, diversity, and lower crime rates.
Abortion is legal in Canada, which has contributed to the recent surge in interest.
Furthermore, the process of relocating to Canada might be complicated, so do your homework ahead of time. But if you're prepared for the task, Canada is a lovely country with a lot to offer.
However, there are some drawbacks. The cost of living in Canada is higher than in the United States. Taxes are not for the faint of heart: The more money you earn, the more income tax you will have to pay.
And it's colder than much of the United States.
Here are ten reasons to help you decide about why you should relocate to Canada from the United States:
The scenery is breathtaking.
The people are friendly and welcoming.
The healthcare system is better in Canada
The education system is better in Canada
The quality of life is high.
The cost of living is cheaper in Canada
The climate is great.
There is so much to do and see.
The country is safe and peaceful.
You will fall in love with Canada!
Few Cons to consider:
It is more difficult to immigrate to Canada.
Canada is riddled with bureaucracy.
In Canada, taxes are higher.
Canada's winters are colder.
1. What are the Easiest Ways to move to Canada from USA?
Now are you thinking 'is it easy to move to Canada from USA?'
There are several possibilities for people from USA to immigrate to Canada. The most typical route is through a sponsor, usually a family member or an employer. You can also apply for a refugee status, a work visa, or a student visa.
Make sure to investigate the choice that is appropriate for you because each of these visas has various requirements.
To live and work in Canada permanently after receiving a visa, you must also acquire a permanent resident card.
Work visa
Family sponsorship
Refugee status
2. How to Get Permanent Residency in Canada? Check Your Eligibility
You must first determine your eligibility. You can check out a detailed post here for Eligibility for USA immigration. If you want to immigrate to the USA, you must also determine the path through which you will be processed for immigration. Scroll down to learn more.
3. How to Move to Canada? Selecting the Visa of Immigration
Given that Canada offers more than 100 immigration permits and programs, the process is neither quick nor simple. However, here is a quick list of some of the programs that you might be eligible for:
Express Entry: This process, which enables skilled workers from all around the world to apply for permanent residence, is one of the quickest methods to immigrate to Canada.
Start-up Visa: This program enables company owners to immigrate to Canada in order to launch a new venture.
Self-employed: Through this category, artists and athletes can immigrate to Canada permanently. You must demonstrate your intention to work for yourself in Canada and have two years of experience in your field to be eligible.
Caregiver: You might have a chance to immigrate to Canada if you have experience caring for children, the elderly, or those with special needs.
Agri-Food Pilot: The agri-food industry in Canada caters to experienced, non-seasonal personnel in particular sectors and professions.
4. What is Canada Express Entry? Detailed Breakdown
Immigration, Refugees, and Citizenship Canada (IRCC) uses the Express Entry system to oversee applications for permanent residency from skilled workers.
The system was established in 2015, and it has since been utilized to process the vast majority of skilled worker applications.
Candidates must first build an online profile to be considered for Express Entry.
They will include information on their abilities, employment experience, language proficiency, education, and other variables in this profile.
Candidates will be assigned a score out of 1,200 based on this information and placed in a pool of candidates.
The individuals with the best scores in the pool will be asked to apply for permanent residence through monthly draws. These lotteries occur every two weeks, and the number of invitations sent varies.
After receiving an invitation to apply, an applicant will have 90 days to submit a comprehensive application for permanent residency.
If their application is approved, they will be given a conditional offer of permanent residence.
The Express Entry system allows skilled people to immigrate to Canada in a timely and effective manner. It has proved successful in attracting highly trained employees and filling labor shortages in a variety of industries.
Learn about Complete Eligibility for Canadian Express Entry in Detail
5. How to Apply for Permanent Residency in Canada from the USA? Steps for PR in Canada from USA
It is not too difficult to apply for permanent residence in Canada from the United States.
You must first make sure you satisfy the prerequisites for permanent residency, which include holding a current passport, being at least 18 years old, and having a clear criminal history.
Once these conditions have been satisfied, you can start the application process by submitting an online application form.
Following the submission of your application, you must appear for an interview with a Canadian immigration officer.
You will be questioned about your background, your motivations for moving to Canada, and your future goals while you are there.
You will receive a permanent resident card, which will allow you to live and work in Canada eternally if your application for permanent residency is approved.
6. What are the Requirements for Obtaining Permanent Residency in Canada? Requirements for PR in Canada from USA
You must first fulfill a few minimal requirements in order to be granted permanent status in Canada. You must be at least 18 years old, have a current passport, and be free of any convictions.
A job offer from a Canadian firm and a specific quantity of savings are also requirements.
You can start the process of applying for permanent residency once you have satisfied all of these conditions.
Although the procedure can be drawn out and challenging, if you stick to it, you will finally be able to call Canada your home.
Here is a list of Key documents required for Canada Immigration.
7. How to Apply for Canada PR from USA on H1B Visa? Guide for a non-immigrant visa holder
There are a few things you should know if you want to migrate to Canada from the United States on an H1B visa. To begin, you must have a work offer from a Canadian firm.
After that, you can apply for your visa.
The following steps are commonly involved in the process of immigration to Canada from the United States on an H1B visa:
Obtaining an H1B visa:
This can be accomplished by applying for a visa at either the US Embassy in Canada or a US Consulate in the applicant's home country.
Applying for a work permit:
Once the H1B visa has been obtained, the applicant can then apply for a work permit through the Canadian Immigration website.
Arriving in Canada:
After the work permit is approved, the candidate can fly to Canada and start working.
8. How to Immigrate to Canada from the USA as a recent graduate?
If you have completed a full-time post-secondary educational program in the last year, you may be eligible for an open work permit in Canada.
The licenses are valid for a year and are provided through the SWAP Working Holidays program. They are offered to anybody between the ages of 18 and 35.
9. How to Immigrate to Canada without Job Offer?
Following are some of the ways you can immigrate to Canada without a Job Offer:
Express Entry
The Federal Skilled Worker Program (FSWP)
The Canadian Experience Class
10. How to Find a Job in Canada? Step-by-Step
Moving to Canada from the United States can be a difficult process, but it is certainly doable with careful planning and execution. The first step is to look for work in Canada.
This can be accomplished through a variety of means, such as job advertisements, networking, and job fairs. After you've found a job, the next step is to apply for a work visa.
This can be accomplished by applying to the Canadian government for a work visa.
After obtaining a work visa, you must find a place to reside and ensure that you have all of the essential documentation to complete the transfer.
Finding a career in Canada is definitely doable with careful planning:
Begin by investigating the job market in the field in which you wish to work.
Learn about the different sorts of jobs available and the skills and experience that businesses are searching for.
Make connections with people who live and work in Canada.
Participate at job fairs and job-search programs.
To find job posts in Canada, use job search engines and job boards.
Send your resume and cover letter to potential Canadian employers.
Practice answering typical interview questions to prepare for job interviews.
If you are given a job, be sure you understand the terms and circumstances before accepting.
11. How to Decide Where to Live in Canada?
Suitable for families: Ottawa, one of Canada's six largest cities, is noted for its parks, libraries, low crime, and excellent transit.
Good for students: Montreal provides a variety of educational facilities as well as a vibrant nightlife scene that students enjoy.
Ideal for singles: Toronto has a large population of individuals aged 15-29, with 82% of them being single.
Ideal for hipsters: If you're looking for microbreweries, thrift stores, vegan restaurants, or tattoo parlors, Vancouver is the place to be.
Conclusion
FAQs Frequently Asked Questions for Moving to Canada from USA:
How much money do you need to immigrate to Canada?
In general, an individual applicant would require around $15,500 CAD to come to Canada. Couples will need approximately $21,000 CAD, while families with children would need between $25,000 and $30,000 CAD.
Is life in USA better than Canada?
While the United States has superior pay, Canada has better healthcare, more maternity leaves, and other social benefits.
The average number of hours worked in Canada is slightly higher than in the United States. Both countries have a similar annual leave structure.
Can a US citizen live in Canada?
Yes, you can live in Canada if you are an American citizen. If your stay exceeds 180 days, you will almost certainly require a visa. If you wish to work in Canada, you will additionally require a visa or work permit.
How fast is Canada PR?
The processing of the Canada permanent residence (PR) Visa takes 5-8 months from receiving the ITA (Invitation to Apply).