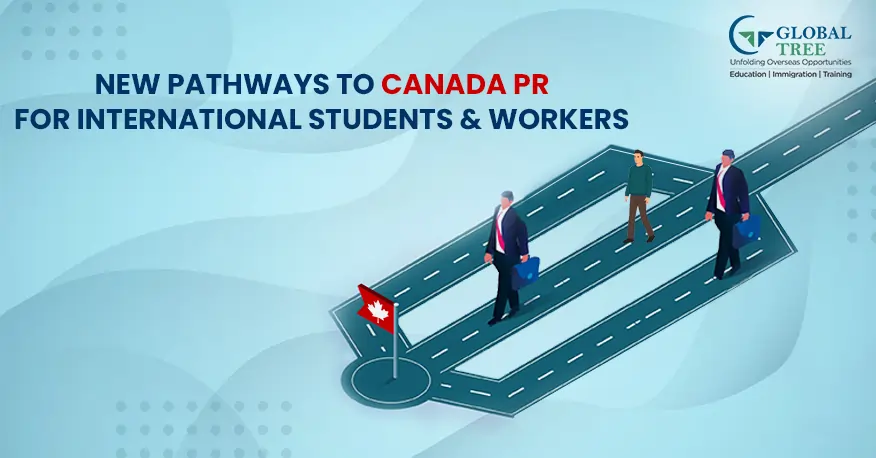 Strategy to increase Permanent Residency in Canada
Recently, a motion was passed in the House of Commons by Randeep Sarai, a Member of Parliament, calling for the government to unveil a plan that aims to expand opportunities for economic immigration. This includes providing more ways for workers of all skill levels to attain permanent residency and supporting a greater number of people transitioning from temporary to permanent residency status in Canada.
More Pathways to Permanent Residency
Temporary foreign workers and international students have a vital part to play in Canada's economy, which is why the government plans to open up more pathways to permanent residency in Canada. These workers help fill the immediate needs of employers, bring a diversity of skills and education, and aid in business growth, innovation and productivity.
This in turn supports the country's economic recovery and growth. Furthermore, international students provide a valuable source of talent and help to increase the labor force, raise productivity and counteract the effects of an aging population in Canada. Now is the right time to consider studying in Canada.
Assisting in moving from temporary to permanent residency is a crucial aspect of Canada's immigration system. Several programs already offer a route to permanent residency for temporary foreign workers and international student graduates with diverse fields of expertise and skill levels.
When it comes to permanent economic immigration, the most suitable candidates not only possess the capabilities to easily blend into the Canadian workforce but also have a strong chance of achieving long-term success. These skills give individuals the long-term adaptability to adjust to shifts in workforce requirements and economic downturns.
This approach outlines various options that aim to improve the chances for permanent residency in Canada, enhance Canada's capacity to meet diverse labor needs and tackle long-term labor shortages, and cater to community and regional needs. The intention is to fortify the link between the labor market and immigration programs, to secure the broad range of skills required across various sectors, including:
Hospitality

Transportation

Trades

Resources

IT

Engineering
In simple terms, the aim is to aid individuals in moving from temporary to permanent residency by enhancing or altering existing paths for foreign nationals currently working in Canada and wishing to stay, this includes international student graduates.
[Read More: Get Canada PR visa in 10 easy steps]
Five-pillar approach
To achieve these objectives, the government will use a five-pillar approach to implement this strategy. This includes using the appropriate immigration tools to find a balance between fulfilling the short-term needs of Canadian employers and meeting long-term economic goals, while also taking into consideration the protection of vulnerable workers and creating opportunities for domestic workers.
First Pillar: The first pillar of the strategy aims to use the higher immigration level goals set in the 2022-2024 Immigration Levels Plan to enhance the permanent labor supply in Canada. The plan provides more chances for temporary workers to change to permanent residence and mitigate labor market shortages while stimulating economic recovery after the pandemic.
Second Pillar: The second pillar of the strategy seeks to overhaul the Canada Express Entry program, which includes enhancing flexibility in immigration selection tools under Express Entry through recent amendments to the Immigration and Refugee Protection Act. These changes allow the Minister to be responsive to labor market needs, and regional economic priorities and boost Francophone immigration by choosing more candidates with specific qualifications such as experience in Canada.
The Department will also evaluate the Comprehensive Ranking System criteria under Express Entry, specifically the points awarded for Canadian work experience, education, language proficiency, and a job offer.
By collaborating with key partners, the Minister will be better equipped to meet the labor market needs of industries and employers across Canada. These modifications are the foundation for the next version of Express Entry, which will provide more possibilities for transitioning to permanent residence for workers of all skill levels.
Third Pillar: The third pillar of the strategy aims to improve permanent economic immigration programs to aid the transition from temporary to permanent residence for essential workers in high-demand jobs. This includes:
Utilizing the most recent version of the National Occupational Classification (NOC) 2021, which broadens eligibility for certain in-demand occupations within various permanent economic immigration pathways.

Enhancing newcomers' access to information to ensure they meet the required qualifications and connect them to federal and provincial or territorial programs.

Research new ways to facilitate the transition of essential workers who are in high demand, such as removing obstacles for physicians.

Introducing upgrades to pilot programs to support transitions to permanent residence for those working in in-home caregiving occupations and the agri-food sector.
Fourth Pillar: Pillar 4 focuses on assisting communities in welcoming and maintaining newcomers, particularly through Francophone immigration. The government will aid Francophone minority communities outside Quebec by implementing measures aimed at achieving the 4.4% French-speaking immigration target by 2023.
Additionally, a new Municipal Nominee Program is being formulated to assist municipalities in attracting and retaining newcomers to meet their local labor needs. The government continues to work with provinces and territories, and employers on new pathways to permanent residence, including via the Canada Provincial Nominee Program Immigration, which allows provinces and territories the ability to adapt and change their immigration streams to suit their specific labor market needs.
Fifth Pillar: Lastly, through Pillar 5, the government is augmenting processing capability, enhancing the client experience, and updating the immigration system with technological advancements. These efforts are focused on expediting the process of welcoming newcomers to Canada as permanent residents. These five pillars of the strategy will supplement the current tools that provinces and territories use to independently choose candidates to meet their unique regional needs across all skill levels.
[Read More: How much Money do you need for Canada Immigration?]
If you are planning to become a permanent resident in Canada, Contact Us! We are happy to help!