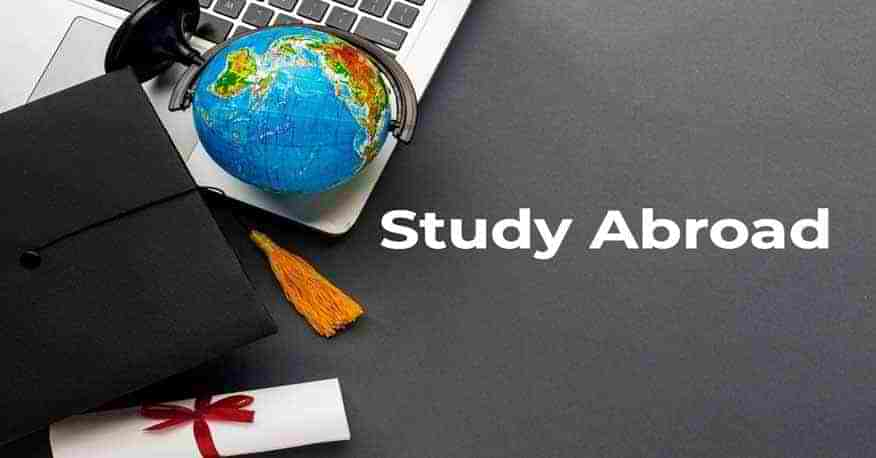 Study Abroad
Each year more and more students from India are applying to study abroad as the concept of overseas education is gaining popularity even among the middle class and upper-middle class. It is no longer just the bastion of the rich to study abroad.
There are many students who ardently wish to study abroad, but their financial background becomes an inhibiting factor. Many students from a low or middle-income background in India become discouraged when planning to study abroad due to a lack of funds. However, there are many study-abroad scholarships offered by both governments and private institutions to students who face a financial crunch while planning for overseas education.
Scholarships for Indian students to Study Abroad
There are a number of governments as well as private organizations that provide different types of scholarships for students who wish to study abroad. Here is a non-exhaustive list of the possible scholarship programs that a student from India can apply for.
1. Mahatma Jyotiba Phule BC Overseas scholarship
The Mahatma Jyotiba Phule BC Overseas Vidya Nidhi Scholarship is initiated by the state government Telangana for students of the state. The scholarship program was started under the Department of Backward Classes Welfare. The students, who are residents of Telangana state, and who are planning to study abroad are eligible to apply for the scheme. Candidates, who have been selected for the program, will receive a scholarship of Rs. 20 Lakhs.
2. Chief Minister's Overseas Minorities Scholarship
This scholarship is also offered by the Government of Telangana state for students belonging to minority categories, who are planning to study abroad. Each year more than 500 students from the minority community reap the benefits of this scheme.
3. Jamsetji Nusserwanjee Tata Endowment
The JN Tata Endowment scholarship scheme was initiated by the Tata Group in the year 1982 with an aim to support financially hampered Indian students, pursuing a postgraduate or Doctoral degree outside India. The scholarship program offers a loan amount of 10,00,000 INR to the selected candidates at zero interest for a loan period of 7 years. The students will also receive a travel grant of 50,000 INR and a gift scholarship of up to 7, 50000 INR
4. Dr. Abdul Kalam International Undergraduate Scholarship
This scholarship is offered by The University of Sydney, in Australia for international students, who obtained admission into any of their engineering courses. Students from India who have received an admission offer letter from the University's, Faculty of Engineering are eligible to apply for the same. Students who are selected for the scholarship will receive 50 percent of their total tuition fee, up to a maximum amount of 23,250 USD. The scholarship is offered for only the first year of study.
5. President APJ Abdul Kalam Postgraduate Fellowship
This scholarship is offered for students who are planning to pursue their courses at The University of South Florida. As a part of the scholarship program, selected students will be eligible to receive a fellowship for the full tuition fees for a maximum duration of four years of study. Moreover, the scholarship also offers a stipend of up to 22,000 USD, which is paid out in three installments and also provides health insurance for the selected student.
6. TATA Scholarship for Cornell
The TATA Scholarship program is open for all undergraduate students from India, studying at Cornell University. The scholarship is highly competitive as it is offered to only 20 students for each batch. It provides financial support for students pursuing their undergraduate courses at Cornell University in the USA.
[Read More: Most Prestigious Scholarships Around The World To Study Abroad]
7. Fulbright-Nehru Master's Fellowships
Fulbright-Nehru Master's Fellowships by USIEF are awarded to Indian students, who want to pursue a Master's Degree program at US Universities, with outstanding leadership qualities. The students who are eligible will get the scholarship for expenses like Flight fare charges, Health care, Tuition fees, living, etc. J1-Visa support is one of the benefits of Fulbright-Nehru Master's Fellowships.
8. Chevening UK Government Scholarships
Chevening UK Government Scholarship is a global program that aims at budding global leaders for a one-year post-graduate degree program in the UK Universities. It is funded by the Foreign, Commonwealth, and Development Office (FCDO) and some other organizations. Along with tuition fees and travel expenses, a monthly stipend will also be received by eligible students.
9. Royal Society Grants
Royal Society Grants is the research fellowship program for candidates undergoing their Ph.D. in the UK. The main aim of the royal society grant is to develop talented scientists and engineers. Currently, it is funded by the Royal Society and also generous support by Rolls Royce. Researchers can earn up to 4,000 per year.
10. Hubert-Humphrey Scholarships
Hubert H. Humphery Scholarship program is started in honor US Vice-president Hubert H. Humphery (1965-1969). Humphery scholarship aims at students who excel with leadership qualities and has a strong passion for public service. This scholarship is available for undergraduate-level students as well.
11. Commonwealth Academic Fellowships
Commonwealth Academic Scholarships is open for post-graduate students who showcase exceptional talent and have a positive impact on the global stage in the UK. There are many types of commonwealth scholarships like Doctoral, Split-Site (Low & Middle-Income Commonwealth Countries), Distance Learning, Master's, etc.
12. British Council scholarship
British Council offers scholarships for women who are passionate to study for a Master's degree at UK University. Students must be in Science, Technology, Engineering, or Mathematics program, to be eligible for this scholarship. The main benefits of the scholarship include Tuition fees, stipend, Travel expenses, visa, and health coverage.
Tips for Applying Scholarships Abroad
We look at some of the best tips for applying for and successfully getting a scholarship to Overseas Education. Doing your groundwork and making sure that you have followed all the tips can greatly enhance your chances of getting the right scholarship to fund your study abroad program.
1. Do your Research
Thoroughly research the options that are available for scholarships. Some scholarship schemes offer aid for covering all costs that are borne by the students whereas others cover only a portion of the costs. Some schemes are available for students with a proven track record of merit in a specific subject while others look at the overall merit of the student. Some scholarships are awarded to students who excel in sports and cultural activities while others can be granted to those who show excellent leadership abilities
2. Write a good essay
All scholarship applications ask the students who wish to study abroad to write an essay detailing the reasons why he is applying for the scholarship and the reasons for deserving the same. Writing a really good essay can help you get an edge over other applicants. The essay not only gives you a chance to showcase your talents but also allows you to make a case for yourself and explain why you deserve to get the scholarship.
3. Don't wait till the last minute
It is important for students who are applying for scholarships for their study abroad programs to start their application process well in time. Many of these scholarship grants are highly competitive in nature and doing your homework in advance can help you to research all the different types of scholarships that are available to you. Also, you may find that it is useful to know all the paperwork and documents that are required in advance and arrange for the same before the deadline for applying. Starting the process of applying too late can mean that you miss.
[Read More: Scholarships for Studying Abroad with Is The Best Choice]
4. Get a scholarship on your cultural strengths or prowess on the sports field
Students who are applying for scholarships need not always be excelling in academics. Students who excel in any cultural activity or in a particular sport can also apply for scholarships. Many scholarships are available to students that are specific to a particular sport, dance, or music. Students who excel in these activities can apply for scholarships to fund their overseas education.
5. Showcase your leadership skills
Students who can demonstrate their leadership skills have a better chance of obtaining a scholarship. If you have been in any position of leadership during your student years or have been involved in any organizing committee, now is the time to demonstrate your past achievements and write up about them to gain a scholarship for your dream course to study abroad