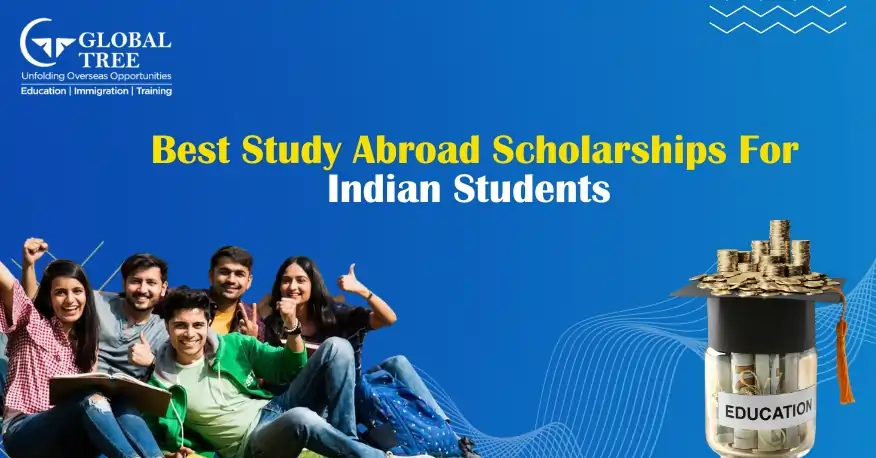 Study Abroad
Each year more and more students from India are applying to study abroad as the concept of overseas education is gaining popularity even among the middle class and upper-middle class. It is no longer just the bastion of the rich to study abroad.
There are many students who ardently wish to study abroad, but their financial background becomes an inhibiting factor. Many students from a low or middle-income background in India become discouraged when planning to study abroad due to a lack of funds. However, there are many study-abroad scholarships offered by both governments and private institutions to students who face a financial crunch while planning for overseas education.
Scholarships for Indian students to Study Abroad
There are a number of governments as well as private organizations that provide different types of scholarships for students who wish to study abroad. Here is a non-exhaustive list of the possible scholarship programs that a student from India can apply for.
1. Mahatma Jyotiba Phule BC Overseas scholarship
The Mahatma Jyotiba Phule BC Overseas Vidya Nidhi Scholarship is initiated by the state government Telangana for students of the state. The scholarship program was started under the Department of Backward Classes Welfare. The students, who are residents of Telangana state, and who are planning to study abroad are eligible to apply for the scheme. Candidates, who have been selected for the program, will receive a scholarship of Rs. 20 Lakhs.
2. Chief Minister's Overseas Minorities Scholarship
This scholarship is also offered by the Government of Telangana state for students belonging to minority categories, who are planning to study abroad. Each year more than 500 students from the minority community reap the benefits of this scheme.
3. Jamsetji Nusserwanjee Tata Endowment
The JN Tata Endowment scholarship scheme was initiated by the Tata Group in the year 1982 with an aim to support financially hampered Indian students, pursuing a postgraduate or Doctoral degree outside India. The scholarship program offers a loan amount of 10,00,000 INR to the selected candidates at zero interest for a loan period of 7 years. The students will also receive a travel grant of 50,000 INR and a gift scholarship of up to 7, 50000 INR
4. Dr. Abdul Kalam International Undergraduate Scholarship
This scholarship is offered by The University of Sydney, in Australia for international students, who obtained admission into any of their engineering courses. Students from India who have received an admission offer letter from the University's, Faculty of Engineering are eligible to apply for the same. Students who are selected for the scholarship will receive 50 percent of their total tuition fee, up to a maximum amount of 23,250 USD. The scholarship is offered for only the first year of study.
5. President APJ Abdul Kalam Postgraduate Fellowship
This scholarship is offered for students who are planning to pursue their courses at The University of South Florida. As a part of the scholarship program, selected students will be eligible to receive a fellowship for the full tuition fees for a maximum duration of four years of study. Moreover, the scholarship also offers a stipend of up to 22,000 USD, which is paid out in three installments and also provides health insurance for the selected student.
6. TATA Scholarship for Cornell
The TATA Scholarship program is open for all undergraduate students from India, studying at Cornell University. The scholarship is highly competitive as it is offered to only 20 students for each batch. It provides financial support for students pursuing their undergraduate courses at Cornell University in the USA.
[Read More: Most Prestigious Scholarships Around The World To Study Abroad]
7. Fulbright-Nehru Master's Fellowships
Fulbright-Nehru Master's Fellowships by USIEF are awarded to Indian students, who want to pursue a Master's Degree program at US Universities, with outstanding leadership qualities. The students who are eligible will get the scholarship for expenses like Flight fare charges, Health care, Tuition fees, living, etc. J1-Visa support is one of the benefits of Fulbright-Nehru Master's Fellowships.
8. Chevening UK Government Scholarships
Chevening UK Government Scholarship is a global program that aims at budding global leaders for a one-year post-graduate degree program in the UK Universities. It is funded by the Foreign, Commonwealth, and Development Office (FCDO) and some other organizations. Along with tuition fees and travel expenses, a monthly stipend will also be received by eligible students.
9. Royal Society Grants
Royal Society Grants is the research fellowship program for candidates undergoing their Ph.D. in the UK. The main aim of the royal society grant is to develop talented scientists and engineers. Currently, it is funded by the Royal Society and also generous support by Rolls Royce. Researchers can earn up to 4,000 per year.
10. Hubert-Humphrey Scholarships
Hubert H. Humphery Scholarship program is started in honor US Vice-president Hubert H. Humphery (1965-1969). Humphery scholarship aims at students who excel with leadership qualities and has a strong passion for public service. This scholarship is available for undergraduate-level students as well.
11. Commonwealth Academic Fellowships
Commonwealth Academic Scholarships is open for post-graduate students who showcase exceptional talent and have a positive impact on the global stage in the UK. There are many types of commonwealth scholarships like Doctoral, Split-Site (Low & Middle-Income Commonwealth Countries), Distance Learning, Master's, etc.
12. British Council scholarship
British Council offers scholarships for women who are passionate to study for a Master's degree at UK University. Students must be in Science, Technology, Engineering, or Mathematics program, to be eligible for this scholarship. The main benefits of the scholarship include Tuition fees, stipend, Travel expenses, visa, and health coverage.
Top Scholarships to Study in USA for Indian Students
Scholarship Name
Benefit

Cornell University Tata Scholarship

Tuition Fees (can be renewed every year based on performance)

AAUW International Fellowship

Provides grants:

Master's/first professional degree: 20,000 USD

Doctoral: 25,000 USD

Postdoctoral: 50,000 USD

Richmond Scholars Program

Covers: tuition fees, living costs, and healthcare.
1. Cornell University Tata Scholarship
The Tata Scholarship Fund will assist roughly 20 scholars at any given time, ensuring that the top Indian students, regardless of financial constraints, have access to Cornell. The financial aid will be given out once a year for the duration of the recipient's undergraduate education at Cornell. It aids up to 8 semesters of their study, by which time most of the undergraduate courses would be over.
Type: Need-based and depending upon the college
Eligibility:
Indian citizen

UG degree admit to Cornell University

70% marks in school

No year gap
TOEFL: 100
IELTS: 7
2. AAUW International Fellowship
AAUW International Fellowships is for women who are not US citizens or holders of permanent residency to pursue full-time research or academic study in the United States. Fellowships are available for bachelor and master's degrees at authorized US educational institutions. This scholarship aids graduate and post-graduate programs at authorized U.S. institutions, as well as those who aspire to return to their native country to pursue a professional career.
Type: Merit-based
Eligibility:
Non-US women

Should not have already received AAUW grant

Proof of English proficiency (IELTS or TOEFL)
3. Richmond Scholars Program
The University of Richmond's Richmond Scholars Program is a fully funded scholarship grant. It is a merit-based scholarship available to undergraduate students (of all nationalities) who demonstrate good academic performance, leadership, and volunteerism. The scholarship covers all tuition, food, and accommodation costs, as well as additional program advantages.
Type: Merit-based & College-specific
Eligibility:
Excellent scores in academic performance

Proof of leadership and volunteerism.
Top Scholarships to study in UK for Indian students
Scholarship Name
Benefit

Felix Scholarship

100% tuition fees

15,000 EUR - 16,000 EUR for the cost of living

Airfare

Rhodes Scholarship

Tuition fees is covered

Monthly stipend: 1,515 EUR

Chevening Scholarship

Covers: tuition fees, accommodation, and airfare for up to a year.
1. Felix Scholarship
The Felix Scholarship was established to provide gifted impoverished students from India and other developing nations with the opportunity to further their postgraduate education at a university in the UK. The Felix Scholarship's major goal is to invigorate Felix scholars by exposing them to academic research, cultures, experiences, and friendships that they would not have had the opportunity to sample otherwise. It is believed that this will give them skills and visions, allowing them to contribute to the culture and welfare of their native communities when they return. Felix scholarships are available at three universities: Oxford, Reading, and the School of Oriental and African Studies (SOAS), a part of the University of London. The Scholarships are given out based on academic excellence and financial necessity.
Type: Merit-based & Need-based
Eligibility:
Indian citizen

Not already enrolled in any abroad university

Bachelor's degree from Indian university
2. Rhodes Scholarship
The Rhodes Scholarship is the oldest international scholarship program (first given in 1902), allowing excellent young people from all around the world to study at the University of Oxford. The Rhodes Scholarship is a full-time postgraduate award that enables talented young people from all around the world to study at Oxford. Rhodes Scholars spend two or more years in the UK and can apply to most full-time postgraduate courses at Oxford University.
The following are the selection criteria:
Academic achievement

Energy to put your talents to good use (as seen by success in athletics, music, debate, dance, theater, and artistic pursuits, even those requiring teamwork).

Honesty, courage, devotion to duty, sympathy for and protection of the helpless, kindness, and unselfishness
Moral character strength and impulses to lead and care about your fellow beings.
Type:Merit-based
Eligibility:
Indian citizen

Formal education from India
Good academic performance in UG course
3. Chevening Scholarship
Chevening Scholarships enable brilliant young minds from all along the world to study for one-year master's degrees in the United Kingdom. Because these scholarships are entirely financed (flights, accommodations, and course fees are all included), you can concentrate on reaching your professional goals and making the most of this unique chance to learn. You will spend a year in the UK living and studying, during which time you will grow professionally and academically, network widely, experience UK society, and form enduring friendships that last. After finishing your studies, you will leave the UK with the knowledge and networks needed to bring your own ideas to life.
Type: Merit-based
Eligibility:
Chevening eligible country citizens

Return to your home country once the scholarship tenure is over
Work experience: 2 years

Unconditional offer from UK university

MS course
Top Scholarships to study in Canada for Indian students
| Scholarship Name | Benefit |
| --- | --- |
| Ontario Graduate Scholarships | 5,000 CAD - 15,000 CAD over the period of course tenure |
| York University International Student Scholarship | 35,000 CAD per annum |
| Canada Memorial Scholarship | 10,000 CAD (one time) |
1. Ontario Graduate Scholarships
Students seeking master's and doctoral degrees who are currently graduate studies can apply for merit-based scholarships through the Ontario Graduate Scholarship (OGS) Program. Graduate students from participating Ontario schools can apply for awards in any academic discipline. Each award is co-funded by the Province of Ontario (two-thirds) and the school that is offering it (one-third). The OGS scholarship is based on merit. Your application is evaluated and graded based on criteria established by the school you intend to attend.
Type: Merit-based
Eligibility:
Full-time program from University of Toronto

Overall good academic performance in past
2. York University International Student Scholarship
Scholarships and bursaries are provided for international students who are presently at York University. You are encouraged to find out about the available financing for overseas students and apply for anything for which you are accepted. Entrance Scholarships are awarded once, when a student is admitted to York for the first time. Some admission scholarships are given automatically, while others must be applied for. To be eligible for various York scholarships, bursaries, and on-campus job programs, you must electronically submit a Student Financial Profile (SFP).
Type: Need-based
Eligibility:
Above 70% in academics

IELTS or TOEFL scores

Registered in UG program in Canada
3. Canada Memorial Scholarship
The Canada Memorial Foundation was established to honor Canadian soldiers who served with the British in World Wars I and II. Each year, scholarships are awarded to international students or graduates who wish to pursue a postgraduate degree at a Canadian university or other qualified institution. The primary purpose of this research is to identify tomorrow's leaders—people who have the ability to inspire others via their decisions and actions.
Type: Merit-based
Eligibility:
Submit written report

Contribution to society
Good academic performance.
Best Scholarships to study in Australia for Indian students
| Scholarship Name | Benefit |
| --- | --- |
| John Allwright Fellowship (JAF) | Variable benefits depending on the needs and resources |
| Endeavour Postgraduate Scholarship | Help up to 272,500 AUD |
| Griffith Remarkable Scholarship | Covers: 50% of tuition fees |
1. John Allwright Fellowship (JAF)
The John Allwright Fellowship (JAF) helps scientists from partner nations who are currently or have recently been participating in ACIAR research initiatives to pursue postgraduate degrees at Australian tertiary institutions. The Fellowship's primary goal is to strengthen scientific research capacity in ACIAR partner country institutions. The selection process is purely merit-based, with a focus on the Fellow's academic achievements, research experience, and potential for leadership.
Type: Fellowship & Research
Eligibility:
Enrolled in PhD

Good academic performance

Interested in ACIAR
2. Endeavour Postgraduate Scholarship
Endeavour Scholarships and Fellowships are merit-based scholarships provided by the Australian Government to citizens of Asia-Pacific, the Middle East, Europe, and the Americas to study, research, and develop professionally in Australia, as well as to Australians to study, research, and develop professionally in other countries. The Endeavour Scholarships and Fellowships help to strengthen Australia's reputation for educational excellence while also supporting the internationalization of the Australian higher education and research sectors. The scholarship program is known as Endeavour Leadership, and it is sponsored by the Australian government's Department of Education, Skills, and Employment. The recipients are considered prospective world leaders.
Type: Merit-based & Fellowship
Eligibility:
Good academic performance
Age: above 18 years
3. Griffith Remarkable Scholarship
The Griffith Remarkable Scholarship is open to all overseas students at the undergraduate and graduate levels. It aids
Type: Merit-based & University-specific
Eligibility:
70% or above in past courses.

Applied for Griffith University
Top Scholarships for Multiple Target Countries
Below are some popular scholarships that provide an opportunity for Indian students who can look out for multiple opportunities
1. Aga Khan Foundation International Scholarship program
The Aga Khan Foundation International Scholarship Programme provides 50% grant and 50% loan funding to students from developing countries pursuing master's degrees at universities in the United States, Canada, the United Kingdom, France, and Portugal. The Aga Khan Scholarship is one of the most well-known overseas scholarships for Indian students, covering tuition and living expenses. To be eligible for this award, the applicant must be under 30 years old and have a strong academic record.
2. Inlaks Scholarship
The Inlaks award is a merit-based award available to students wishing to study in the United States, the United Kingdom, or other European nations. This scholarship covers tuition, health insurance, one-way airfare, and a portion of living expenses for students by offering a lump sum of $100,000 USD. To be eligible for this award, you must be an Indian citizen under the age of 30. A bachelor's degree from a reputable Indian university is also required.
3. Lady Meherbai D Tata Education Trust Scholarship
The Lady Meherbai D Tata Education Trust provides scholarships to Indian women graduates of prestigious colleges who aspire to continue further education in another country as part of their tuition cost component. This is a merit-based scholarship that allows you to study at top universities in the United States, the United Kingdom, or Europe. The candidate must have at least two years of work experience, good academic performance in the bachelor's course on the academic transcript, and admittance to a reputable university in the United States, United Kingdom, or Europe.
4. Commonwealth Scholarship and Fellowship
The Commonwealth Scholarship scheme is designed for students from Commonwealth countries who would otherwise be unable to study in the UK. This is a scholarship based on merit. Engineering and Technology, Science (Pure & Applied), Agriculture & Allied Field, and Humanities & Social Science are all eligible for the award. To be eligible for this award, you must be at least 40 years old. You would need a minimum of 60% if you had arts-related subjects in your previous degree and 65% if you had STEM-related subjects.
Other Popular scholarships to Study Abroad for Indian students
| Scholarship Name | Benefit |
| --- | --- |
| Scholarship by University of Waikato | Up to 500,000 NZD |
| Great Wall Program | Covers: Tuition fees, medical insurance, cost of living |
| Orange Tulip Scholarship | Waive partial tuition fees up to 50% |
| The Heinrich Böll Foundation scholarship | 850 EUR per month |
1. Scholarship by University of Waikato
The University of Waikato has announced that it will provide scholarships to Indian students. This applies to both undergraduate and postgraduate students beginning in 2023.
Target Country: New Zealand
Type: University-specific
Eligibility: Indian resident with good academic performance
2. Great Wall Program
The Chinese Ministry of Education, in collaboration with UNESCO, offers fully financed scholarships to students and intellectuals from developing countries to study and do research in China. This program provides assistance to both general and senior research scholars. If the applied program is taught in Chinese, the applicant's Chinese language skills is tested.
Target Country: China
Eligibility: Age, less than 45 years and must have bachelors or masters degree
3. Orange Tulip Scholarship
The Orange Tulip Scholarship (OTS) program permits Indian students to study in the Netherlands with a partial tuition price remission; recipients must pay a tuition charge of €4,530. The courses, prerequisites, and total scholarship amount are not the same for all institutions and students from different countries, as operated by the Nesos (Netherlands Education Support Offices). Each year, approximately 50 OTS are awarded to Indian students, with a preference for outstanding academic performance and job experience.
Target Country: Netherland
Type: Merit-based
Eligibility: Indian citizen admitted in Dutch University
4. The Heinrich Böll Foundation scholarship
The Heinrich Böll Foundation fellowship is given to students pursuing graduate, master's, or doctoral studies in Germany. Students who are actively interested in the foundation's essential ideals, such as environment and sustainability, democracy and human rights, and self-determination and justice, are preferred.
Target Country: Germany
Type: Merit-based
Eligibility: Excellent academic records with proof of German language proficiency.
Tips for Applying Scholarships Abroad
We look at some of the best tips for applying for and successfully getting a scholarship to Overseas Education. Doing your groundwork and making sure that you have followed all the tips can greatly enhance your chances of getting the right scholarship to fund your study abroad program.
1. Do your Research
Thoroughly research the options that are available for scholarships. Some scholarship schemes offer aid for covering all costs that are borne by the students whereas others cover only a portion of the costs. Some schemes are available for students with a proven track record of merit in a specific subject while others look at the overall merit of the student. Some scholarships are awarded to students who excel in sports and cultural activities while others can be granted to those who show excellent leadership abilities
2. Write a good essay
All scholarship applications ask the students who wish to study abroad to write an essay detailing the reasons why he is applying for the scholarship and the reasons for deserving the same. Writing a really good essay can help you get an edge over other applicants. The essay not only gives you a chance to showcase your talents but also allows you to make a case for yourself and explain why you deserve to get the scholarship.
3. Don't wait till the last minute
It is important for students who are applying for scholarships for their study abroad programs to start their application process well in time. Many of these scholarship grants are highly competitive in nature and doing your homework in advance can help you to research all the different types of scholarships that are available to you. Also, you may find that it is useful to know all the paperwork and documents that are required in advance and arrange for the same before the deadline for applying. Starting the process of applying too late can mean that you miss.
[Read More: Scholarships for Studying Abroad with Is The Best Choice]
4. Get a scholarship on your cultural strengths or prowess on the sports field
Students who are applying for scholarships need not always be excelling in academics. Students who excel in any cultural activity or in a particular sport can also apply for scholarships. Many scholarships are available to students that are specific to a particular sport, dance, or music. Students who excel in these activities can apply for scholarships to fund their overseas education.
5. Showcase your leadership skills
Students who can demonstrate their leadership skills have a better chance of obtaining a scholarship. If you have been in any position of leadership during your student years or have been involved in any organizing committee, now is the time to demonstrate your past achievements and write up about them to gain a scholarship for your dream course to study abroad
Frequently Asked Questions
The common notion is that foreign universities are expensive, although with scholarships this is an exaggerated issue. What many fail to consider are time and effort. Studying in an Indian college leads to a lower average salary than earned by our western counterparts. This salary sets the tone for all future promotions since companies often look at your previous salaries during compensation appraisals. Additionally, most senior positions tend to be scooped up by individuals who have an international outlook through global exposure. Finally, studying in a foreign country is an incredible learning experience helping students get a better academic as well as soft skill development.
Canada has been one of the market leaders in education for decades. However, what currently sets Maple Country apart is immigration. Canada is wholeheartedly inviting students to study in their universities to fill job vacancies that are always growing in the country. Students who study in Canada (especially a Master's Degree) are practically assured of a Permanent Residency Visa.
A good score doesn't automatically qualify a candidate for a scholarship, however, it is one of the primary factors that the admissions department looks for in a scholarship application. There are other attributes such as a candidate's academics, extra-curricular, financial background, and application essays (SOPs).
We get this question a lot. Many candidates know which career path they want to take, but are at a loss for how to take that journey. Understanding the job role and the industry that you want to get into is the first step to picking the right university.
Carefully consider the immigration options of the country that the university that you are considering is in. This is more important when you intend to stay back in the country after the completion of your course.
Also, review the placement history of the university as well.
The first step is to list your preferences. By listing your preferences and strengths, describe your course of preference. Extensive research on the modules, software and its length for your preferred subject is necessary.
---
Recent Posts
---
---
Reach Our Study Abroad & Immigration Experts!
Get a FREE consultation & profile assessment at nearest branch now!
© 2023 Global Tree Careers Pvt Ltd, All Rights Reserved.
To Top