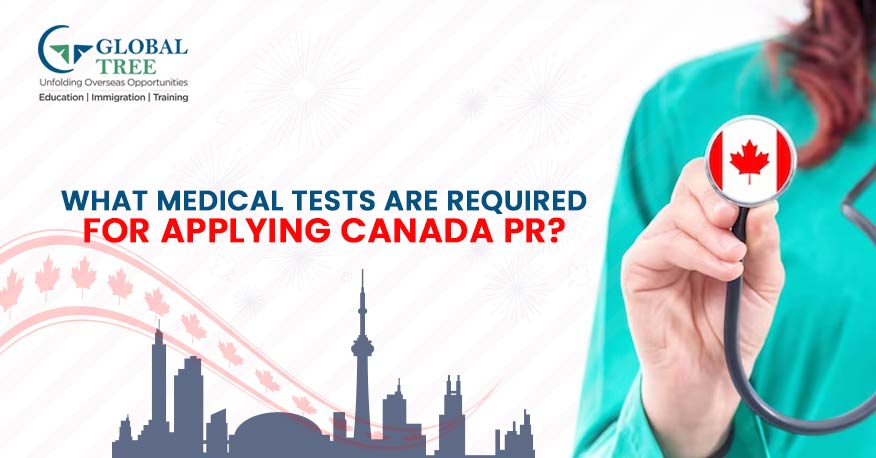 Medical Exams For Canada PR Visa
A medical test report is a part of the immigration process to Canada. IRCC requests the medical test clearance certificate to process the PR application.
Occasionally, the Canadian embassy requests these medical examinations for those applying for a temporary residence visa for Canada. In this article, you will know about,
What is a Medical Test for Canada Immigration?
Why Medical tests are mandatory for Canada?
Who needs a Medical test to travel to Canada?
What Medical tests are required for Canada PR?
How much does it cost for Medical Tests?
How long is the validity of IRCC Medical test results?
What Is A Medical Test For Canada Immigration?


A Medical test is, examining the applicant's health in all ways, conducted by an IRCC approved physician for Canada Immigration. It is to determine whether the person is healthy enough to travel and migrate to Canada. In case of any serious medical reasons, the person's PR application will be rejected. Mostly the medical tests for Canada PR include a questionnaire on personal medical history and a physical examination. If the physician finds any requirement of specific tests, they may refer to other specialists. A companion with the applicant is allowed during medical exams for Canada PR.
[Read more: Minimum IELTS Score to get Canada PR]
Why Medical Tests Are Mandatory For Canada?
Keeping public health in mind, Canada made the medical checks mandatory for immigration. If the person's health seems a threat to the public or Canadian health care system, that person's application could be denied.
In General, there are two reasons for a person being inadmissible on medical grounds.
If the person has a contagious illness that can be a threat to other Canadian residents.
If the person's treatment is likely to place an undue strain on Canadian healthcare services, which have a CAD 20,000 annual threshold.
Who Needs A Medical Test To Travel To Canada?
Along with the
Canada PR applicants
, other temporary resident visa applicants can also be asked for the medical test reports. Especially for immigrants who are coming for specific jobs where public health must be safeguarded or who will have closer contact with people, medical tests are mandatory even though they are temporary residents. Here are some of the jobs which require medical examination done before immigration.
Clinical laboratory workers
Health care workers or Physicians
Nurses or Geriatric Homeworkers
Medical Students who got admission to Canadian University
Primary and Secondary School workers
Domestics
Day-care or in-home care workers
Agricultural workers
[Read more: Move to another province after Canada PNP]
What Medical Tests Are Done For Canada PR?
Here is the list of medical tests for a permanent residence in Canada.
1. Complete Physical Examination
A complete body checkup will be done by an IRCC certified panel physician. This check-up includes the test for eyes, nose, heart, lungs, and other important organs. History of health issues should be intimated to the doctor during this test.
2. Chest X-rays
This is a mandatory report to submit during the migration. But this test is exempted for pregnant applicants but after the delivery, both mother and child need to undergo some tests.
3. Blood Tests
Blood tests for checking any hints of Active TB, HIV, and Syphilis. To get the Canada PR, one must go through these tests and submit a clean sheet. Because these diseases are contagious and can affect the entire health system.
4. Urine Tests
Urine tests are used to understand a person's complete health profile. From diabetics to serious health issues, urine tests reveal all of them.
5. Covid-19
As per the recent changes in the medical requirements, the Covid-19 test has also become a mandatory one before immigration. Along with that getting fully vaccinated is also important proof that needs to be submitted.
How Much Does It Cost For Canada PR Medical Exam?
Considering all the above-mentioned medical tests, it costs 5000-9000 INR approximately. Moreover, as part of
steps to apply for Canada PR
, the medical tests need to be done by a civil surgeon listed on the panel by IRCC and issue a health certificate based on all the tests.
How Long Is The Validity Of The Medical Test For PR Canada?
The validity of IRCC Medical test results is one year. That means once all the medical tests are completed, until next year the tests are valid. But after that one year, if you plan your journey then, you may have to re-take all the tests. Make sure you finish the appointment on the allotted date by IRCC, as missing the appointments can delay the Canada PR Process. For any assistance with
applying to Canada PR, reach out to our Canada Immigration Experts.