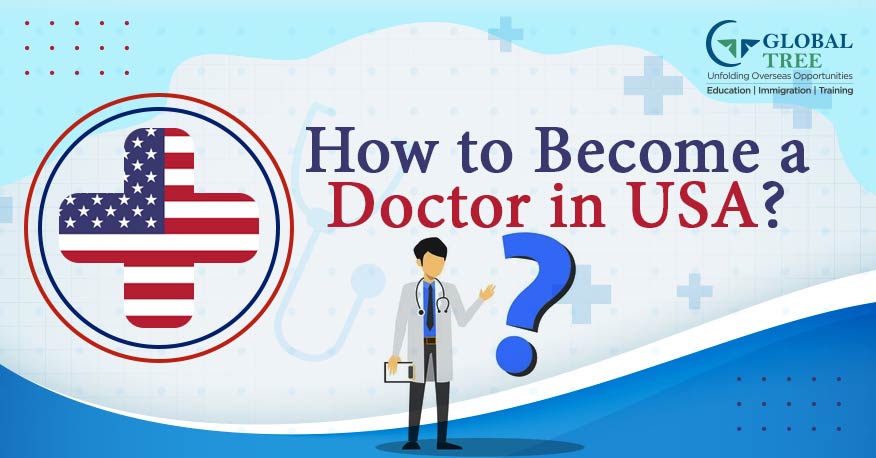 Study MBBS in USA
Becoming a doctor from a USA university is a challenging procedure that involves years of dedication and perseverance. In addition to your undergraduate degrees, you should plan on completing at least 7 years of medical training in order to practice medicine in the United States. According to the US Bureau of Labor Statistics, medicine is one of the highest-paying occupations in the USA.
The qualifications for becoming a doctor differ depending on the specialty. In general, aspiring students must first complete a four-year undergraduate degree program, followed by four years in a medical school, and then up to three to seven years of residency training to be eligible for a medical license and enter the medical profession.
In most cases, general medical education is incorporated into degree programs. During their study, medical practitioners may pick a specialty. In this article, we'll look at how to become a doctor in the United States, as well as top Medical colleges in USA, eligibility requirements, and expenses.
How to Become a Doctor in USA University?
In the United States, becoming a doctor is a time-consuming procedure that requires intense focus and determination. In high school, you can start preparing for medical school by taking Advanced Placement (AP) coursework in biology, chemistry, physics, and other sciences. It may then fulfill the undergraduate program requirements. You can augment your additional activities in medical school by participating in extracurricular activities such as volunteer work.
The following describes how to become a doctor in the United States, as well as the best colleges and courses for acquiring a medical degree:
1. Complete Your Undergraduate Degree
A good bachelor's degree, preferably in a medical discipline such as Biology, Chemistry, Human Genetics, or Physics, is the most crucial need for Study MBBS in the United States. Some institutions have pre-med programs that incorporate curriculum to help you prepare for the Medical College Admission Test (MCAT) for MBBS in USA after the 12th standard.
Top Undergraduate Medical Courses in the United States
In the United States, the finest undergraduate courses and specializations for becoming a doctor are:
Paramedicine
Human Biology and Society
Disease and Culture
Medical Anthropology and Global Health
Global Health
BSc
Neurology
Mechanisms of Disease
BA in Health and Societies
BA in Biology
Neuroscience
Psychology
[Read More: Best Countries to Study Medicine Abroad]
Top Postgraduate and Doctoral Degrees in the US
A medical student can enhance his or her education in the field of medicine by enrolling in a postgraduate (Doctor of Medicine) program and Ph.D. courses in specialized fields such as:
Postgraduate Degrees
MD Degree
Psychiatry
Ophthalmology
Obstetrics
Pediatrics
Gynecology
MS Degree
Medical Technology Quality
Medicine
Community Nutrition
Doctorate Degrees
PhD
Public Health
Dental Surgery
Human Medicine
Optometry
Clinical Psychology
Pathology
Top Universities for Medical Degrees
The following are the top medical schools in the United States, along with their standard course MBBS fees in USA :
| University | Average Course Fees in USD |
| --- | --- |
| Stanford University | $ 20,731 per quarter |
| Yale University | $ 61,140 per year |
| Harvard University | $ 64,984 per year |
| Johns Hopkins University | $ 56,500 per year |
| The University of California, Los Angeles (UCLA) | $ 32,588 per year |
| University of California, San Francisco | $ 43,633 per year |
| University of Pennsylvania | $ 59,910 per year |
| New York University | $ 57,476 per year |
Medical graduates in several locations in the United States can work as healthcare practitioners without first completing a residency program. This is to address the scarcity of medical professionals. Utah, Arkansas, and Missouri are the states in question.
2. Pass the MCAT Exam
Graduates of medical schools who want to practice medicine must take the Medical College Admission Test (MCAT). It is a multiple-choice exam used to admit students to medical schools. This computerized 5-hour test examines language ability, critical thinking, biology, and physical science. MCAT scores are used in the admissions process at the majority of medical schools.
For Indian students to take the MCAT and apply to US colleges, the following conditions must be met:
Pass English language competency examinations such as the TOEFL or IELTS.
Send a Letter of Recommendation (LOR) and a Statement of Purpose (SOP).
Score well on the GRE (Graduate Record Examinations).
[Read More: How to Prepare for IELTS Test?]

3. Complete four years of Medical School
Medical School is a four-year education and training program in medicine. The first two years are spent in laboratories and reading to train students to diagnose and treat illnesses and conditions. In their second year of medical school, students should take the first portion of the United States Medical Licensing Examination (USMLE Step 1), which is administered by the National Board of Medical Examiners and includes core medical information and concepts.
In their last two years, students begin their clinical experience by rotating across hospitals and clinics. When students work under the supervision of attending doctors, they begin their practical training in medicine. When applicants begin their residency training, the second component of the USMLE licensing test is taken in their fourth year of medical school and includes subjects such as disease development and clinical diagnosis. Some colleges also offer a combined 6-year education and training program that allows students to complete a shorter academic and medical test.
Aspiring doctors may pick between a research-oriented medical school and a medical school that focuses on primary care. There are two types of medical degrees:
MD is an abbreviation for Doctor of Medicine.
Doctor of Osteopathic Medicine is abbreviated as DO

4. Discover Residency as well as the Niche
The internship of a doctor in the United States under the supervision of an experienced and professional doctor is known as a residency. Depending on the specialty, many doctors complete their residency programs in 3 to 7 years. Pediatricians, for example, complete their residency in three years, but urologists complete their residency in five years. The National Residency Matching Program allows students to apply for residency jobs (NRMP).
5. Pass the USMLE Part 3 exam and complete your residency
After finishing their residency, the applicant must take the USMLE's third and final part. Because International Medical Graduates must be certified by the Educational Commission for Foreign Medical Graduates (ECFMG) to take the USMLE Stage 3, this is the final step. It evaluates the doctor's ability to practice medicine safely and efficiently by focusing on clinical and patient management topics.
6. Determining whether to pursue Fellowships or Continuing Education
Following ECFMG certification, a candidate may elect to undertake a one-year fellowship to study a specialty within their residency. Doctors who study improve their clinical skills and become professionals in their field. Even after they are licensed, doctors in the United States are encouraged to participate in continuing education to keep up to date on clinical knowledge and developments in their field.
7. Obtain Board Certification
Following completion of medical school and residency, the candidate must select a specialty from the American Board of Medical Specialties' 24 disciplines and then appear before a board of experts to discuss the topic. Among these specializations are:
Forensic medicine
Anesthesia
Psychiatry
Physiology
Anatomy
General medicine
Pharmacology
Master of Public Health in the United States
Studying MBH in the United States is another path to becoming a doctor. Before seeking an MD, MBBS study in USA graduates are more likely to obtain a Master's in Public Health (MPH). Because a USA student visa is only valid for 5 years, selecting MPH gives them some leeway. They apply for clinical assessments with the time they have left.
As a result, the student has two degrees instead of one, one clinical after completing residency, i.e. MD, and the other non-clinical, such as MPH or a diploma in Public Health.
Responsibilities of a Doctor in the US
The employment and responsibilities of a medical practitioner may vary based on specialization, although they frequently include the following roles:
Examining a patient's health and gathering medical information.
Examining test results to identify any issues
Taking care of the patient's health issues
Ordering blood tests and other tests to help diagnose the problems.
Treatment preparation, discussion, and execution
A doctor can work at a hospital, a health care facility, a clinic, a university, or a research facility. Highly specialized vocations include obstetricians, anesthesiologists, gynecologists, pediatricians, family, and general practitioners, and surgeons.

Career Opportunities for a Doctor in the United States
Doctors can practice medicine in a variety of ways. The American Medical Association (AMA) has more than 200 specializations, whilst the Accreditation Council for Graduate Medical Education has more than 140 specializations and sub-specializations. Examples include anesthesiology, allergies and immunology, critical care medicine, orthopedic surgery, and cardiology. In the United States, the average monthly compensation for a medical doctor is 122,000 USD, while the median salary is 232,000 USD.
Family Practice Physician - 214,498 USD
Ob/Gyn Physician - 191,153 USD.
Internal Medicine Physician - 294,682 USD.
Internist - 196,520 USD
Anesthesiologist - 248,100 USD
Pharmacists - $ 121,500
Registered Nurses - $ 67,490
Physician Assistants - $ 98,180
Nurse Practitioners - $ 98,190
Optometrists - $103,900
Audiologists - $ 74,890
According to the Bureau of Labor Statistics, one of the highest-paying jobs in the United States is that of a doctor. A medical doctor in the United States may earn an average of 122,000 USD per year after earning a state license. Internists, General Practitioners, Gynecologists, Anesthesiologists, Surgeons, and other significant doctoral career paths in the United States include, among others.
New York and Las Vegas are fantastic options for physicians and doctors in the United States. The leading companies for physicians in the United States are Aspen Medical, Centura Health, Groups Recover Together, Inc., and Envision Physician Services.